There are a number of ways to treat the effects of male and female hair loss. But because various types of hair loss have a number of root causes, it's best to see a dermatologist or a cosmetic doctor to determine the cause and find appropriate treatments. Platelet-rich plasma (PRP) treatments are used to handle certain causes of male and female pattern hair loss and can be administered through 2 treatments. Though results may vary, the use of your body's own platelets can stimulate better hair growth on your scalp.
So how much blood is needed for just one PRP treatment for hair? It ultimately depends on factors like the severity of your hair loss and other factors that can affect hair loss treatment. Scheduling a consultation with a PRP provider can give you a more accurate estimate, but here's what you need to know before undergoing PRP treatments. 
Amount of Blood Required for One PRP Hair Treatment
The blood sample needed for just one PRP treatment can depend on your provider's procedure and the surface area of your hair loss. It also depends on the type of PRP treatment used to treat male and female pattern hair loss. As of now, there are only 2 treatments that can administer PRP to the scalp: microneedling with PRP and PRP injections. Talk to an aesthetic provider about how much blood is needed for your own treatment.
In general, though, the volume of blood that most PRP treatments take is less than 2 fluid ounces or 60 mL. At most, that's less than a quarter of a cup from the blood draw. This blood is placed into one or more vials and placed in a centrifuge. This separates the plasma containing the platelets from the other parts of your blood, such as the white blood cells and other components. Microneedling with PRP uses a fraction of that amount for one session, but injections offer better penetration for PRP.
Microneedling with PRP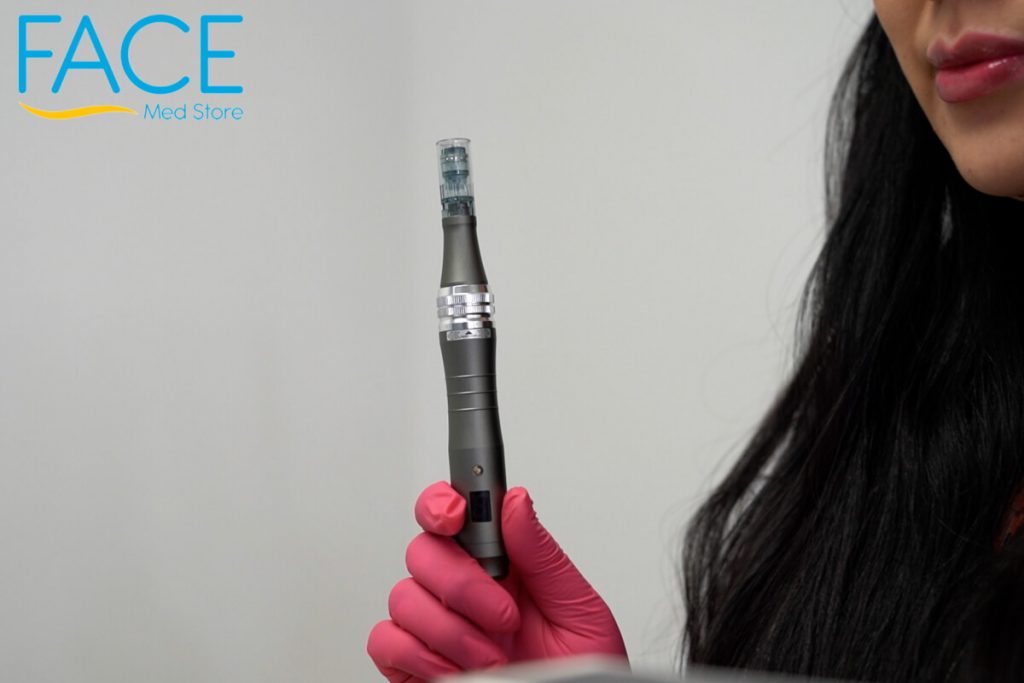 Microneedling with PRP can be used on both your facial skin or your scalp for natural hair growth. While microneedling itself can be done at home and some aesthetic centers offer PRP vials you can take home to use, it's best to have microneedling with PRP done in the safety of a reliable aesthetic center with an experienced provider.
How Much PRP Is Needed?
Unlike other PRP treatments for other uses, microneedling with PRP for your scalp doesn't require much blood. Around 2 to 4 teaspoons (up to 15 mL) of blood is extracted and processed to make around 4 mL of concentrated PRP. This is more than enough to spread around your scalp after microneedling.
How It Works
If you or your provider is using a hydra roller or any similar device, you can administer the PRP while you're microneedling your scalp. But if you're using any other microneedling device, the PRP will be administered after the microneedling treatment. You or your provider can use any kind of microneedling device, though the shortest needle lengths from 0.2mm to 0.5mm is enough for hair regeneration treatments.
Microneedling involves using thin microneedles to puncture extremely thin microchannels into your scalp. The recommended length for hair regeneration isn't long enough to cause major pain or visible damage, but it's enough to trigger your body's healing response, which can have beneficial effects on your skin and scalp. Following this treatment, PRP is administered and massaged into the scalp. The fresh microchannels allow the PRP to be absorbed better and deeper into the scalp.
How It Helps Stimulate Hair Growth
This treatment benefits your hair growth in 2 ways: the microneedling and the PRP. Through microneedling, the microwounds trigger your body's natural healing process, which increases the collagen production around your scalp. Collagen contains amino acids used in building hair proteins that keep it healthy and harder to sustain damage and graying. It also strengthens your scalp's dermis and prevents antioxidants from causing lasting damage.
The PRP administered onto the scalp penetrates the upper layers and makes its way into the microchannels. The platelets trigger cell reproduction and growth, which stimulates tissue regeneration and healing within the area. This is enough to revive each dormant hair follicle and hair shaft and promotes growth in the hair.
PRP Injections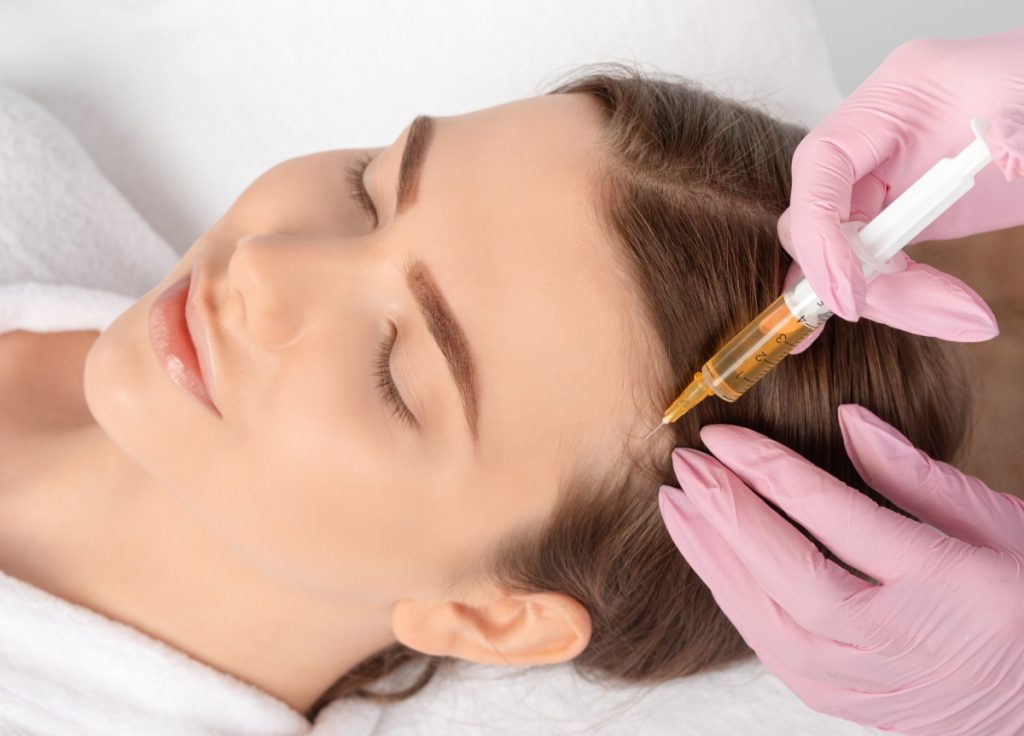 PRP injections are a more direct solution to administering PRP onto your scalp. These injections are intradermal, which give PRP access to the dermal hair follicles and provide better results for hair restoration. By stimulating cell growth among hair follicles and the blood vessels, these injections can promote effective hair loss treatment. Since these involve injections, PRP injections can't be done on your own.
How Much PRP Is Needed?
How much PRP is needed can vary depending on how many areas your provider needs to inject. The maximum amount of blood drawn for PRP treatments is 60 mL. Given that 11mL of blood can produce up to 4mL of PRP, getting the maximum 60mL can produce around 20mL of PRP. Depending on the severity of your hair loss, you might not need this much blood drawn.
How It Works
After processing your blood into PRP, your provider will inject the PRP into key locations around your scalp. The injection on pattern hair loss areas can trigger cell regeneration to improve the tissues responsible for healthy hair follicles around the area. By stimulating these areas, your hair follicles can resume your regular hair cycle and produce newer hair after treatment.
How It Helps Stimulate Hair Growth
The platelets in the PRP stimulate cell growth, cell repair, and tissue regeneration. This can be enough to awaken every hair follicle in the area and promote newer, healthier hair to grow in its place. Because the injection is deeper than microneedling, it can also stimulate the deeper cells responsible for stronger and healthier hair growth. 
Are PRP Treatments Effective for Hair Growth Stimulation?
Many studies suggest the benefits PRP can have on hair growth. Two studies in 2014 and 2015 found that PRP injections on those with androgenic alopecia saw a gradual increase in hair density as the average number of follicles in one area not only increased, but appeared to be thicker and stronger.
This is after taking PRP injections every two weeks for three months. This means that if you're planning on getting PRP treatments, keep in mind that this isn't a one-time solution and will require maintenance sessions.
Benefits of PRP Treatments
PRP plays an essential role in stimulating cells within your scalp that are responsible for hair growth. Some of the ways it can do this include:
Healthier Scalp. Through improved blood flow and cell repair, these effects can also result in a healthier scalp. This can make it stronger and better take care of new and existing hair follicles.
Better Blood Flow. PRP increases the blood supply to the hair follicles, which makes it easier for your body to transport the oxygen and other nutrients it needs to function at its best.
Dormant Hair Follicle Stimulant. Certain hair loss conditions can speed up the hair growth cycle, causing hair to exit its growth phase way too early and cause hairs to mature and fall off. When this happens, your body may not be ready to replace the fallen hairs with new ones and result in dormant hair follicles. Through PRP treatment, your hair follicles can be stimulated to begin a new cycle and create new hair to replace the missing ones.
Can PRP Be Combined with Other Hair Growth Solutions?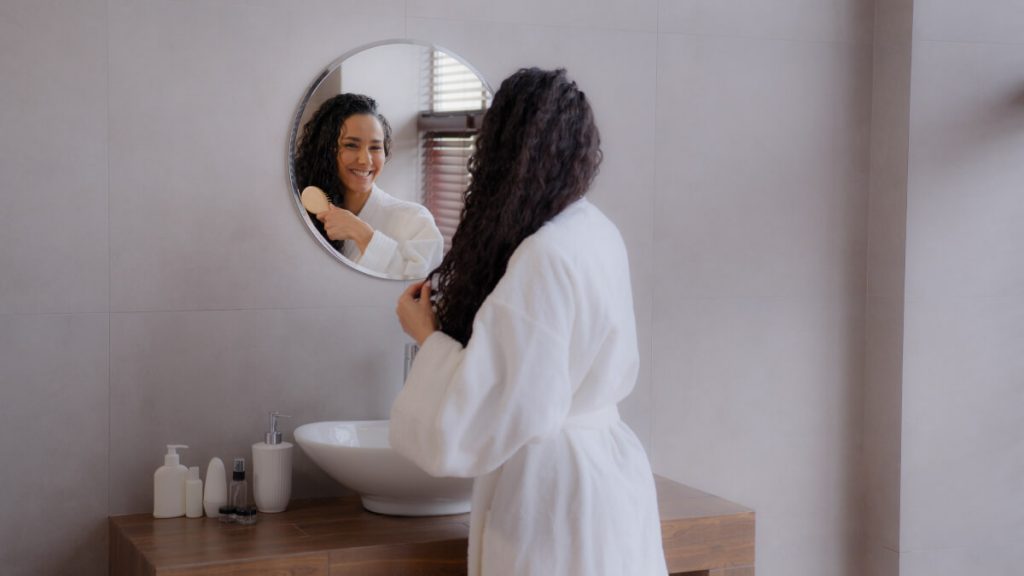 Absolutely. On top of getting PRP injections or microneedling with PRP, you can also opt for other hair growth solutions. PRP can be combined with other treatments and can even complement other treatments. If you're seeking aesthetic or cosmetic treatments, talk to your provider to see if you can add PRP treatments to your plan.
For instance, people who undergo hair transplant surgery can benefit from PRP treatment as well. Hair transplants work by taking donor hair follicles and grafting it into areas that are experiencing significant hair loss. The healthy hair then helps with hair regrowth in the surrounding areas by growing additional hair.
With PRP, you get additional regenerative cell growth that can enhance the healthy transformation of your transplant. PRP can also help with medications and treatments like low laser therapy that stimulate hair growth from the roots.
Can PRP Treatments Be Done at Home?
It's best to have your PRP treatment done by a professional. However, it's possible to have microneedling with platelet-rich plasma done at home. Some aesthetic practices offer DIY microneedling kits with vials of platelet-rich plasma that you can take home to use.
To get these kits, you'll need to go to an aesthetic center that provides these products and can draw your blood and convert it into platelet-rich plasma. You'll often get more than one vial of PRP, and the rest should be placed in your freezer. Fresh PRP has a high concentration of platelets.
When frozen, platelet-rich plasma can last for up to 8 weeks, though the number of platelets, platelet concentration, and concentration of growth factors in the platelet-rich plasma is greatly reduced. Store your PRP correctly to avoid tainting your PRP vials as well.
Be sure to practice extra precautions if you plan to get PRP done. Follow these safety tips:
Store your unused PRP vials in the freezer.
Perform your microneedling in a sterile environment.
Sterilize your microneedling device before and after treatment. If you're using disposable devices or needle cartridges, don't reuse these and dispose of the needles carefully.
Avoid using microneedles longer than 2 millimeters, as these can cause bleeding, scarring, hyperpigmentation, and damage to your blood vessels.
Use 0.2mm to 0.5mm needles, which are long enough to stimulate your hair for hair regeneration and hair regrowth.
Getting PRP from a Professional Aesthetic Provider
An aesthetic provider or cosmetic doctor can provide both microneedling with PRP and PRP injections. They can also offer safe treatments done in a sterile room with properly sterilized tools. Prior to your treatment, you'll have an initial consultation that can determine if you're a good candidate for PRP treatments. Having a professional also allows you to explore other options to stimulate hair growth.
Is PRP Safe?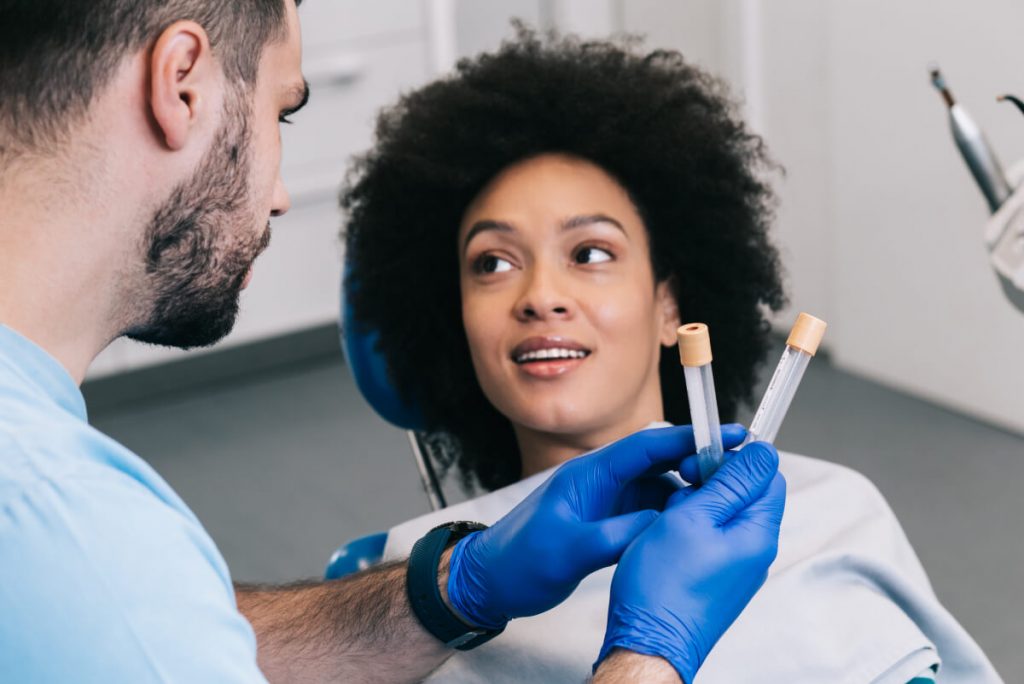 For most people who are generally healthy, PRP treatment is safer compared to most injectable treatments. Unlike other aesthetic injections, PRP is an autologous platelet gel, which means that it's made from your own body. This means allergens and preservatives aren't in PRP that can cause adverse effects.
However, when it comes to PRP for treatment, there are best and worst candidates for receiving PRP.
Best Candidates for PRP
PRP treatments to treat hair loss are best for 2 types of patients: patients seeking other treatment to stimulate hair growth, and patients experiencing male pattern baldness.
If you're planning to undergo treatment and cosmetic procedures like hair transplant surgery, PRP injections for pattern hair loss can complement the effects of your treatment of hair loss by the way it helps with cell growth and tissue generation in the area. This can improve your therapy for hair loss by the way your scalp and hair follicles manage healthy hair growth.
PRP is also potentially beneficial for men with male pattern baldness. Androgenetic alopecia is seen in both men and women, but it's more common and better studied among men. Studies show that PRP injections can help men with male pattern baldness as those who have undergone PRP injections saw thicker, denser hair around the injection site.
Who Can't Get PRP?
As much as PRP hair treatments are widely-used and versatile, not everyone can reap its benefits. PRP may not be safe for some patients with certain habits, practices, and medical conditions. These include:
Patients currently taking blood thinners or any blood-thinning medication
Patients with blood disorders that can cause platelet dysfunction, platelet-poor plasma, or problems with clotting and wound healing
Heavy smokers – this can affect the clotting process and can negatively affect your hair growth, which cancels out the point of getting PRP
Patients with skin and scalp infections – seek treatment for your infection and wait for it to fully heal before scheduling PRP treatments.
Browse FACE Med Store for Hair Care Products and Supplies
PRP treatments can be beneficial for those experiencing pattern hair loss. By stimulating your follicles and the surrounding cells, you can start to see improvements on your scalp after repeated treatments that can treat the cause of your hair loss. To learn more about the blood extraction process for PRP, schedule an initial consultation with an aesthetic provider in your area.
At FACE Med Store, we offer quality supplies, products, and equipment to aesthetic centers and everyday users. Our store boasts a wide range of products that can help you bring out the best in your own or your client's appearance. Check out our store today to browse great deals and cost-effective solutions.