Microneedling at home provides its own benefits. From better skin texture to a healthy glow, DIY microneedling with a derma roller or microneedling pen can be a good addition to your existing skincare routine. And when combined with other skincare products and treatments, the effects it can have on your skin can become more visible. In the case of clay mud masks, it can help with getting smoother and softer skin free of dark spots.
So, how do you use a derma roller with a clay mud mask for hyperpigmentation? You have to know which needle length is appropriate (0.5 mm to 1.5mm), how frequently you'll use these needles, how to prepare your derma rollers and your skin itself, and other things to consider. Below are more details on how to use a derma roller to see visible improvements in your facial skin's appearance and texture.
How to Use a Derma Roller With a Clay Mud Mask
This is our guide to using a derma roller with a clay mud mask. How often you do this will depend on the needle length of your derma roller, the type of clay mask you're using, and your skin type. Refer to this chart to see how often you should be microneedling, with or without a clay mud mask.
| | |
| --- | --- |
| Needle Length in Millimeters | Microneedling Frequency |
| 0.5 | Up to three times a week (if you're a new user, start microneedling once a week and gradually increase depending on your tolerance) |
| 1 | Every two weeks |
| 1.5 | Once a month |
| 2.0 and longer | Don't use this needle length for home use. Needles 2mm and longer should only be used by professionals to reduce the risk of scarring and skin infection. |
You can use any clay mask product you want. Bentonite clay is the most popular, so we'll be using it for this guide. But you can also use other types like kaolin clay or pink clay.
It's recommended that you use bentonite clay once or twice per week. If you have oily and acne prone skin, you can use it more often. But if you have normal, sensitive, or dry skin, keep it to a minimum.
If done correctly, you can get all the benefits of microneedling and clay masks. Microneedling triggers your body's natural collagen production and helps shed away old and dull skin cells to make room for newer skin cells that can give you radiant skin with a natural and healthy glow. Clay masks, on the other hand, can remove impurities deeply rooted in your skin, including dead skin cells. Dull skin cells and skin cells affected by external factors like sun damage can result in an uneven skin tone. Clay masks' cleansing properties can reduce the appearance of hyperpigmentation or darker skin tones in certain areas.
Preparing Your Derma Roller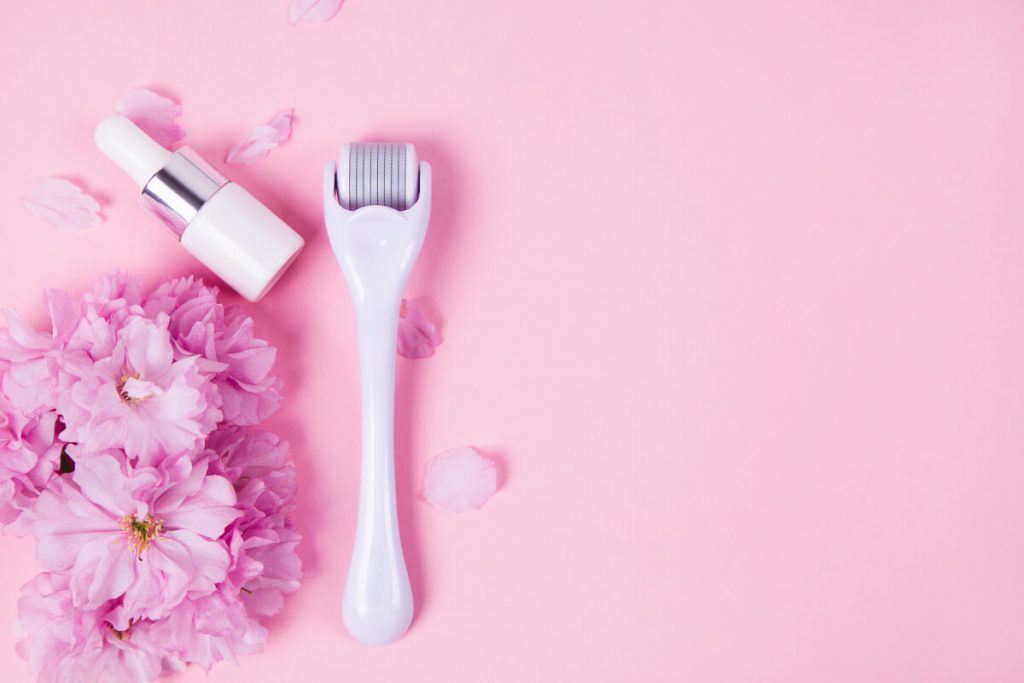 Whether it's your first time using your derma roller or you've used it multiple times, it's important to sterilize your derma roller before use. Take your derma roller (and your head attachment of choice, if available) and run it through boiling hot water. If you've used the derma roller multiple times, check if the needles are still sharp; duller needles can be more painful to use and can cause scarring.
Next, fill a container with at least 70% isopropyl alcohol. There should be enough that all the needles are submerged when you place the head of your derma roller in. Let it sit for at least 10 minutes. Afterwards, take it out, rinse it with warm water, and let it dry completely.
Preparing Your Skin
Before we continue, it's important to check if your body is ready for microneedling. If you match any of the following, don't proceed with microneedling until you're clear:
Active bacterial infections. If you have active acne, psoriasis, eczema, or any other skin infection, don't proceed with the treatment. This also includes if you are currently taking antibiotic treatment for these infections – don't proceed until you are completely healed from your infection. Microneedling with an active bacterial infection increases the risk of bacteria entering your microchannels and infecting your skin even deeper. It's fine to use microneedling if you have acne scars that are no longer infected, but keep in mind that DIY microneedling may not be powerful enough to treat scarring. For this, you'll need microneedling done by a professional.
History of poor wound healing. Microneedling works because of your body's natural inflammation response and self-healing process. If you have a history of slow and unnatural wound healing, it might be best to avoid microneedling.
Menstruation. It's not advised to undergo microneedling during your menstruation because your skin is more sensitive during this time, so the puncturing may feel more painful than usual.
If you aren't experiencing any of these, you can start with prepping your face. First, wash your face with a gentle cleanser and then pat dry. This next step is optional, but if you're uncomfortable with puncturing, you can apply a topical anesthetic cream. Apply and let it sit for as long as it's directed on your cream's packaging (usually 30 to 45 minutes). Finally, use a clean cotton pad to wipe your face with isopropyl alcohol. Let it dry before you begin microneedling.
Microneedling With a Derma Roller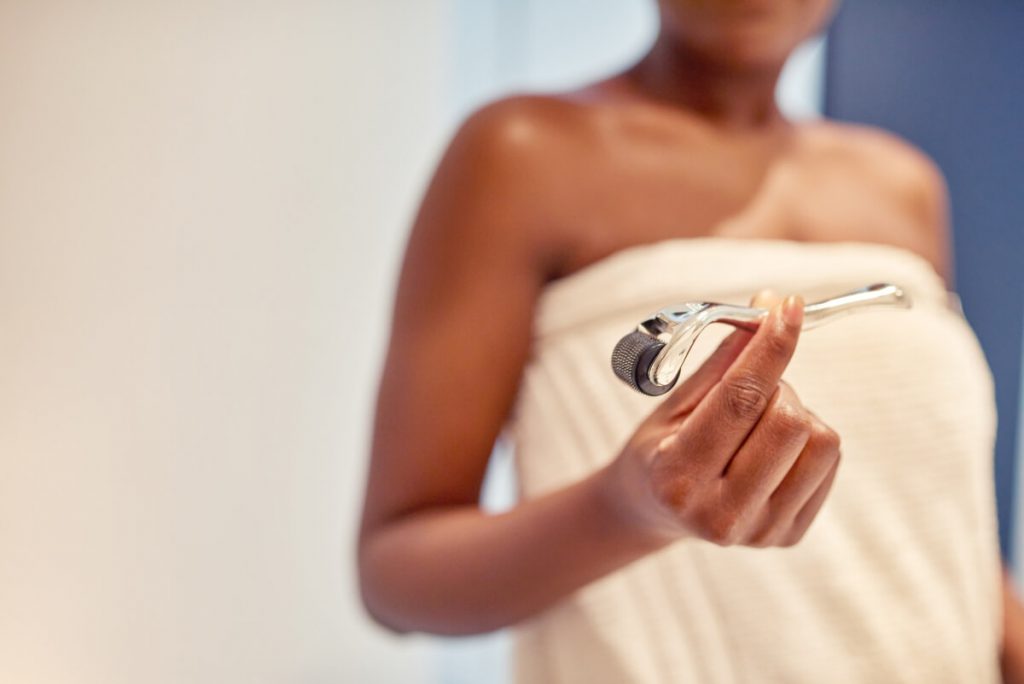 Start at the top of your face and work your way down, working in sections to ensure all parts of your face are covered. Using even and gentle pressure, roll your derma roller back and forth two to four times per section.
In every section, it's important to follow a routine to ensure uniformity. Roll horizontally, vertically, then diagonally. Start by rolling to the right, then roll to the left. This ensures that, by the time you finish, all your skin has been treated.
This whole process should take an hour or less, depending on how fast you work. If you don't use anesthetic cream, it's okay to go slowly. Compared to microneedling pens, derma rollers puncture your skin at an angle, so make sure to use light pressure to avoid making a larger microchannel or dragging your skin in the process.
Once you've covered the whole area, rinse your face with warm water and pat dry.
Preparing Your Bentonite Clay Mud Mask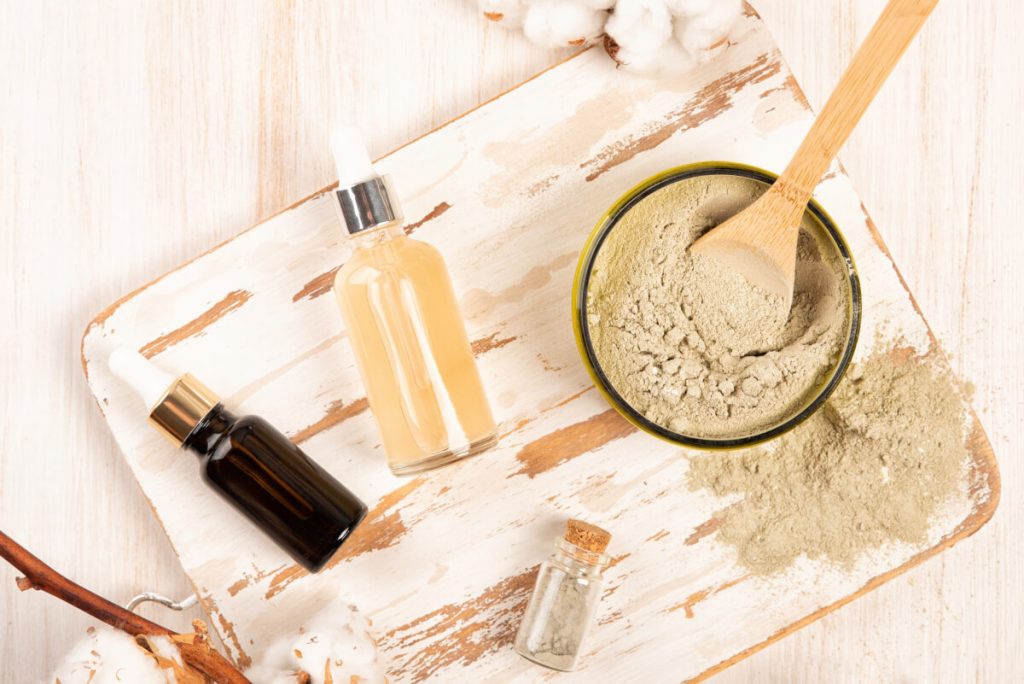 Because of bentonite clay's quick-drying feature, it's best to create your mud mask mixture immediately before using it. Make sure you're using non-metal tools when mixing your bentonite clay mud mask, as bentonite absorbs the substances in metal and makes your mask less effective.
Mix equal parts of bentonite powder and purified water. If you want a stronger mask that can purify your skin, replace purified water with apple cider vinegar. Keep in mind, however, that this can make your mask sting, especially on your newly punctured skin.
Apply an even layer of the mixture onto your face and let it sit for 15 to 30 minutes. If you have dry or sensitive skin, it's best to keep it on for no longer than 20 minutes. During this time, it's normal to feel a pulling sensation and have difficulty moving your face. Afterwards, wash away the mud mask with warm water.
To prevent drying out your skin, apply moisturizer or hyaluronic acid. Your microchannels can help your skin absorb the product better. Avoid moisturizers and other skin care products with active ingredients like alpha hydroxy acids (glycolic acids), beta hydroxy acids (salicylic acids), vitamin C serums, etc.
Cleaning Your Derma Roller
You need to clean your derma roller before storing it away. First, detach the head (if possible) and wash both the head and handle with dishwashing soap. Dishwashing soap contains detergents that can properly dissolve the proteins in your blood and skin tissue.
Let your derma roller soak in isopropyl alcohol for at least 10 minutes before letting it dry. You can then safely store your derma roller back in its container.
Get Quality Microneedling Tools at FACE Med Store
Microneedling and clay mud masks are effective at improving your facial skin through production of collagen and getting rid of old skin cells and other impurities. When combined, they can help you get smooth and soft radiant skin as well as an even skin tone. As long as you're using both treatments properly and not overdoing it, you can get the best of both worlds and achieve the results you want.
Find microneedling devices and other health, wellness, and cosmetic products at FACE Med Store. Get access to tools and other products that can effectively change the way you look with our catalogue of skin-rejuvenating supplies at competitive prices. Visit our online store today to find quality products and other great deals.
Read More: Can Derma Rollers Be Used on the Neck and Chest to Get Rid of Crepey Skin?