Using a skin serum after a derma roller skin treatment is one of the easiest cosmetic treatments you can perform at home. This skincare routine is inexpensive, doesn't require much in the terms of equipment, and can really improve your skin – as long as you find the right serum to pair. With its capability to increase collagen production, reduce the appearance of acne scars, and overall improvements on keeping your skin healthy, vitamin C Serum seems like a no-brainer to use.
But can you use a vitamin C serum with a derma roller treatment? As it turns out, it's not a good idea. Because the active ingredient in vitamin C serum goes underneath the skin, it can drastically slow down the healing process from your derma roller treatments, and may even ruin the entire process altogether. Fortunately, there are other serums that you can use for your beauty routine.
Why Use Serums With Derma Roller Treatments?
Derma rollers work by causing micro-injuries on the outer layer of your skin, which activates your body's natural wound healing response. It does this by increasing the collagen production of the affected area, which can help treat a variety of skin issues like uneven skin tone, repairing sun damage, and even helping remove dead skin cells. You can also find similar benefits in microneedling sessions, which are basically the same procedure but with different needle lengths and usually performed in cosmetic practices instead of at home.
But aside from increasing the production of collagen (which also makes derma rollers a form of collagen induction therapy), derma rolling also opens up the outer layer of your skin to any skincare product that you'll apply to it. Because any topical product has direct access to the skin beneath the surface, the product absorption of your derma rolled area is higher than usual.
Why Can't You Use Vitamin C Serums With Derma Roller Treatments?
Vitamin C Serum has plenty of benefits for the skin, including but not limited to:
powerful anti-oxidation properties
improves your skin tone and skin complexion
evens your skin texture
can help manage acne scarring and acne-prone skin
counters the age-related loss of skin firmness
repairs instances of sun damage
introduces an organic vitamin directly to your skin
and much more. It's one of the best products that you can use to get radiant skin, with most brands having natural ingredients that can help your skincare routine in a lot of ways.
However, vitamin C serums are extremely potent – so much so that they can cause irritated skin if applied to newly-derma rolled areas. Any form of vitamin C serum has this effect, so it's not a serum that experts advise you to put on your face immediately after derma roller treatment.
This doesn't mean that you can't ever use vitamin C serums if you use a derma roller. Just take some precautionary measures like making sure your skin regeneration has time to work on the top layer of skin. Most experts recommend waiting it out for 24 to 48 hours before applying it to the treated area.
Vitamin C serums aren't the only compounds that you should be avoiding: hydroxy acids, salicylic acid, glycolic acid, and other exfoliants should never be used directly after derma rolling treatment. Their reactive ingredients are also harsh on your skin and are likely to cause significant issues like tenderness, swelling, and even infection.
Is Using Vitamin C Bad In General With Dermal Rolling Treatments?
But while vitamin C serums can harm your skin after the derma rolling process, these side effects aren't shared by other methods of getting vitamin C like supplements. If you want to boost the effects of your derma rolling treatment using vitamin C, there are plenty of supplements that you can take which don't need a topical application.
This way, you get all the benefits of using vitamin C on your skin without having to stress it out from the application of your serum. Just keep in mind that oral ingestion of vitamin C won't be as fast compared to a topical application. But at least this way, you get all the benefits without any of the drawbacks.
Are There Any Serums That Are Safe To Use With The Rolling Process?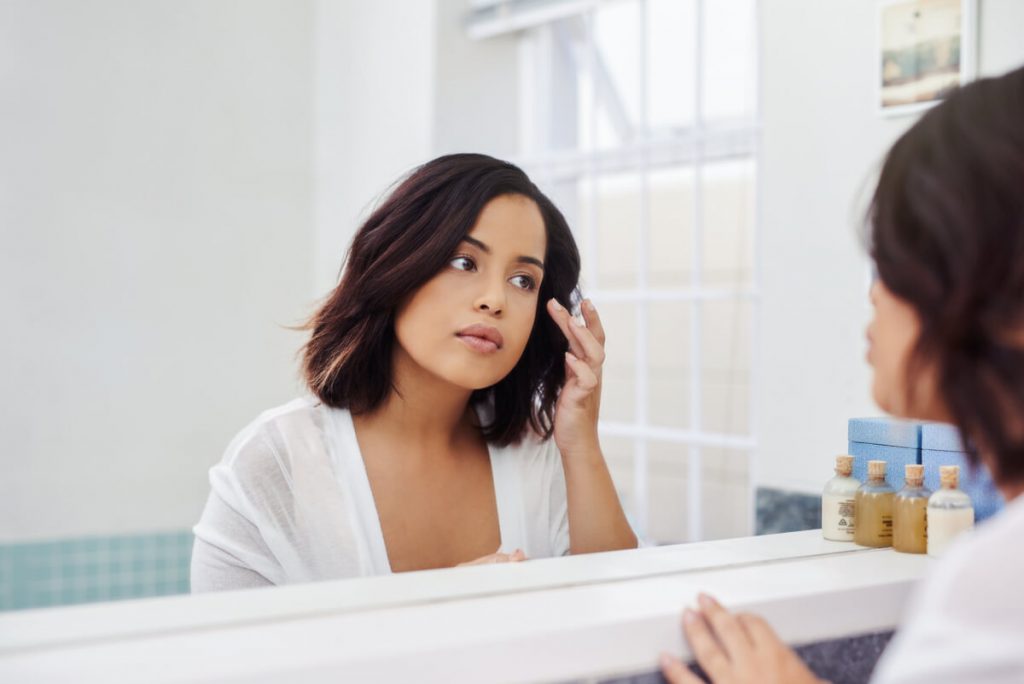 But if you're really set on using a serum to take advantage of the increased product penetration of derma rolling treatments, there is one serum that stands out above the rest in terms of how well it can help your skin and connective tissue: hyaluronic acid.
Hyaluronic acid serums are some of the most useful beauty products that anyone can use, but they work especially well for people with sensitive skin types or who have sensitive skin that they need to take care of after derma rolling. Most cosmetic and medical professionals will actually recommend that you use hyaluronic acid directly after derma rolling treatment, as it has several benefits that boost the effects of your derma rolling treatment:
Helps with keeping the skin hydrated: dry skin is less likely to become damaged
Boosts the cellular repair of your skin: to better recover from consistent microneedling sessions
Increases skin elasticity: helps repair and restore your skin from wear and tear
Hyaluronic acid serum can also act as a gentle cleanser for the surface of your skin – though keep in mind that this is considered off-label use and should be adjusted accordingly. If you're not sure about the brand of hyaluronic acid serum that's best suited for your needs, ask your provider or a cosmetic expert for more details.
What About Using Vitamin C With Microneedling Devices?
While microneedling procedures are usually performed in-clinic, it's become easier as of late to get a microneedling tool like a dermapen and use microneedling treatments by yourself at home. The effects of microneedling basically compound the effects of derma roller use – so is vitamin C serum safe for that procedure?
Unfortunately, no. While the micro-needle used in microneedling treatments doesn't break too far beneath the surface of your skin, it still opens up the layers for a while after your treatment. Applying vitamin C serum will only irritate the skin even further, and may lead to serious adverse effects like infection or a slowing down of the skin's natural recovery process.
However, using products like hyaluronic acid serums work great with microneedling treatment, since the added boost in skin regeneration can drastically help your skin get back to normal faster. While microneedling isn't an invasive procedure, the needle depth used in these treatments reaches far deeper into your skin compared to the ones used in a derma roller. You're not going to need a lot of post-procedure aftercare to recover from a microneedling session, but using hyaluronic acid does help.
Using Vitamin C Serums Before Derma Rolling
While using vitamin C serums before or after the derma rolling process can be difficult for the skin to take, the effects become far more beneficial by simply taking the serum earlier – ideally a month before you start using your derma roller regularly. This is because vitamin C helps with the production of collagen and makes your skin more resilient against sun exposure, which are key factors in helping improve the results of your derma rolling.
Vitamin C serums aren't the only product that can do this: vitamin A serums can also help since they boost your cell growth. Combining these two serums can make your derma rolling results far more effective, with your skin already primed to recover and rebuild itself after using your derma roller.
Buy High-Quality And Affordable Medical Tools And Supplies At FACE Med Store
Vitamin C serum may have many beneficial effects on the skin, but it doesn't pair that well with a derma roller treatment. If you're really set on using it after your derma roller treatments, you should wait for some time before applying it to your skin. Alternatively, you can use other serums like hyaluronic acid so the recovery process goes by much faster.
As a trusted partner for cosmetic and medical practices, FACE Med Store prides itself on delivering quality skincare products and supplies at affordable costs. We make sure that all our clients get access to the supplies that they need promptly and reliably, and stock a wide range of products that anyone can use.
For more information about us and our stocks, contact us today.