Demystifying the Role of the Clinical Esthetician
Most people who visit traditional spas for the occasional facial don't often delve much into the specific roles and responsibilities of the professionals working on their skin— be it skincare specialists, beauty experts, estheticians, or skin therapists. But it's important to know that each of these roles carry with them responsibilities that are very distinct from one another.
So, what exactly does a clinical esthetician do? What do they specialize in? How does their role differ from others in the skincare field?
The answer is not always straightforward, as this is a career that involves many nuances and areas of specialization. And the field itself is very multifaceted, encompassing a wide range of skin care specialists who go beyond regular beauty services to provide advanced treatments.
But by understanding the different types of work settings, credentials, duties, and training pathways, you can gain better insight into this growing field.
And if you are considering treatments for skin conditions like acne, pigmentation, aging, sun damage or scarring, you may benefit from the services of a clinical esthetician. Read on to understand what they do, how they train, where they work and how they differ from regular estheticians.
What is a Clinical Esthetician
Clinical estheticians are licensed specialists that typically work under the supervision of a dermatologist. They differ from regular estheticians in that they go beyond the cosmetic side of skincare. They are licensed professionals that are formally certified and trained in advanced skin anatomy, physiology, diseases, and specialized treatments.
To be a clinical esthetician, one must:
Complete hours of training in treatments like laser and light therapy, chemical peels, and microdermabrasions.
For some states, pass a licensure exam that certifies their expertise in providing advanced skincare procedures.
Be able to confidently handle pharmaceutical-grade products and medical-grade tools to treat actual skin conditions.
Provide customized treatment plans using a scientifically-grounded approach.
Follow clinical protocols for sanitation, infection control, safe use of chemicals, tool disinfection, and waste disposal.
Coordinate care plans with supervising dermatologists to determine which prescription treatments and professional procedures will work best for clients.
Stay up-to-date on the latest technologies and methods through continuing education in the field.
How is a Clinical Esthetician Trained?
To become a licensed clinical esthetician requires extensive training beyond the basic esthetics programs taught at many cosmetology schools.
A clinical esthetician will complete 600-1000 hours of advanced coursework focused on topics like:
In-depth skin anatomy, physiology, disorders and diseases
Patient care, consultation, documentation and analysis
Strict sterilization, sanitation and contamination control procedures
Pharmacology, interactions and contraindications of medications
Light-based treatments like lasers and LED
Medical devices such as dermaplaning, microneedling and microdermabrasion
Injectables and clinical chemical peels
Regulations, compliance, privacy policies and legal issues
This training usually takes place at dedicated medical esthetics schools, post-graduate programs at cosmetology schools, manufacturers' training facilities, hospital residency programs or specialized clinics and medical spas.
The table below provides an organized summary of the key credentials and licensing clinical estheticians require, including mandatory licenses as well as common voluntary certifications.
| | |
| --- | --- |
| Mandatory Credentials | Esthetics license (600+ hours of training required, varies by state)Continuing education for license renewal |
| Common Additional Credentials | Advanced training certificates in specialty areas (e.g. laser certifications, injectables administration certificates)CCE, or CME certification |
| Optional | Nursing degreeMedical assistant diplomaAdditional state licenses for certain procedures |
Where Do Clinical Estheticians Typically Work?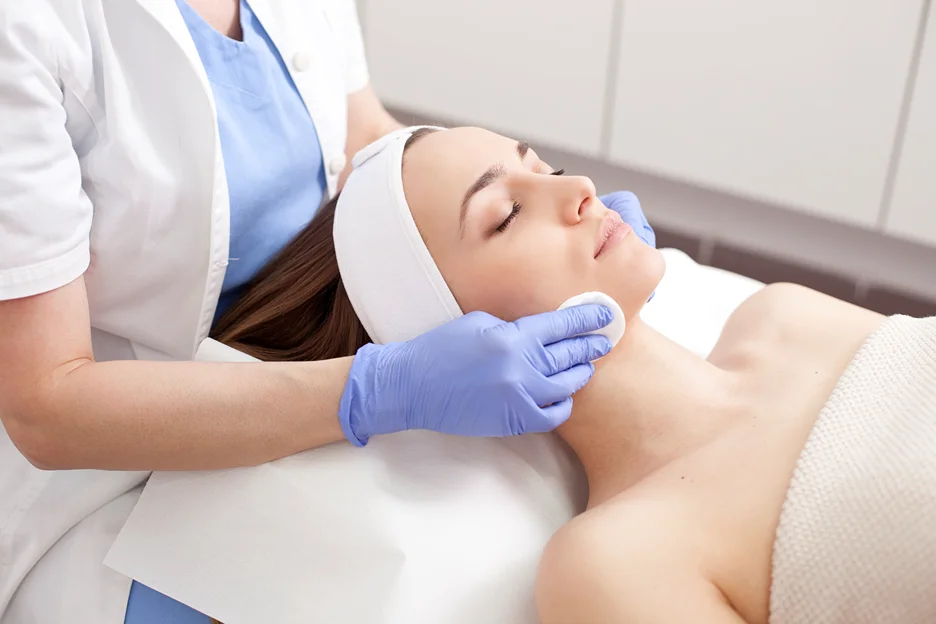 While regular estheticians can be usually found working in your usual traditional spas and salons, clinical estheticians, with their specialized training, can extend their practice to medical or healthcare settings.
Here is a list of the places where you can typically find clinical estheticians practicing their craft:
Examining the Diverse Range of Job Duties
The day-to-day responsibilities of a clinical esthetician depend largely on where they work and what specialty services they offer.
In a dermatology practice, they may provide chemical peels, microdermabrasion, LED light therapy and laser hair removal treatments. They analyze skin conditions like acne, rosacea and pigmentation issues. Their duties support the dermatologist's medical procedures and cosmetic offerings.
Within a medical spa environment, the clinical esthetician focuses more on anti-aging treatments like injectables, thread lifts and radiofrequency skin tightening. They perform specialized techniques like dermaplaning for exfoliation and platelet-rich plasma (PRP) microneedling to stimulate collagen. Spa perks like aromatherapy and massage may be included.
Clinical estheticians who do home visits or mobile services bring specialized equipment and products directly to clients. Their offerings cater to homebound patients and may include technologies like ultrasonic skin scrubbers, oxygen treatments and microcurrent facials.
When employed by a plastic surgeon, pre- and post-procedure treatments are emphasized. Prepping skin before a chemical peel or laser resurfacing treatment and providing aftercare to optimize results are examples. They may offer camouflage makeup, lymphatic drainage and LED light therapy to reduce post-surgical swelling and bruising.
Day-to-Day Responsibilities
So, what does a clinical esthetician's work day look like?
As you can see, a clinical esthetician's responsibilities and duties span medical, cosmetic and therapeutic approaches depending on the work environment.
A clinical esthetician's daily tasks are varied. Most of it though is primarily focused on providing customized solutions to patient's specific skincare concerns.
A typical work day can start off with a thorough review of the client schedule for the day ahead. Any tools and products that are needed for upcoming treatments are prepped and organized for easy access.
Some clients may come in for basic procedures like facials or hair removal sessions. While others might require more intensive treatments like peels and laser therapies.
Additionally, a few clients might come in for consultations. During these consultations, the esthetician carefully analyzes the client's skin condition, type, tone, and any other areas that might need improvement and care. They take notes and prepare to offer tailored advice, including product and treatment recommendations, based on the client's specific needs.
If there are any particular skin concerns like acne or hyperpigmentation that the client wants to focus on, the clinical esthetician will come up with solutions that address these concerns.
Clinical estheticians work hard and find reward in seeing their clients gain confidence through healthy and beautiful skin.
Regular Esthetician and Clinical Esthetician Differences
To sum it up, below is a table highlighting the key differences between a clinical esthetician and a regular esthetician. Both are professionals, of course, and serve their respective roles, but hopefully, this can help you determine which professional is best suited for your distinct skincare needs.
| | | |
| --- | --- | --- |
| Aspect | Clinical Estheticians | Regular estheticians |
| Focus | Specializes in scientifically-researched, evidence-based skincare solutions. | Provides general, non-clinical, skincare and relaxation services. |
| Services | Advanced procedures and treatments like laser therapy, light chemical peels, microneedling, and microdermabrasion. | Treatments that address minor skin problems age spots, discoloration, breakouts and dry skin. Basic skincare services like skin cleansing and toning, exfoliation, and facials. |
| Client Base | Clients with specific skin problems or conditions, such as acne, rosacea, or aging skin. Often work in conjunction with dermatologists. | General public who are looking to maintain healthy skin, address minor skin problems, or simply enjoy a relaxing skincare treatment. |
| Work Settings | Typically found in medical settings, such as dermatology clinics, plastic surgery offices, or medical spas. | Primarily work in day spas, salons, or may be self-employed. They may also work in retail settings, offering consultations and selling skincare products. |
FACE Med Store Supports Your Esthetician Goals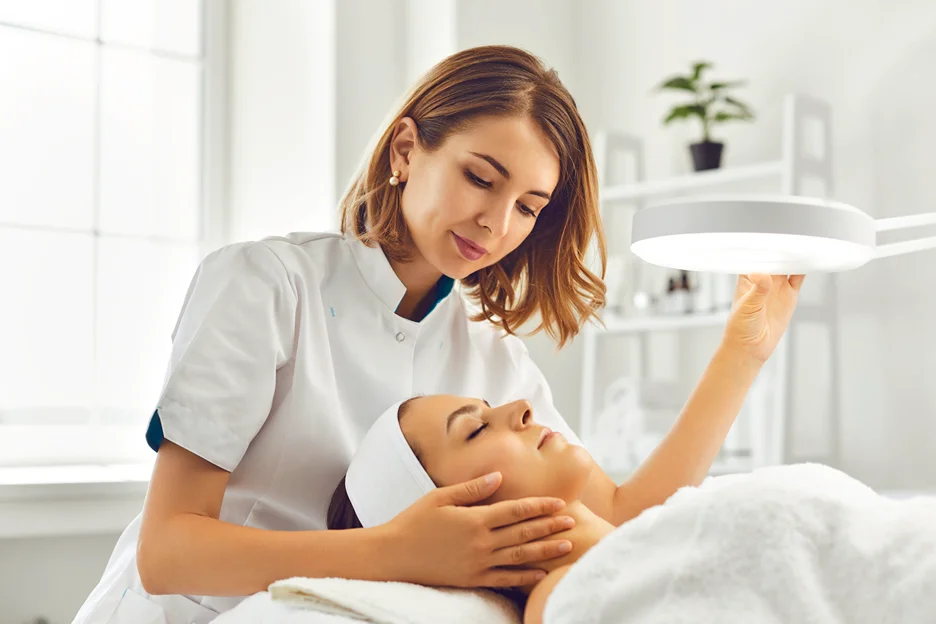 FACE Med Store makes it easy for medical spas, aestheticians, and consumers to access clinical-grade skincare essentials at affordable prices. Our wide selection includes professional-strength chemical peels, microdermabrasion machines, LED light therapy masks, and more from top brands trusted by dermatologists and estheticians worldwide.
In addition to premium products, FACE Med Store also offers courses for estheticians. If you're considering a career as a clinical esthetician or require these skills for your professional practice, FACE Med Store can assist you at each step of the journey.
Begin your path with us now to get started.