Executive Summary
Opportunity
Problem
There is an insatiable growing demand for aesthetic procedures with projected global growth of 12.2%. Almost half of all global aesthetic procedures are performed in the United States. This creates tremendous opportunity to meet the growing demand of these procedures. In addition, there is significant variation in who can deliver these procedures and malpractice cases have increased especially for non medical professionals performing these treatments. As consumers become more informed and state regulatory agencies become stricter, this will create a further opportunity for highly trained individuals such as physicians to transition and dominate this space.
Solution
Our solution is to provide a hybrid environment in combining the best elements of a traditional clinical space and a more tranquil day spa. In addition, by utilizing highly trained physicians, we are able to leverage our skill to provide comprehensive aesthetic care with demonstrable results while adhering to the strictest standards. This will also reduce the variation in care received by prospective client. This is one of the reason why most med spa franchises were not successful. Finally, with our cadre of seasoned advisors in various different industries from legal to marketing, we are poised to dominate the local competition.
Our solution includes the appreciation of newer trends which are gaining popularity. In addition to tradition service offerings of neuromodulators, dermal fillers, and laser based procedures we will also be focusing on PRP for rejuvenation and hair growth as well as the body contouring marketing. Newer advances in the aesthetic industry will continue to drive this demand and we will be able to capitalize on it.
Market
Majority of aesthetic procedures have been performed on Causcasian women between the age of 40 to 54. Over 17 million noninvasive and minimally invasive procedures were performed in 2016 with 90% being performed on women. While this represents a continued targeting opportunity, younger women age 30 and up are increasing their utilization of these procedures. In addition, men and ethnic groups are more frequently getting this procedures and this creates an opportunity for additional marketing.
Competition
Aesthetic procedures were once the domain of dermatologist as well as plastic surgeons. However the popularity and demand for these procedures have lead to non core physicians offering these services as well as non medical professionals. In addition, regulations regarding these procedures vary from state to state. Finally, frustration with traditional medicine has led to. more physicians entering this space. Despite rising competition, our focus is on a model involving the use of highly trained physicians as well as focusing on marketing. Up to 80% of medical spas go out of business secondary to lack of highly skilled professional, inadequate resources, and lack of aggressive marketing to dominate this area. By utilizing a team of advisors including other successful med spa owners, legal experts, and dominant marketing companies, we definitely have a leg up on the competition.
Why Us?
Our team is comprised of highly trained physicians, lawyers, financial and marketing experts to guide us to successful deployment and growth of our business model. By focusing on the needs of our potential clients, both in terms of offering the latest and most popular aesthetic services, as well as paying attending to customer service, we will dominate the local competition. Our goal is to cultivate lifelong relationships with our client by educating them and offering solutions that match their needs. It is very easy to prey on individual insecurities in terms of aesthetic procedures, but by establishing ourselves as a trusted source we will build a practice with expertise, honesty, and integrity .
Expectations
Forecast
Our goal is to be net cash flow positive by month 9 and profitable by the second year. we expect to grow. Our net profit will be 14% of our revenues the second year and 25% by the third year. By focusing on revenue generation procedures, we expect the greatest growth to be in the first three years followed by steady growth in revenues at 10 to 15% per year thereafter. By leveraging the expertise of our advisors, we will be profitable at the end of year 2 instead of the traditional year 4 to 5.
Financial Highlights by Year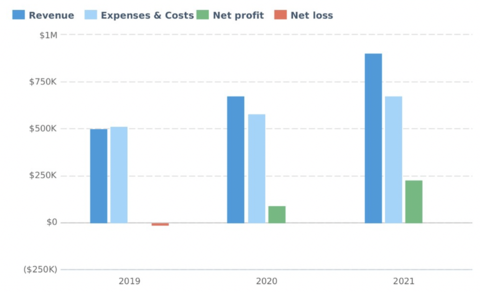 Financing Needed
The business will be funded by personal funding sources as well as SBA business loans. In addition, business credit cards as well as a line of credit may be utilized for startup costs, capital expenditure and maintains operating costs.
Opportunity
Problem & Solution
Problem Worth Solving
As the aesthetics industry continues to grow and fuel the increasing demand for minimally invasive and non invasive procedures, this creates an opportunity to capitalize on the demand. Given the multiple problems that affect the health care industry, more physicians are turning to alternative forms of income to supplement or replace their traditional practice. Given the significant variations and regulations affecting the aesthetic industry, many non medical and unskilled professionals are entering this space. The goal is to utilize the advanced medical education and training and leverage it in the aesthetic and wellness industry.
Another problem is the lack of accountability when it comes to aesthetic procedures in comparison to other medically necessary procedures. Given the relative infancy of the aesthetic industry, variations in practice and proper techniques often times result in injury to patients. The number of lawsuit especially against non medical professional is on the rise as a result improper technique and lack of medical training.
The focus of most aesthetic practices also has been primarily with improvement in aspects of appearance. While it can have a profound affect, it does not necessarily address the client from a holistic perspective. The trend in aesthetic medicine is to incorporate some component of wellness as well to ensure that the client not only looks good but feels good. It is this incomplete treatment of the person, which creates an additional opportunity
Our solution
Awesome Medspa and Wellness center will capitalize on this demand and leverage the medical training and skillset to offer clients professional and exceptional care while maintaining the highest standards. Many of the practitioners of aesthetic medicine don't have a medical degree and some providers don't event have a medical background. At awesome medical spa, the procedures will primarily be performed by physicians and other medical professionals under the supervision of these physicians to ensure the highest adherence to standards. Our goal is to ensure that our clients get access to the latest aesthetic products and services in an environment built on ethical standards and an attention to the performance that will ensure safety as well as deliver results.
Target Market
The global aesthetic industry is slated to grow at a CAGR of 12.2% over the next year and is an industry worth nearly 20 billion dollars. The United States represents half of the value of the overall global aesthetic industry. Consumer demand has created an insatiable appetite in this space. To fully appreciate the tremendous growth in this space as well as future opportunities it is important to understand the present market conditions for aesthetic procedures in the United States.
The focus of the aesthetic medicine and wellness industry is on non invasive and minimally invasive procedures such as botulinum toxin (Botox), dermal fillers, laser based services including hair removal and skin rejuvenation, as well as chemical peels and microdermabrasion. Recent trends such as platelet rich plasma, body contouring, bio identical hormones and sexual health are increasing in interest and utilization.
According to the ASPS, in 2017, there were 17,504,950 of these types of procedures. This number is 10 times the surgical procedures that were performed. There was also a growth of 137% compared to 2000.
Almost 50% of all cosmetic procedures were performed on women between the age of 40 to 54. This age range was followed by 55 and over with close to 4 million procedures and in third place 30 to 39. In terms of gender differences, 90% of cosmetic procedures were performed on women with 10 percent being performed on men. In terms of ethnicity, 70% of procedures were performed on Caucasians followed by Hispanics, African Americans, and Asian Americans.
While Caucasian women between 40 to 54 remain the primary utilizers of cosmetic procedures. there has been a gradual increase every year in men and other ethnic groups utilizing these services. This creates future opportunities to target men as well as a growing group of Hispanics, African and Asian Americans.
Millenials, or those born after 1982, remain a highly sought after market segment given increased discretionary spending as well as being tremendously influenced by societal factors and the popularity of social media
Competition
Current alternatives
Given the demand created by explosive growth in the aesthetic industry, there is no shortage of competitors. These procedures, once the domain of core physicians of plastic surgeons and dermatologist, are being performed by non core physicians as well as non medical professionals. These cosmetic procedures are primarily available in three different settings: Physician offices, medical spas, and days spas. The most commonly performed procedures offered at most medical spas and aesthetic practices include Botox, dermal fillers, laser based treatments, microdermabrasion and chemical peels. Rising trends in other modalities such as body contouring and platelet rich plasma along with bio identical hormones, weight management and sexual health are finding their way to the service offerings of traditional aesthetic practices.
Because of concern for consumer safety, increasing regulatory guidelines will place pressure on the aesthetic industry, which may actually benefit medical spas operated by physicians by limiting non medical professionals.
However, a growing sense of frustration amongst physicians are leading them to consider augmenting their existing practice with aesthetic medicine and wellness or completely transitioning into this space. Most medical spas and cosmetic services are fee for service and typically not covered by insurance. Therefore this creates a financial incentive for others to enter this space.
There are approximately 4000 medical spas in the United States with approximately
40% being concentrated in the South and the remaining being in the East and West Coast. While competition in these areas remain high, opportunities in the central portion of the United States may lead to growth due to less competition.
While skin care and at home devices remain competitors of these non invasive and minimally invasive cosmetic procedures, they at present do not represent a significant threat to the aesthetic industry. Often times they are used in conjunction with these types of procedures. Certainly as technology and R and D lend itself to better skin care products and at home devices, this may a be a potential threat in the future
The goal of Awesome Medical Spa and Wellness Center is to incorporate both these types of cosmetic procedures as well as wellness medicine which incorporates treatment modalities which. make people feel young. Our goal is to create a medical practice where we not only make you look good but also make you feel good.
Our advantages
Our biggest advantage is the training and level of service offerings in relation to our competitors. First our medical spa is staffed with a board certified physician who has received the training necessary to delivery aesthetic procedures and wellness medicine in a safe and effective manner. Unlike other practices run by either non medical professionals and mid level medical professionals such as physician assistants and nurses, our premise is that the facility is owned and operated by a medical doctor who may choose to use PAs and RNs as ancillary support.
Second, given the competitive nature of the aesthetic industry we plan to use technology and products which meet the highest standards to ensure the safety and effectiveness of our services. At our med spa, we do not cut corners. Combined with the utilization of the latest and best practices, is our commitment to customer service. Traditional medicine often times does not pay attention to this component but it is essential in aesthetic medicine. In addition, we have this distinct advantage over our core physician counterparts such as dermatologist and plastic surgeons. Sometimes wait times in a dermatologist's office can be several hours because they are combining both general and cosmetic dermatology. They seem to take advantage of the fact that clients are inherently coming to them for skin concerns and will utilize their cosmetic services. At our med spa, the client experience is at the forefront. Exception experience is also based on consistency. When you walk into a Ritz Carlton anywhere in the world, the level of service is exceptional and consistent. That is the goal with our medical spa.
Marketing is at the cornerstone of our plan to dominate the local area. Many aesthetic practices don't invest adequately into marketing because either they have held a dominant position or they simply don't understand the increasingly competitive landscape. Through proper implementation of an aggressive marketing strategy including digital and social media marketing, we aim to dominate our local competition within a short period of time. Having already executed a similar strategy with our prior medical spas with tremendous success, we plan to replicate this strategy.
Finally, we are fully supported by industry experts and advisors in various different industries related to the aesthetic medicine and wellness practice. Our advisors encompass everything from marketing support to legal support to training and efficient implementation of our business model.
Execution
Marketing & Sales
Marketing Plan
Marketing is an integral part of any aesthetic practice. Many practices that have failed have been secondary to one of three reasons: lack of trained professionals, lack of capital, and finally ineffective marketing.
Marketing remains a cornerstone of driving prospective consumers to the business. A robust strategy which incorporates a primarily digital strategy is required to succeed in this increasingly more competitive landscape. Traditional forms of media such as TV, radio, print and billboards are no longer effective in marketing in many different industries and this certainly holds true for the aesthetic and wellness industry.
Marketing has to include a professionally designed website with on and off site search engine optimization combined with a social media strategy comprised of major players such as Facebook, Instagram, Snapchat, Pinterest, and Twitter. A third component is paid advertising through Google PPC and Facebook and Instagram Ads. This multi pronged digital approach will ensure the message reaches the target segment and to ensure revenue generation from day 1.
Equally important to the delivery of the message is the content. Given the competition in this demanding industry, the message has to resonate with the target population. Our primary mission is to provide safe and effective treatments which are minimally and non invasive. This translates into lower risk compared with traditional surgical procedures. In addition, our focus is on leveraging our highly trained medical professionals to perform this treatments which will further differentiate ourselves from non medical professionals as well as medical professionals without adequate training. Finally, our approach to rejuvenation is a holistic one where we combine both aesthetic and wellness medicine to ensure that you look and feel younger.
Customer service is integral to any business. By implementing surveys, loyalty and referral programs, our goal is to ensure a higher retention by engaging our clients through multiple points of interactions.
This comprehensive marketing strategy will lead to dominance in a field which has been recently described as the Wild West of medicine, where everyone is trying to do everything to capitalize on the continued growth if this market space.
Sales Plan
There are several steps in the sales process. The most important is a steady stream of leads which have the potential of converting into clients that actually come to the physical location and purchase a product or service. This part of the sales process is predicate upon developing. profession website as well as lead funnels which are able to distill prospective clients into customers.
Second part of the process is cultivating the leads. While some of this cultivation is an automated process through the use of digital marketing and sales funnel, an integral component is having staff that is trained in the process of further moving this clients and actually scheduling them for an appointment. The sales funnel itself is capable of shepherding clients to our online scheduling system. Given the immediate nature of consumer needs, this is important to capture clients at the moment they entertain the procedure. The faster you are able to reach your clients the greater the chance of success at true conversion.
Any client that are on the fence will be further engaged into drip campaigns meant to offer greater incentives to become customers. In addition, staff members will reach out to clients either via a video message, text messaging or a phone call. Most people require at least 6 to 7 points of contact before they decide to become actual customers. Our software can also be setup to reach out to them in the future if initial attempt are unsuccessful.
Loyalty programs and referral programs are successful in creating loyal customers as well as creating avenues to attract new client. This can be accomplished through the use of our loyalty app which we have deployed in our other locations with great success.
Special events mean to demonstrate new service offerings as well as products have in the past produced fantastic results by giving potential customers a deeper understanding of the procedure they may be interested in. We couple these special quarterly events with special promotions and incentives and limit it to a select amount of clientele to create a sense of urgency in converting these leads.
Finally, we ask our clients for feedback in forms of online surveys and reviews. This allows us to further fortify our sales process as well as improve any areas which may be lacking. By demonstrating to our client, their experience is of paramount important, this creates a further trust based relationship where the customer is likely to utilize aesthetic and wellness services for years to come.
Operations
Locations & Facilities
The physical location for Awesome Medical Spa and Wellness Center is malleable depending on the geographic region and availability for a commercial space. We can easily deploy our practice into a free standing building in a suburban setting, to an office complex either in a suburban or metropolitan setting. Another option to limit build out cost includes the option of leasing space in an existing medical practice.
Given the focus on cosmetic procedures as well as wellness medicine, it is important to create an atmosphere of beauty and tranquility to differentiate it from the clinical nature of traditional medical practices. In addition, these procedures are typically fee for service and therefore the physical space as to be commensurate to the concept of beauty and wellness.
While ideally, a free standing building with at least 1500 to 2000 sq feet with adequate parking would be desired, it is not a requisite for building a successful aesthetic practice. As long as the environment is tranquil and beautiful, attention to customer service is at the forefront, and the medical professionals are able to deliver demonstrable results, this type of business can function in thrive in various different environments.
Technology
Technology is at the heart of the aesthetic industry and wellness medicine. Several key components are integral to the success of a growing practice.
First a comprehensive EMR or electronic medical system is required to keep track of patient documentation. Several EMR has built in Point of Sale components as well as marketing components. The POS system integrates with credit card processors and obviates the need for a dedicated credit card terminal, although even if one is required they do not contribute to the cost significantly. One such piece of software is PatientNow. Most of the available software is based on an initial fee followed by a subscription service. It also functions as a CRM for managing and marketing to the existing clients. It features an online portal as well as text based communications to facilitate the process for the client
The second integral component includes light and laser based systems for laser hair removal and skin rejuvenation. While newer technologies are constantly evolving, the basic principles of lasers in cosmetic medicine have stayed the same. Lasers on the secondary market from reputable deals provide a significant cost savings of 50% to 70% over their newer counterparts and are just as effective. This can reduce the startup costs and allow a business to increase the profit margin. A third option for laser technology is to rent the lasers on a monthly basis which again can be an option to limit upfront expenditure and rent to buy options can be utilized to acquire the technology over the course of 1 to 2 year
All in one platforms are the direction for startup as it gives you the ability to perform the maximum number of procedures while limiting the initial expenditure. There are several platforms which fall in this realm. Two that are commonly utilized are the Cynosure Elite and Candela Gentleman platforms. They combine an alexandrite and a YAG laser which allow you to treat all skin types as well as being able to perform skin rejuvenation procedures. Addition of IPL or intense pulsed light as well as fractional resurfacing can also increase maximum marketability. An example of such a technology is the Cynosure Elite Platform in combination with the Palomar MAX G IPL and 1540 nm fractional handpick.
Three of the top five procedures include botulinum toxin, dermal fillers, chemical peels and microdermabrasion or Hydrfacial device. Relative to lasers, the injectables represent a much smaller cost as only a small inventory is required initially and does not contribute to overall significant cost. Also the shipping logistics of these injectable companies is very efficient and often times you get additional product the next day allowing you to keep a small inventory. Mircrodermabrasion machine does not generate high revenues but minor procedures are a gateway to higher ROI and revenue generation.
Body contouring at increasing at a fast pace especially the non invasive procedures such as Trusculpting, Exilis, Coolsculpting, Vanquish, and many others. We have also seen a tremendous increase in direct to consumer advertising in the body contouring space after Allergan acquired Zeltiq, the make of Coolsculpting. People with mild to moderate areas of localized areas are opting for these non surgical procedures instead of traditional liposuction especially since the technology has improved significantly. Coolsculpting, especially produces 90 percent satisfaction rating when the right client is selected with minimal to no risk as compared to traditional surgery.
Other technologies and services that represent an increasing trend include platelet rich plasma systems which require a centrifuge and PRP kits which help to separate the plasma component from the blood. This platelet rich plasma and then injected into the face to stimulate skin rejuvenation or into the scalp to help hair growth especially for androgenic alopecia. One of the hottest trends has been the Vampire Facial, which is a trademarked procedure by Dr Charles Runels. Essentially it combines micro needling with platelet rich plasma to help improve the quality of the skin. This procedure has been made very popular by the likes of Kim Kardashian further testament to the power of social media as an overall marketing strategy.
A photography system such as the Vector 3D for before and after pictures is required. There are several options. A reasonable setup can be implemented with a DSLR camera and lightning for under 1000. Innovative companies such as RxPhoto also allow for utilization of your mobile devices to provide consistent pictures without a large initial investment and are based on subscription type services.
Computers, high speed Internet and a SONOS music system round out the overall technology in the med spa startup. Depending on the size of the practice 2 to 4 computer terminal may be requires or mobile units such as the Surface Pro or MacBook Air for ease of portability. A server can be utilized to store all data and images in a secure system and allow for a centralized storage point with cloud based backup.
Equipment & Tools
Other equipment that is required include reception desk, spa furniture, spa tables/beds to provide comfort as opposed to a clinical and cold medical table. In addition, water features and other embellishment will further enhance the serenity and beauty of the practice.
Other equipments will include a centrifuge to process the blood into platelet rich plasma. This is not a large investment and a good centrifuge could be purchased for $2000.
Future purchases may include a body contouring device such as the BTL Vanquish or Coolsculpting which is a significant expenditure however PRP and body contouring are body rising trends. Fat elimination procedures and cellulite treatment have increased over 20% over the last few years.
Additional lasers and equipment may be purchased in the future to address specific cosmetic concerns such as vein treatment, vaginal rejuvenation, mens health and impotence .
However the initial focus should be on the top 5 popular procedures with future focus on additional services which will expand offerings and increase revenues
Milestones & Metrics
Key metrics
Success is predicate on constraining start up costs and maximizing revenue stream from day 1 . Marketing is a cornerstone of lead generation and revenue stream creation. Certain metrics such as cost per conversion for digital based marketing are important
to understand. The average cost for lead acquisition depends on the service and local competition. The goal is to make the digital marketing strategy and reduce the cost per lead acquisition and maximize the procedure with the greatest return on investment such as injectables and laser based services. The focus will be on the top 5 procedures as the popularity and demand will dictate growth.
Website traffic is one of the components of the digital marketing strategy and typically revenue generation is linked to a professionally designed website that is able to convert the traffic into leads that come to the business location. The goal is to create valuable content and engage in onsite and offsite search engine optimization to attract potential clients. By analyzing website traffic and conversion rates it is possible to estimate the ROI for various different marketing strategies.
Cash on hand is an important consideration for the first year of business. This will ensure that the business will thrive during initial period where growth is approaching the break even point. One of the metric we will be using is to arrive at the break even point within 9 months to 1 year and to be profitable by year 2. By paying close attention to the overhead expenses and minimizing the startup costs, it is possible to reach this period within a short period of time as opposed to the traditional proscribed period of 5 years.
Company
Overview
Ownership & Structure
Awesome Medical Spa and Wellness Center LLC is register as a limited liability corporation with 2 founders with equal shares. At this point no outside investors are involved although there might be an opportunity for partnerships in the future with newer aesthetic and wellness treatments in the field of bio identical hormones, hair loss treatments, vein therapy, IV therapy, functional and nutritional medicine. The premise of this entire industry is a holistic approach to both internal and external well being and appearance. This will be future opportunities and growth in this segment.
Company history
Awesome Medspa and Wellness will work with trusted advisors and industry exports to start up a business which has demonstrated profitability with proper execution. Many have tried to franchise the med spa model but have typically failed due to variations in statewide regulation as well as lack of medical supervision and skilled staff.
Our model is predicated on medical doctors using their training as well as skill set to deliver a majority of the cosmetic procedures as well as deploy wellness medicine while maintaining a level of expertise that was previously unrivaled. In addition, we will oversee a staff of potential nurses, physician assistants and licensed aestheticians.
Our team of advisors have successfully started up multiple aesthetic and wellness practices. Having this as a resource will allow us to structure a successful business model, while constraining cost and maximizing profitability by leveraging the combined expertise of our advisors.
To date, we have formed strategic alliances with the personnel necessary to start up our business. In addition, the business plan will serve as a roadmap for future success. At present our goal is to focus on results oriented products and services to take advantage of the burgeoning aesthetic industry. The focus on rising trends will allow us to maintain superiority in our local market and grow as we incorporate new technology and services.
We have also taken the prerequisite courses in legal issues of aesthetic startup, logistics and business plan, staffing, training, and marketing. This has allowed us a comprehensive view of th industry and will allow us to execute the business plan.
Team
Management team
The management team is made up of the owners of the business. Our primary expertise lies in our medical training and ability to perform all non invasive and minimally invasive aesthetic and wellness procedures regardless of location. We hope to hire a spa manager to oversee the daily operations of the spa. As previously mentioned, we have done the research and taken courses covering a multitude of topics to start up this business. In addition, our team of advisors have decades of experience in this industry having built a successful model. Our strategic alliances with vendors, lawyers, financial institutions, and marketing experts have laid a foundation for eventual success was defined by profitability and growth within a short period of time.
Advisors
Our team of advisors included lawyers specifically familiar with the aesthetic industry including the state regulations. They will provide a packet of these regulations as well as all the information paperwork and consents necessary to safely start a practice while maintains legal compliance in all 50 states.
Secondly, our access to vendors allow us to take advantage of group pricing and add the proper equipment and supplies necessary to generate revenue from day one. These vendors include laser, medical suppliers as well as malpractice carries.
Our marketing team deals specifically with the niche of physician practices including aesthetic medicine and wellness. They have discovered the recipe for marketing success in terms of lead generation through a comprehensive digital strategy. The entire goal is to drive prospective clients and working with a marketing company that has demonstrate good ROI and profitability for marketing resources will give us a competitive advantage.
Finally, our team of advisors includes other physicians and specialist such as plastic surgeons, dermatologist, and successful owners of the aesthetic industry. Through cooperation and collaboration, we intend to leverage our experience and expertise into a highly profitable business.
Financial Plan
Forecast
Key assumptions
The financial forecast is based on actual values from other aesthetic medicine and wellness practices. It was provided to us by our team of advisors and business owners who have a similar practice. Assumptions for growth are based on the CAGR of the aesthetic industry which is forecasted to grow at 12.2% for the next 5 years. The forecast models therefore are based on past results as well as market research to give an accurate estimation.
Key hires will be support staff including spa manager, medical assistants, nurses, and/or physician assistants. Initially, it may just be a receptionist and a medical assistant to constrain costs but as the business grows, we will be adding personnel with specialized abilities.
Notable expenses include build out costs which can certainly be eliminated either if the space is already built out or renting a space in an existing practice. Other significant costs include laser equipment, spa furniture, computer systems, and other miscellaneous expenses.
First year revenues based on prior experience and market research will be help us reach a break even point at month 9 to 10. We will be cash flow positive at this point and will realize a profit of 14% by year 2. We will continue growth through addition of services and private label skin care product.
Revenue by Month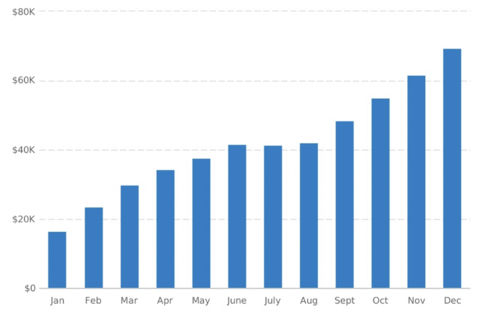 Expenses by Month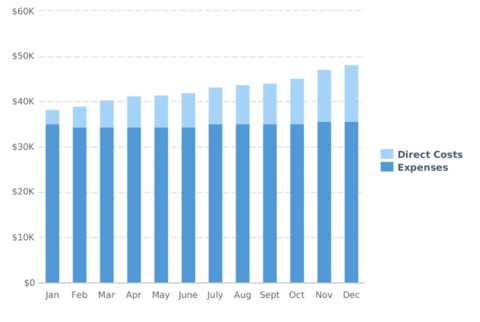 Net Profit (or Loss) by Year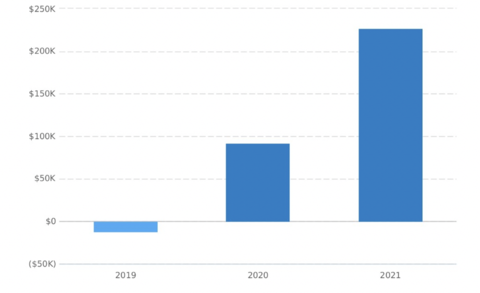 Financing
Use of funds
These funds will be used for build out costs, capital expenditures such a purchase of computers, spa furniture, and equipment as well as covering operating costs, marketing, and personnel. As the business becomes profitable, this revenue will be used to grow the business by increasing marketing, adding personal, and purchasing new equipment.
Sources of Funds
Source of funding will be comprised of private funds as well as SBA business loan. The exact amount of personal financing will be 250000 in addition to a business loan in the amount of $250,000. Additional potential sources of financing include personal credit cards as well as lines of credit
Statements
Projected Profit and Loss
2019 2020 2021
Revenue
$501,600
$674,250
$904,250
Direct Costs
$95,200
$123,750
$157,500
Gross Margin
$406,400
$550,500
$746,750
Gross Margin %
81%
82%
83%
Operating Expenses

Salaries & Wages

$204,000
$210,120
$216,424
Employee Related Expenses
$40,800
$42,024
$43,285
Marketing
$34,000
$45,000
$60,000
Rent
$48,000
$48,000
$48,000
Utilities
$3,600
$3,600
$3,600
Internet / Telephone
$1,800
$1,800
$1,800
Office Supplies
$3,225
$4,000
$5,000
Malpractice Insurance Full time
$6,000
$6,000
$6,000
Medical Supplies
$5,525
$6,500
$7,500
Janitorial
$6,000
$6,000
$6,000
General Liability Insurance
$4,800
$4,800
$4,800
Total Operating Expenses
$357,750
$377,844
$402,409
Operating Income
$48,650
$172,656
$344,341
Interest Incurred

Depreciation and Amortization

$61,000
$61,000
$61,000
Income Taxes
$0
$19,861
$56,668
Total Expenses
$513,950
$582,455
$677,577
Net Profit
($12,350)
$91,795
$226,673
Net Profit / Sales
(2%)
14%
25%
Projected Balance Sheet
2019 2020 2021
Cash
($370,350)
($212,027)
$84,256
Accounts Receivable
$0
$0
$0
Inventory

Other Current Assets

Total Current Assets

($370,350)
($212,027)
$84,256
Long-Term Assets
$419,000
$419,000
$419,000
Accumulated Depreciation
($61,000)
($122,000)
($183,000)
Total Long-Term Assets
$358,000
$297,000
$236,000
Total Assets
($12,350)
$84,973
$320,256
Accounts Payable
$0
$0
$0
Income Taxes Payable
$0
$5,528
$14,138
Sales Taxes Payable

Short-Term Debt

Prepaid Revenue

Total Current Liabilities

$0
$5,528
$14,138
Long-Term Debt

Total Liabilities

$0
$5,528
$14,138
Paid-In Capital

Retained Earnings

($12,350)
$79,445
Earnings
($12,350)
$91,795
$226,673
Total Owner's Equity
($12,350)
$79,445
$306,118
Total Liabilities & Equity
($12,350)
$84,973
$320,256
Projected Cash Flow Statement
2019 2020 2021
Net Cash Flow from Operations

Net Profit

($12,350)
$91,795
$226,673
Depreciation & Amortization
$61,000
$61,000
$61,000
Change in Accounts Receivable
$0
$0
$0
Change in Inventory

Change in Accounts Payable

$0
$0
$0
Change in Income Tax Payable
$0
$5,528
$8,610
Change in Sales Tax Payable

Change in Prepaid Revenue

Net Cash Flow from Operations

$48,650
$158,323
$296,283
Investing & Financing Assets Purchased or Sold
($419,000)
Investments Received

Change in Long-Term Debt

Change in Short-Term Debt

Dividends & Distributions

Net Cash Flow from Investing &

Financing

($419,000)
Cash at Beginning of Period
$0
($370,350)
($212,027)
Net Change in Cash
($370,350)
$158,323
$296,283
Cash at End of Period
($370,350)
($212,027)
$84,256
Appendix
Profit and Loss Statement (With monthly detail)
| | | | | | | | | | | | | |
| --- | --- | --- | --- | --- | --- | --- | --- | --- | --- | --- | --- | --- |
| 2019 | Jan '19 | Feb '19 | Mar '19 | Apr '19 | May '19 | June '19 | July '19 | Aug '19 | Sept '19 | Oct '19 | Nov '19 | Dec '19 |
| Total Revenue | $16,400 | $23,500 | $29,950 | $34,400 | $37,650 | $41,650 | $41,450 | $42,100 | $48,400 | $55,000 | $61,750 | $69,350 |
| Total Direct Costs | $3,300 | $4,650 | $6,000 | $6,800 | $6,950 | $7,600 | $8,150 | $8,700 | $9,100 | $10,050 | $11,400 | $12,500 |
| Gross Margin | $13,100 | $18,850 | $23,950 | $27,600 | $30,700 | $34,050 | $33,300 | $33,400 | $39,300 | $44,950 | $50,350 | $56,850 |
| Gross Margin % | 80% | 80% | 80% | 80% | 82% | 82% | 80% | 79% | 81% | 82% | 82% | 82% |
Operating Expenses
Salaries and
Wages
$17,000
$17,000
$17,000
$17,000
$17,000
$17,000
$17,000
$17,000
$17,000
$17,000
$17,000
$17,000
Employee Related Expenses
$3,400
$3,400
$3,400
$3,400
$3,400
$3,400
$3,400
$3,400
$3,400
$3,400
$3,400
$3,400
Marketing
$2,500
$2,500
$2,500
$2,500
$2,500
$2,500
$3,000
$3,000
$3,000
$3,000
$3,500
$3,500
Rent
$4,000
$4,000
$4,000
$4,000
$4,000
$4,000
$4,000
$4,000
$4,000
$4,000
$4,000
$4,000
Utilities
$300
$300
$300
$300
$300
$300
$300
$300
$300
$300
$300
$300
Internet /

Telephone

$150
$150
$150
$150
$150
$150
$150
$150
$150
$150
$150
$150
Office Supplies

Malpractice

$200
$225
$225
$250
$250
$250
$275
$300
$300
$300
$325
$325
Insurance Full time
$500
$500
$500
$500
$500
$500
$500
$500
$500
$500
$500
$500
Medical Supplies
$1,000
$300
$300
$350
$400
$400
$425
$425
$425
$450
$500
$550
Janitorial
$500
$500
$500
$500
$500
$500
$500
$500
$500
$500
$500
$500
General Liability
$400
$400
$400
$400
$400
$400
$400
$400
$400
$400
$400
$400
Insurance
Total
Operating Expenses
$29,950
$29,275
$29,275
$29,350
$29,400
$29,400
$29,950
$29,975
$29,975
$30,000
$30,575
$30,625
Operating Income
($16,850)
($10,425)
($5,325)
($1,750)
$1,300
$4,650
$3,350
$3,425
$9,325
$14,950
$19,775
$26,225
Interest Incurred

Depreciation and

Amortization

$5,083
$5,084
$5,083
$5,083
$5,084
$5,083
$5,083
$5,084
$5,083
$5,083
$5,084
$5,083
Income Taxes
$0
$0
$0
$0
$0
$0
$0
$0
$0
$0
$0
$0
Total Expenses
$38,333
$39,009
$40,358
$41,233
$41,434
$42,083
$43,183
$43,759
$44,158
$45,133
$47,059
$48,208
Net Profit
($21,933)
($15,509)
($10,408)
($6,833)
($3,784)
($433)
($1,733)
($1,659)
$4,242
$9,867
$14,691
$21,142
Net Profit / Sales
(134%)
(66%)
(35%)
(20%)
(10%)
(1%)
(4%)
(4%)
9%
18%
24%
30%
2019 2020 2021
Total Revenue
$501,600
$674,250
$904,250
Total Direct Costs
$95,200
$123,750
$157,500
Gross Margin
$406,400
$550,500
$746,750
Gross Margin %
81%
82%
83%
Operating Expenses

Salaries and Wages

$204,000
$210,120
$216,424
Employee Related Expenses
$40,800
$42,024
$43,285
Marketing
$34,000
$45,000
$60,000
Rent
$48,000
$48,000
$48,000
Utilities
$3,600
$3,600
$3,600
Internet / Telephone
$1,800
$1,800
$1,800
Office Supplies
$3,225
$4,000
$5,000
Malpractice Insurance Full time
$6,000
$6,000
$6,000
Medical Supplies
$5,525
$6,500
$7,500
Janitorial
$6,000
$6,000
$6,000
General Liability Insurance
$4,800
$4,800
$4,800
Total Operating Expenses
$357,750
$377,844
$402,409
Operating Income
$48,650
$172,656
$344,341
Interest Incurred

Depreciation and Amortization

$61,000
$61,000
$61,000
Income Taxes
$0
$19,861
$56,668
Total Expenses
$513,950
$582,455
$677,577
Net Profit
($12,350)
$91,795
$226,673
Net Profit / Sales
(2%)
14%
25%
Balance Sheet (With Monthly Detail)
2019
Jan '19
Feb '19
Mar '19
Apr '19
May '19
June '19
July '19
Aug '19
Sept '19
Oct '19
Nov '19
Dec '19
Cash
($435,850)
($446,275)
($451,600)
($453,350)
($452,050)
($447,400)
($444,050)
($440,625)
($431,300)
($416,350)
($396,575)
($370,350)
Accounts Receivable
$0
$0
$0
$0
$0
$0
$0
$0
$0
$0
$0
$0
Inventory

Other Current Assets

Total Current

Assets

($435,850)
($446,275)
($451,600)
($453,350)
($452,050)
($447,400)
($444,050)
($440,625)
($431,300)
($416,350)
($396,575)
($370,350)
Long-Term Assets
$419,000
$419,000
$419,000
$419,000
$419,000
$419,000
$419,000
$419,000
$419,000
$419,000
$419,000
$419,000
Accumulated Depreciation
($5,083)
($10,167)
($15,250)
($20,333)
($25,417)
($30,500)
($35,583)
($40,667)
($45,750)
($50,833)
($55,917)
($61,000)
Total Long-

Term Assets

$413,917
$408,833
$403,750
$398,667
$393,583
$388,500
$383,417
$378,333
$373,250
$368,167
$363,083
$358,000
Total Assets
($21,933)
($37,442)
($47,850)
($54,683)
($58,467)
($58,900)
($60,633)
($62,292)
($58,050)
($48,183)
($33,492)
($12,350)
Accounts Payable
$0
$0
$0
$0
$0
$0
$0
$0
$0
$0
$0
$0
Income Taxes Payable
$0
$0
$0
$0
$0
$0
$0
$0
$0
$0
$0
$0
Sales Taxes Payable

Short-Term Debt

Prepaid Revenue

Total Current

Liabilities

$0
$0
$0
$0
$0
$0
$0
$0
$0
$0
$0
$0
Long-Term Debt

Total

Liabilities

$0
$0
$0
$0
$0
$0
$0
$0
$0
$0
$0
$0
Paid-In Capital
Retained Earnings
Earnings
($21,933)
($37,442)
($47,850)
($54,683)
($58,467)
($58,900)
($60,633)
($62,292)
($58,050)
($48,183)
($33,492)
($12,350)
Total Owner's Equity
($21,933)
($37,442)
($47,850)
($54,683)
($58,467)
($58,900)
($60,633)
($62,292)
($58,050)
($48,183)
($33,492)
($12,350)
Total

Liabilities &

Equity

($21,933)
($37,442)
($47,850)
($54,683)
($58,467)
($58,900)
($60,633)
($62,292)
($58,050)
($48,183)
($33,492)
($12,350)
2019 2020 2021
Cash
($370,350)
($212,027)
$84,256
Accounts Receivable
$0
$0
$0
Inventory

Other Current Assets

Total Current Assets

($370,350)
($212,027)
$84,256
Long-Term Assets
$419,000
$419,000
$419,000
Accumulated Depreciation
($61,000)
($122,000)
($183,000)
Total Long-Term Assets
$358,000
$297,000
$236,000
Total Assets
($12,350)
$84,973
$320,256
Accounts Payable
$0
$0
$0
Income Taxes Payable
$0
$5,528
$14,138
Sales Taxes Payable

Short-Term Debt

Prepaid Revenue

Total Current Liabilities

$0
$5,528
$14,138
Long-Term Debt

Total Liabilities

$0
$5,528
$14,138
Paid-In Capital

Retained Earnings

($12,350)
$79,445
Earnings
($12,350)
$91,795
$226,673
Total Owner's Equity
($12,350)
$79,445
$306,118
Total Liabilities & Equity
($12,350)
$84,973
$320,256
Cash Flow Statement (With Monthly Detail)
2019
Jan '19
Feb '19
Mar '19
Apr '19
May '19
June '19
July '19
Aug '19
Sept '19
Oct '19
Nov '19
Dec '19
Net Cash Flow from Operations

Net Profit

($21,933)
($15,509)
($10,408)
($6,833)
($3,784)
($433)
($1,733)
($1,659)
$4,242
$9,867
$14,691
$21,142
Depreciation & Amortization
$5,083
$5,083
$5,083
$5,083
$5,083
$5,083
$5,083
$5,083
$5,083
$5,083
$5,083
$5,083
Change in

Accounts

Receivable

$0
$0
$0
$0
$0
$0
$0
$0
$0
$0
$0
$0
Change in Inventory

Change in

Accounts

Payable

$0
$0
$0
$0
$0
$0
$0
$0
$0
$0
$0
$0
Change in

Income Tax

Payable

$0
$0
$0
$0
$0
$0
$0
$0
$0
$0
$0
$0
Change in Sales

Tax Payable

Change in

Prepaid

Revenue

Net Cash Flow from Operations

($16,850)
($10,425)
($5,325) ($
1,750)
$1,300
$4,650
$3,350
$3,425
$9,325
$14,950
$19,775
$26,225
Investing &
Financing
Assets
Purchased or ($419,000)
Sold
Investments Received
Change in
Long-Term
Debt
Change in
Short-Term Debt
Dividends &
Distributions
Net Cash Flow
from Investing ($419,000) & Financing
Cash at Beginning
| | | | | | | | | | | | | |
| --- | --- | --- | --- | --- | --- | --- | --- | --- | --- | --- | --- | --- |
| of Period | $0 | ($435,850) | ($446,275) | ($451,600) | ($453,350) | ($452,050) | ($447,400) | ($444,050) | ($440,625) | ($431,300) | ($416,350) | ($396,575) |
| Net Change in Cash | ($435,850) | ($10,425) | ($5,325) | ($1,750) | $1,300 | $4,650 | $3,350 | $3,425 | $9,325 | $14,950 | $19,775 | $26,225 |
| Cash at End of | ($435,850) | ($446,275) | ($451,600) | ($453,350) | ($452,050) | ($447,400) | ($444,050) | ($440,625) | ($431,300) | ($416,350) | ($396,575) | ($370,350) |
Period
2019 2020 2021
Net Cash Flow from Operations

Net Profit

($12,350)
$91,795
$226,673
Depreciation & Amortization
$61,000
$61,000
$61,000
Change in Accounts Receivable
$0
$0
$0
Change in Inventory

Change in Accounts Payable

$0
$0
$0
Change in Income Tax Payable
$0
$5,528
$8,610
Change in Sales Tax Payable

Change in Prepaid Revenue

Net Cash Flow from Operations

$48,650
$158,323
$296,283
Investing & Financing Assets Purchased or Sold
($419,000)
Investments Received

Change in Long-Term Debt

Change in Short-Term Debt

Dividends & Distributions

Net Cash Flow from Investing & Financing

($419,000)
Cash at Beginning of Period
$0
($370,350)
($212,027)
Net Change in Cash
($370,350)
$158,323
$296,283
Cash at End of Period
($370,350)
($212,027)
$84,256