After receiving hair transplant surgery, many people may be expecting hair regrowth to occur instantly though that is not the case. While it will take a few months to see hair growth, there have been studies that show how platelet-rich plasma treatments for hair loss or PRP therapy can improve the results from your hair transplant surgery.
So what should you expect after getting a PRP hair treatment after a hair transplant surgery? After receiving both treatments, you should expect to see an improvement in hair regrowth and hair density once you've gone through the entire healing process from both procedures.  
PRP Treatments After Hair Transplant Treatment
While a hair transplant procedure is effective in treating types of hair loss on its own, many people seek PRP therapy due to the proven benefits of platelet-rich plasma for hair growth. On its own, a hair transplant procedure should help any areas with balding or hair thinning produce new hairs and eventually leave the patient with thick and healthy hair.
However, PRP treatments have shown to be beneficial in the quality of hair grown after the transplant as well as the health of the hair follicles. Here are just some of the benefits to expect after getting a PRP hair loss treatment after hair transplant surgery:
1) Helps With the Follicular Unit Extraction
During the hair transplantation procedure, hair follicles are cut from the lower back of your hair, grafted, then relocated onto areas experiencing hair loss. With the follicular unit extraction and relocation, the areas where you're experiencing hair loss should start seeing hair restoration in around 4 to 6 months.
While the procedure has been proven to be quite successful in addressing hair loss, there is a time during the transplantation and the healing process that the hair follicle can be damaged or no longer be viable to produce hair.
If the damaged and dormant hair follicles are present in the hair transplant, chances are that the treatment won't be as effective. To reduce the chances of this, PRP therapy has actually been proven to help keep hair follicles healthy and viable throughout the healing process.
Thanks to its abundance of growth factors and healing properties, having a few shots of PRP after your transplant has been shown to be beneficial to hair restoration treatments and the results it offers.
2) Speeds Up Recovery Time
Not only will the amounts of hair and hair follicles be boosted by platelet-rich plasma therapy, but it will also boost the recovery time a patient may need to go through. With the transplant procedure requiring you to undergo surgical procedures and general anesthesia, it's expected that your body will need time to recover and heal properly.
Regardless of the stage of hair loss you experienced before your hair transplant, your body tissues and scalp skin will need time to repair so that they can produce proper hair growth. While this could take some time, PRP treatments after the surgery have been proven to speed up the necessary recovery time thanks to the added concentration of growth factors found in your body after the injections.
Having PRP treatments won't only promote cell growth and cell proliferation in the area but can also minimize the possibility of you developing scars or permanent marks from the transplant surgery.
3) Provides Additional Stimulus for Hair Growth
A PRP treatment is meant to help boost growth factors and collagen production to support the body's natural healing process and growth. When injected directly to the scalp after a hair transplant surgery, the solution derived from the patients' blood sample provides an additional stimulus for the body to produce collagen and keratin.
This process allows the hair follicles to produce new hairs and treat severe hair loss in turn. While hair transplants can result in hair regrowth in itself, having PRP as an added therapy for hair loss has been shown to strengthen damaged hair follicles and promote quality hair growth after the treatment.
Overall, having the PRP treatments after hair transplant surgery is a great procedure to undergo if you would like to improve the quality of your hair regrowth.
Side Effects of Getting PRP After Hair Restoration Surgery
While there are multiple benefits of PRP treatments after a hair transplant surgery there are a few side effects that you should be aware of. As PRP treatments require the use of a syringe being directly administered onto your scalp, you'll need to wait a few weeks or months to allow healing of the scalp skin before seeking additional treatments for hair loss after the surgery.
Additionally, PRP treatments in themselves have side effects that you need to be aware of. For the most part, soreness and discomfort in the treatment site is normal and should subside in a few days. However, there's a chance for nerve or blood vessel injuries to occur if administered incorrectly.
If you're considering getting PRP treatments after your surgery, please consult your doctor to ensure your safety throughout the procedure. 
Should You Get PRP Treatments After A Hair Transplant?
Though there are a few side effects that you need to be aware of when it comes to having PRP treatments after a hair transplant, combining the treatments would be beneficial to most people. With the added benefits of PRP to hair transplants and the relatively minimal side effects, most doctors will recommend having both treatments done to give you better results.
PRP treatment sessions can be done every 4 to 6 weeks to complete one cycle. After which, people who would like to have follow-up treatments to maintain their healthy hair follicles and hair regrowth can seek additional treatments every 4 to 6 months.
Overall, having both procedures done isn't only safe but also highly effective in treating different types of hair loss.
Alternative Treatments To PRP Post-Transplant Treatment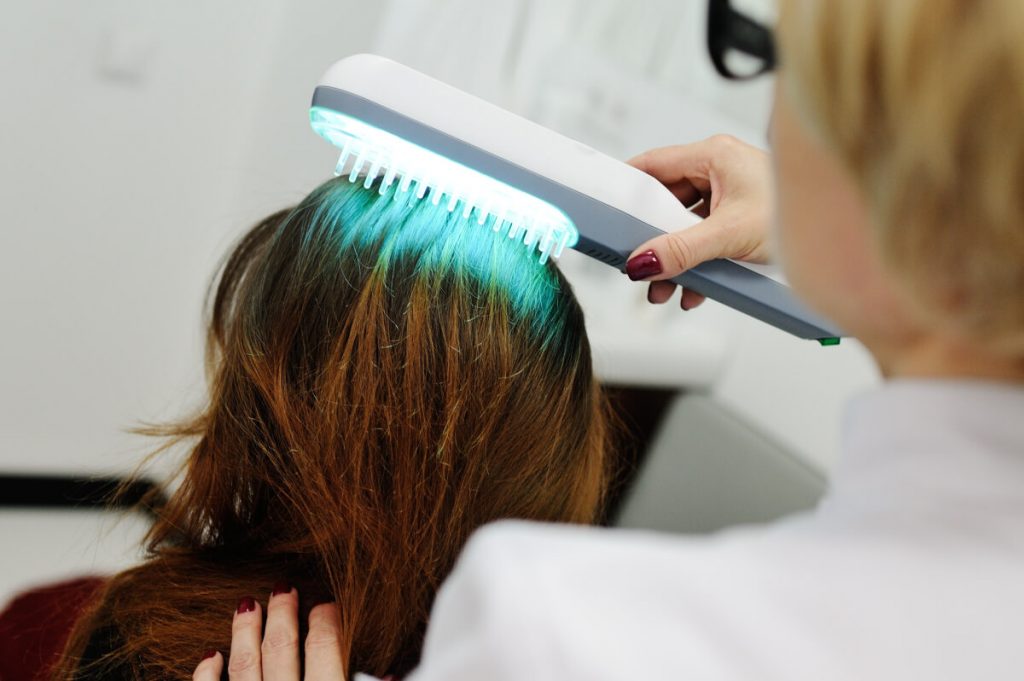 Both PRP treatments and hair transplant surgery are effective treatments when it comes to addressing hair loss. But if you would prefer a different hair loss treatment for whatever reason, there are a couple of alternatives that can give you similar results or at the very least help with a bit of hair growth. Here are some of the most common alternative treatments for hair growth.
1) Oral Medications
While there are many vitamins and medications that claim to boost hair growth, so far minoxidil is one of the only few that have been FDA approved. Oral minoxidil has been proven to help hair growth and prevent hair shedding in at least a third of those who take the medication. According to studies, you can also begin to notice hair growth after 6 months of taking minoxidil.
2) Light Therapy
Another non-surgical alternative treatment for hair loss is light therapy. Studies have shown that using red light in conjunction with certain topical treatments can boost hair health and hair growth over time.
By exposing the scalp photos through light therapy, weak and inactive hair cells are stimulated to enter the active stages of hair growth. While the treatment process can be quite time-consuming with treatments every other day, after 6 months of treatment you should begin to see hair regrowth.
3) Topical Hair Loss Treatments
Topical hair loss treatments are quite popular and work to varying degrees. Topical minoxidil is a great option for those looking to treat different types of hair loss as it has been proven to boost hair density as well as growth.
On the other hand, you can also try other topical treatments that include growth factors to give you similar benefits of PRP without the need for injections. To ensure that you don't get an allergic skin reaction to any treatment, you may want to consult your doctor before placing anything on your scalp for hair growth.
Get Quality Beauty and Medical Supplies for the Right Price at FACE Med Store
PRP treatments after a hair transplant surgery have many benefits. From boosting hair growth quality and aiding in your body's natural healing process, there's very little reason why these two procedures shouldn't be combined.
As long as you're getting the treatments done by a medical professional with the right tools, the risks and side effects are quite minimal. That's why here at FACE Med Store, we believe in providing the tools and devices for any medical procedure.
From PRP hair loss treatments to micro-needling procedures, we offer top-quality tools at affordable prices to clinics across the country. Contact us today to see our stock list.