For information only. Not meant as advice in any form. Please consult your medical professional or lawyer.
Today, the "art" of cosmetology and becoming an esthetician can encompass providing cosmetic skin care procedures like laser hair removal, massages, body wraps, makeup application, non-surgical face lifts, electrolysis, and so much more. Although esthetician treatments at the salon aren't required, they're a great way to indulge yourself and make your skin seem younger and healthier.
So how do you pronounce esthetician? There are various ways to pronounce "esthetician" – in American English, it's pronounced as "eh-stuh-ti-shn" while in British English, it's pronounced "ees-thuh-ti-shn." The word esthetician needs to be spoken quickly and voiceless.
How to Pronounce Esthetician
There are various ways to pronounce "esthetician" in different variations of the English language, thus the following marks or symbols will help you do it correctly.
1. With Diacritical Marks
In American English, it is pronounced "eh-stuh-ti-shn," whereas in British English, it's pronounced, "ees-thuh-ti-shn."
2. With Phonetic Symbols
The word esthetician needs to be spoken quickly and voiceless. View the phonetic symbol illustration below.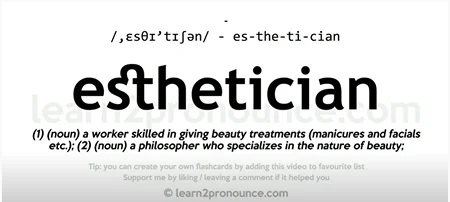 The Etymology of the Word "Esthetician"
The word esthetic comes from the Greek "aesthetikos", which means "perceptible to the senses." A person who provides skin care services is known as an esthetician (i.e., they're a skin care specialist). Grooming and skin care were performed in previous eras mostly for self-preservation than those for aesthetics.
A subfield of philosophy known as esthetics, explores the nature of visuals, flavor, and artwork while fostering an appreciation for beauty. Scientifically speaking, it can alternatively be described as a study of perceptual or sensory emotional values, or more formally as sentiment, taste, and judgment.
The history of esthetics can be traced back to the Greek and Egyptian civilizations, who employed cosmetics for personal grooming, religious rituals, preparing the dead for burial, reddish hair coloring, tattooing, and fingernail decoration.
Esthetician vs. Aesthetician
Both the titles aesthetician and esthetician have definitely crossed your path. They both hold certifications as a skin care specialist. Although they are frequently used interchangeably, there may be a technical distinction.
A qualified skin care expert who works in a clinical setting is referred to as an aesthetician, sometimes known as a medical, paramedical, or clinical aesthetician. Patients who have had face skin damage as a result of chemotherapy, burns, surgery, or other medical conditions are treated by them. Through correct washing, hydrating, and makeup routine, they also assist patients in maintaining their skin after treatment.
While in cosmetic treatments or salon context, an esthetician-also known as a skincare expert or a facialist-offers facial skincare treatments. They examine clients' skin to find problems in their skin health and then suggest cleaning and maintenance methods based on the client's skin type and requirements.
"Esthetician" and "Aesthetician" are two terms that may look like they just differ in spelling, but they differ in the ways they deal with their clients and patients in a medical setting.
What Estheticians Do
An esthetician offers skin care services such as facials, hair removal, makeup application, and skin treatments, among others. Skin care professionals that specialize in cosmetic skin treatments are known as estheticians.
A trip to the esthetician may be beneficial if you've ever pondered your skin type or struggled to choose which skin care products to purchase. Despite the frequent use of the term "medical aesthetics," esthetics is not a branch of medicine.
Estheticians are not permitted to diagnose skin disorders, prescribe prescriptions, or recommend treatments for any skin conditions other than cosmetic ones.
Some of the Services an Esthetician Provides
Every spa will have a varied set of services on its menu, and many estheticians have specialties in particular fields. However, there are some basic procedures that estheticians offer.
1. Facials
An esthetician's go-to procedure is the facial. Deep cleaning, facial steam, exfoliating treatment, mask, and moisturizer or serum are the components of a basic facial. During a facial, an esthetician may also give you a facial massage, arm and shoulder massages, and apply specialized products.
2. Hair Removal
Hair removal is a popular specialty among estheticians. An esthetician can remove unwanted hair using a variety of techniques, including waxing, tweezing, threading, and laser hair removal. Almost everywhere can have hair removed by an esthetician, including your face, back, chest, and genital area.
3. Makeup Application
For a big occasion like a wedding or prom, you might make an appointment with an esthetician to get your cosmetics done. You don't need to bring your own cosmetics. For your safety, estheticians use hygienic application equipment while working from their cosmetics bags.
Visit Our Catalog at FACE Med Store Today
Estheticians are skin care specialists who provide cosmetic procedures. Since they are not qualified medical practitioners, they cannot diagnose, treat, or prescribe for medical ailments. Facials, acne treatments, skin peels, exfoliation, hair removal, spray tanning, and makeup application are just a few of the various services offered by estheticians in a medical spa.
At FACE Med Store, your pleasure is our top priority, and we stand by the quality of our items. Check out our website as it specializes in offering medical supplies for your wellness and cosmetic practice at a fraction of the price of the competition.