The Dr. Pen microneedling tool has made it possible for many men and women to experience the benefits of microneedling treatments at home, with a low barrier of entry for cost and handling. And while it may seem like a simple matter to make sure that the pen makes contact with the surface of the skin while it's being used, there's a lot more finesse that's required to get the most benefit out of the Dr. Pen, especially if the target areas are nasolabial folds and the jawline.
So how should the Dr. Pen be used for nasolabial folds and the jaw area? By carefully applying the head of the derma pen on the treated area, a user should tighten the skin around the chin and jaw, while also being able to stimulate collagen production around the nasolabial area. While the exact technique will differ depending on their facial anatomy, there are some things that everyone should keep in mind to make the most use out of their Dr. Pen at home.
Get Everything You Need for Your Dermapen and More at 20% off Your First Order with Code "20OFF"!
The Dermapen treatment requires only the best equipment to deliver treatments and results your patients will love. Get your best Dermapen equipment and more at FACE Med Store today!
The coupon code is active for logged-in users only.
You can create an account here.
SHOP
How to Use the Dr. Pen for At-Home Microneedling Treatments
One of the most important things about using a Dr. Pen is to follow the instructions on the packaging – or failing that, consulting someone like a dermatologist or aesthetic practitioner about the correct way to use the derma pen. Some patients prefer having their initial treatments done in-clinic or at a medical spa to get a better idea of what to do and continue their treatments at home.
Regardless of what they choose, here are some things to remember about using the Dr. Pen for microneedling at home:
1. Don't Use Too Much Pressure
While the microneedling process doesn't really leave deep scars on the surface of the skin, the micro-injuries and tears that it causes can potentially grow into something more serious if too much pressure is applied to the pen. Ideally, the user should hold the pen firmly to the surface of their skin, but not press down or hold it while it works.
Not only does this avoid potential injury, but it can also give a more consistent result with the microneedling treatment. Some Dr. Pen models have advanced settings that can customize needle depth or frequency of the needles – these settings are best left to a professional to use, or to ask about once the patient has more experience with the microneedling tool.
2. Apply Skincare Products
One of the primary reasons why derma pens are so popular for home use is that they make the application of skincare products like creams, lotions, and serums more effective. Usually, these products are applied on the surface of the skin and await absorption into the body. But this process can be very slow, and the product may evaporate or lose efficacy while this is happening.
But the micro-injuries created by a derma pen make an excellent entry point into the body for most topical skin care products, especially ones that contain active ingredients like hyaluronic acid. The channels formed by the microneedling process also work for other products that speed up wound healing, so the body can recover faster from the derma pen procedure.
3. Sanitize and Disinfect Tools
Like any wound, the micro-injuries caused by using a dermapen can be a perfect pathway for viruses, bacteria, and other foreign contaminants to enter the body if the user isn't careful. Even if it's only the surface level of the skin, it's still possible to develop serious complications from dermapen treatments if the user doesn't disinfect and sanitize their Dr. Pen before using it.
The instruction manual included in the Dr. Pen packaging will contain all the necessary instructions for cleaning, sanitizing, and maintaining the pen. A patient must follow these instructions to ensure that their device keeps working well, even if there's a significant pause between their derma pen sessions.
4. Ask for Advice
Finally, if the user feels like the results they've been getting from their Dr. Pen are substandard or could use improvement, they can always consult the official website, a licensed professional like a dermatologist, or their local med spa for tips on how to better use their Dr. Pen. There are also resources and a thriving community of beauty experts online that they can look for advice – though they should be careful to vet any information they read online carefully before using it.
With consistent and proper use, the Dr. Pen Microneedling tool can be an effective method of tightening the skin around the nasolabial area and jawline, giving it more volume and improving its appearance over time.
Are There Alternatives to Derma Pens?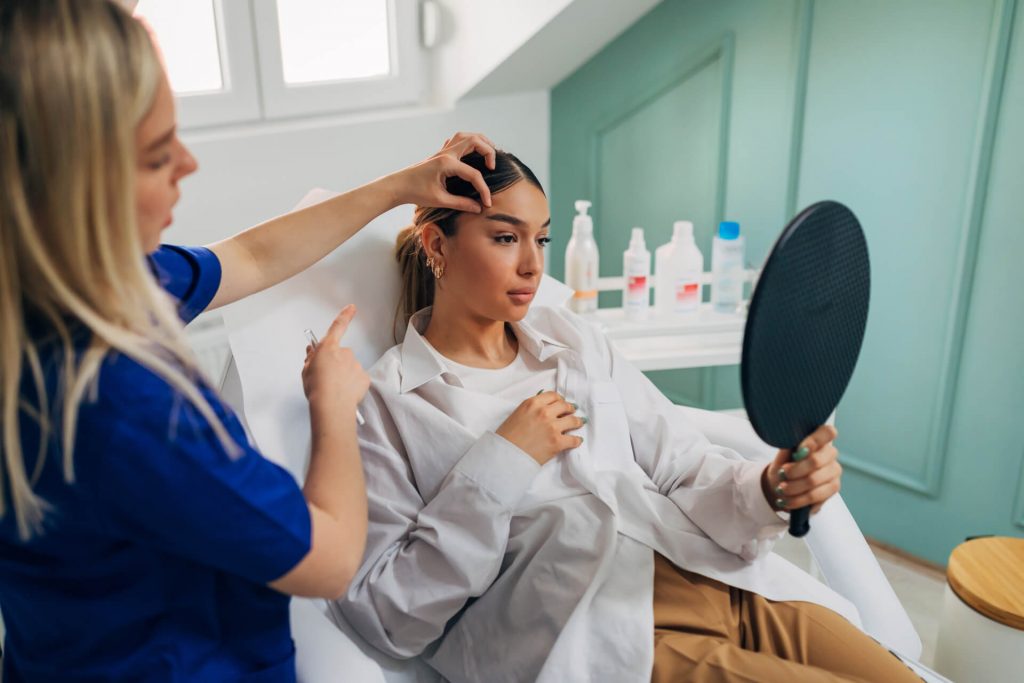 While derma pens and microneedling tools are effective ways to improve the surface of the skin on the face and on the jawline, they're not the only ways to tighten the skin and get rid of wrinkles. Other solutions can also be considered by the patient depending on their needs and preferences:
1. Laser Treatment
By far the most common alternative to derma pens and microneedling sessions is laser treatment since it can accomplish a wide variety of improvements from skin tightening to skin resurfacing. Typically, it works by using radiofrequency (or RF) energy to target the different layers of the skin, stimulating the production of collagen and countering the loss of elasticity. Over time, the connective tissue beneath the skin also repairs and regrows itself, which can remove marks, age spots, and other skin conditions without too much effort.
Alternatively, laser skin resurfacing treatments can also help reduce the appearance of nasolabial folds and other unwanted facial features by making the skin look younger and thicker around it. While this won't work with a variety of skin conditions, it's enough to increase collagen production with minimal side effects to the patient.
However, anyone interested in laser treatment should keep in mind that lasers can be extremely difficult to apply depending on their skin tone. A skilled provider is needed to make sure that they get the results that they want while also avoiding adverse effects from the treatment. Additionally, they also need to find the laser treatments that match with their skin tone for the best results, which their local provider may not have the tools or equipment for.
Get Everything You Need for Your Dermapen and More at 20% off Your First Order with Code "20OFF"!
The Dermapen treatment requires only the best equipment to deliver treatments and results your patients will love. Get your best Dermapen equipment and more at FACE Med Store today!
The coupon code is active for logged-in users only.
You can create an account here.
SHOP
2. Dermal Filler
Dermal fillers are rapidly growing in popularity as an option to treat most skin conditions from loss of volume to marionette lines and loose skin. There are different types of filler that a patient can consider using, which can have a variety of effects depending on where it's applied or what brand they choose.
Some popular options include:
Hyaluronic acid filler: Juvéderm, Restylane, and Belotero
Collagen stimulators: Sculptra
Polymethyl-methacrylate microspheres (PMMA): Bellafill
These dermal fillers are usually used to treat signs of aging like forehead lines, frown lines, and vertical wrinkles, but facial fillers also work to tighten the skin and give it more facial volume. Some specific formulas of injectable filler can also accomplish particularly well on some facial wrinkles compared to others.
The only issue with this treatment option is that the patient has to find a skilled enough provider to give them the right advice on what kind of facial fillers work best with their desired results. Additionally, the dermal filler should always be applied regularly to prevent lines and wrinkles from forming again, so the patient has to stay consistent with reporting in for additional injections.
3. Cosmetic Surgery
Undoubtedly the most permanent solution to nasolabial folds and jawline contouring is plastic surgery, as the changes made during cosmetic surgery last for the rest of the patient's life. It's possible to treat almost all types of facial wrinkles like smile lines and deep wrinkles, even if they're located under the deeper layers of the skin.
Since plastic surgery takes the anatomical position of the patient's features into account, the scale of the changes a plastic surgeon can make is only limited by the needs of the patient. In many cases, it's the actual patient that determines the scope of the changes they want from cosmetic surgery, though always with the recommendation of a medical professional.
However, this method can be expensive, time-consuming, and too traumatic on the skin for most patients to consider. Ideally, cosmetic surgery should only be considered as a last resort when other methods have failed, since the changes made to the dermal layers are irreversible. Additionally, some issues like keeping the skin hydrated or avoiding the formation of future facial lines can't be solved via plastic surgery.
Get Affordable Medical Tools and Devices From FACE Med Store
The Dr. Pen microneedling pen is an easy-to-use derma pen, but like all derma pens, it requires proper technique to get the most benefits. Combined with other skin rejuvenation treatments like dermal fillers, it's an effective method to get rid of wrinkles, fine lines, and tighten up the skin around the chin and jawline. The process is quick and easy to apply at home, allowing anyone to enjoy the benefits of collagen induction therapy.
FACE Med Store has been a proud partner of cosmetic practices and dermatologists by providing them with accessible and affordable medical tools and supplies. We've now expanded our products to be available to all customers, providing them the very best in medical and cosmetic tools and products at competitive prices. From collagen stimulators to dermal filler, we have the products necessary to treat the signs of aging effectively.
To know more about our products, contact us today.
Tighten and Rejuvenate With the Dermapen
A microneedling device like no other. Order your latest dermapen from FACE Med Store today.
SHOP