Microneedling is an effective skin rejuvenation session that solves a multitude of skin problems by triggering the body's production of collagen and elastin. To make the most out of each microneedling pen treatment, dermatologists often recommend applying a serum during and after the procedure.
So what are the best serums to use for at-home microneedling sessions? Hyaluronic acid serums are the best and most commonly used type for microneedling because of their hydrating properties. Other great alternatives include peptides, ceramides, and EGF. Just make sure to avoid retinoids, Vitamin C, and other serums that contain acids (AHA, BHA, and lactic acid).
Why You Should Use a Serum for Microneedling Treatments
Microneedling is a safe, minimally invasive skin treatment that erases acne scars, smooths wrinkles, tightens loose skin, and improves the skin's overall condition. According to a 2015 study, patients experience significantly better skin health because of increased levels of collagen I, III, VII, and tropoelastin. These important proteins help keep the skin firm, healthy, and even-toned.
While the microneedling process is already effective in triggering natural collagen production, it's better to combine this treatment with nourishing serums to achieve the best results. One of the many benefits of microneedling is that it also improves the absorption of skincare products as they enter the skin through the micro-channels created by the needle.
Using a serum also shortens the treatment's healing time and helps the microneedling device run over the dry skin more smoothly. However, it's important to remember that not all kinds of serum are good for microneedling treatments. Some of them might trigger irritation and affect the body's healing process. If you're not sure about the microneedling serum you're about to use, do a patch test first.
It also helps to consult with a dermatologist first so they may advise you about the best products to use and the worst ingredients to avoid. Medical professionals also tell you about which needle depth is the best for improving uneven skin texture and treating other skin conditions based on a needle depth chart.
4 Best Types of Serums to Use After At-Home Microneedling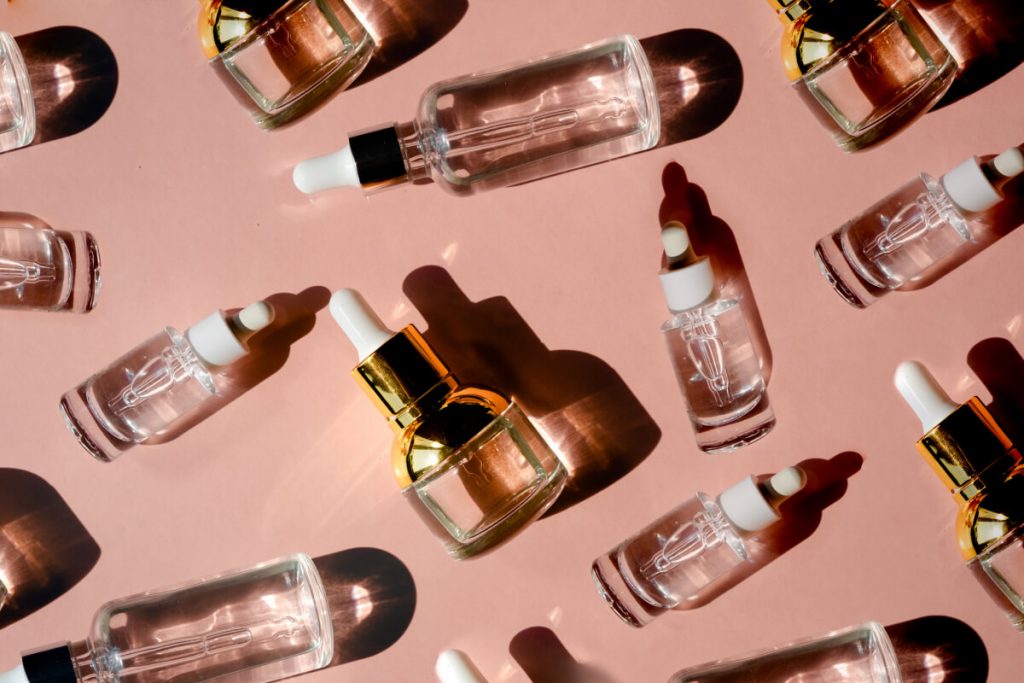 Hydrating serums are usually applied on the treatment areas just right before putting the medical microneedling pen on the skin. They're also used about a few hours after treatment to moisturize the skin, boost the natural healing process, and relieve the feeling of tightness.
Not sure what should be included in good hydration serums' ingredients lists? Here are some of the best serum ingredients to use for a series of treatments using a micro needling pen at home:
1. Hyaluronic Acid
What It's Good For: Hyaluronic acid is best used for hydrating the skin, smoothing wrinkles and fine lines, repairing the skin cells affected by sun damage, and speeding up the body's healing process.
Hyaluronic acid is often listed as an ingredient of many moisturizers and hydration serums. But aside from moisturizing the skin, hyaluronic acid also has skin plumping and anti-aging effects that help erase age spots and smooth wrinkles and fine lines.
Hyaluronic acid is a polysaccharide naturally found in the body. Its job is to lubricate and cushion the connective tissues by attracting and binding with water molecules. This allows the dull skin to retain more moisture and stay hydrated for longer.
However, the levels of hyaluronic acid in the body declines as an individual ages. There are also other factors like air pollution and smoking that accelerate the decrease of the compound in the body. The good news is that moisturizers, serums, and other skincare products help restore the levels of hyaluronic acid in the body to nourish the skin and fight different signs of aging.
This skincare ingredient is also safe for all skin types and tones, which is why patients don't need to worry too much about side effects. When patients complain about complications after using products that contain hyaluronic acid, it's often caused by other ingredients or preservatives in the product.
Best Hyaluronic Acid Serum for Microneedling: Neutrogena Hydro Boost Hydrating Serum
This lightweight serum is cheaper than other serums on the market, but it's just as effective in hydrating the skin and eliminating different signs of aging. It's also non-comedogenic, which means it won't clog the pores. Patients with sensitive skin also respond well to this hyaluronic acid serum.
2. Peptides
What It's Good For: Most types of peptides stimulate collagen production, while others block the chemicals which cause muscle contraction and the appearance of expression lines.
Peptides have been included in many skincare products but despite this, peptide-infused serums and other topical products are only becoming more popular recently. These compounds have amazing skin firming and plumping abilities that are useful for anti-aging purposes.
Peptides are the building blocks of important proteins like collagen and elastin that keep the skin firm and healthy. But unlike collagen, peptides have shorter amino acid chains that penetrate the skin better. Topical peptides act as messengers that show the body which areas need to heal, leading to a huge boost in the skin's natural production of collagen.
Like hyaluronic acid, peptides also naturally occur in the body. They're also suitable for any skin type and skin tone. Peptide serums and creams are a great alternative for patients who want to rejuvenate their skin but can't use products that contain retinol and other reactive ingredients.
Best Peptide Serum for Microneedling: First Aid Beauty Ultra Repair Hydrating Serum
First Aid Beauty's water-based serum contains peptides for erasing wrinkles, hyaluronic acid for hydrating the skin, and collagen to keep it firm and healthy. It also includes colloidal oatmeal and aloe to help minimize irritation and soothe the skin after the microneedling process. 
3. Ceramides
What It's Good For: Ceramides assist in hydrating the skin and speeding up the healing process. They hold onto the skin's moisture for better hydration even during the deliberate trauma of microneedling procedures.
Ceramides come from a complex group of lipids. They make up about half of the skin's outermost layer in between the skin cells. The skin won't be as healthy or firm as it's if there isn't enough ceramide on the stratum corneum (topmost layer of the skin) to lock the moisture in.
Ceramides naturally occur in the skin, but they also decrease with age like collagen does. Luckily, skincare products contain synthetically made ceramides to help restore the lack of the said lipid in the body.
Ceramides are usually combined with active ingredients like glycolic acid and retinoids for a deeper reach, but these reactive ingredients might irritate the skin when used in a microneedling treatment. It's better to be safe and opt for pure serums without fragrance, parabens, or other reactive ingredients instead.
Patients might also get confused when looking for ceramide serums because they're often listed in different names. But there's no need to worry too much about this because the difference only lies in how long their carbon chains are. Even with different chemical structures, these ceramides basically have the same effects on the skin.
Best Ceramide Serum for Microneedling: Apot.Care Ceramides Pure Serum
This hydrating ceramide serum smooths and strengthens the skin while keeping it moisturized. It also doesn't contain animal products, parabens, or fragrances which makes it safe for almost all skin types and tones.
4. Epidermal Growth Factors (EGF)
What It's Good For: EGF helps speed up the skin's healing process. It also offers a multitude of skin benefits like the reduced appearance of wrinkles and deep acne scars, better hydration, and the prevention of hyperpigmentation.
Epidermal Growth Factor (EGF) serums help heal and repair damaged skin by stimulating growth at the cellular level. They bind with the damaged cells and signal them to act like healthy cells that grow, survive, and repair themselves. This makes EGF an extremely useful ingredient for healing and strengthening cells.
EGF also helps fight the signs of skin aging and improve the skin texture and uneven skin tone by boosting the production of elastin and collagen. As EGF assists in producing new skin cells, the barriers are also strengthened. This means the skin may retain more moisture and prevent the production of melanin during healing.
But like other important compounds, chemicals, and growth factors in the body, EGF also declines with age. Including EGF serums during the skincare routine or microneedling treatment helps the skin restore its youthful glow. Just make sure that it doesn't have fragrances or other active ingredients that might cause irritation and slow down the healing process after microneedling.
Best EGF Serum for Microneedling: Bioeffect EGF Serum
This plant-based EGF serum is effective in reducing the appearance of wrinkles and fine lines and moisturizing the skin to restore a younger-looking appearance. It's also suitable for different skin types because it's hypoallergenic, oil-free, fragrance-free, and paraben-free. Patients only need about 2 to 4 drops of the serum per application to experience great results.
Achieve Smoother, More Even Skin With Dr. Pen at FACE Med Store
Aside from picking the right types of serum to use, having the right microneedling kit at home is crucial in helping you achieve the best anti-aging results you're hoping for. A good dermal needling device should have different needle lengths to choose from, rechargeable batteries, and adjustable levels of speed.
Dr. Pen is a well-known manufacturer of high-quality microneedling pens used by both professionals and patients at home. They offer a wide range of microneedling pens made for a basic microneedling treatment, such as the Ultima A6, A6S, A7, Hydra Pro, and more.
Start your journey to smoother skin and find a wide selection of authentic Dr. Pen curated kits and cartridges here at FACE Med Store. Visit our website today to place an order.