Laser treatments like laser skin tightening have been helping thousands of patients tighten loose and crepey skin. But for patients who want to see their desired results quickly, combining laser skin tightening with another skin rejuvenation treatment like derma rolling might be a wise choice.
So is it safe to use derma lasers if you're getting laser skin tightening treatments? Yes, combining laser skin tightening and derma roller treatments are safe. They improve the skin better than most cosmetic procedures because they treat more skin issues, require less downtime, and work on multiple treatment areas. 
Combining Laser Skin Tightening With Derma Roller Treatments
Though laser skin tightening and derma rolling treatments both address a bunch of skin issues, they have different ways of doing so. Laser treatments like laser skin tightening use light energy to address specific issues. This specific kind of laser therapy heats the deep layers of the skin to increase the body's collagen and elastin levels – the 2 important proteins that give the skin its even tone and firm structure.
On the other hand, derma rolling is a collagen induction therapy that involves creating microscopic wounds on the skin by rolling over the surface with a derma roller. This tiny handheld device comes in different needle lengths that work on specific skin issues like wrinkles, fine lines, brown spots, age spots, dilated blood vessels, acne scars, and more.
Derma rolling and laser skin tightening treat different skin issues and improve its overall health. But instead of picking one over the other, you might want to consider combining both treatments to achieve the desired results quickly. Some skin clinics recommend trying them at the same time, while others perform alternate treatments regularly.
What Happens to the Skin During Laser Skin Tightening?
During the laser skin tightening, the doctor uses a laser device that emits energy to penetrate the deep layers of the skin. This heats the skin cells and collagen fibers, which is why patients might feel as though they're having a hot stone massage during the treatment. This causes the existing collagen to constrict and look firm.
How Laser Skin Tightening Improves Derma Rolling Treatments
Laser skin tightening treatments are safe enough to be combined with other skin treatments like microneedling or derma rolling. These combination therapies maximize the benefits of each cosmetic procedure and minimize the negative effects, helping patients save healing time needed for the skin to recover.
Performing "stackable treatments" like laser skin tightening and derma rolling simultaneously address the 3 main components of skin aging: wrinkling, volume loss, and sagging. The downtime for these treatments is only minimal, but many aestheticians reduce the recovery time even more by performing 2 treatments during each appointment.
Am I An Ideal Candidate for Combined Treatments?
Patients who have mild to moderate loose skin and good overall health are the best candidates for these treatments. Unlike other laser treatments that work better on specific skin tones, laser skin tightening procedures are safe for people of different skin types or tones.
Some patients might not qualify for this treatment because of other factors like certain medications, pregnancy, autoimmune diseases, cold sores, or active infections to name a few. These factors might affect the recovery process or the final results, which is why it's crucial to consult with a skin expert first to find out which skin rejuvenation treatment plan works best for you.
Benefits of Combining Laser Skin Tightening with Derma Rollers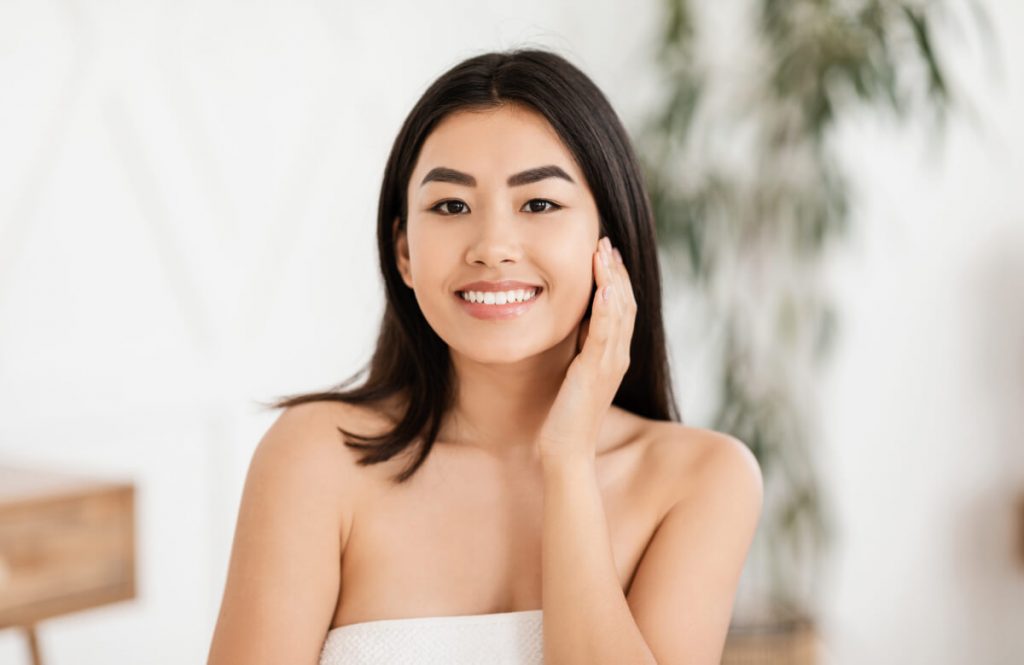 Here are a few benefits of combining these 2 treatments that might convince you to try them:
1. They Treat More Skin Issues Together
Laser skin tightening works great for restoring volume loss and keeping the facial skin firm. It uses laser energy to reach the deep layers of the skin to stimulate the production of collagen and elastin. Derma rolling also induces collagen production, but it uses tiny needles to increase the levels of the 2 most important proteins needed for healthy skin.
The good thing about derma rolling is that it also addresses other skin concerns like hyperpigmentation, stretch marks, acne scars, wrinkles, fine lines, and more. Since both treatments work together to boost the body's collagen production, performing them simultaneously makes them more effective in eliminating a bunch of different skin issues at once. 
2. They Only Require Little to No Downtime
Both treatments don't involve incisions, which is why they don't require the same amount of downtime as plastic surgery procedures. Combining laser skin tightening and derma rolling even reduces the patient downtime that the 2 individual cosmetic procedures need. Performing these treatments simultaneously helps dermatologists take advantage of the needed downtime.
Patients may still experience tightness, redness, and swelling in the treated areas, but these symptoms usually subside after a few hours or days. Using gentle and nourishing skincare products after the combination treatment allows patients to achieve even better results, because both of these treatments improve product absorption and enhance their effects on the skin.
When applying skincare products to soothe the skin irritation after the combination treatment, make sure that it doesn't contain harsh chemicals that might harm the skin further. Stick to gentle and trusted ingredients like hyaluronic acid, peptides, and ceramides.
3. They Work On Multiple Treatment Areas
Although loose skin is more noticeable around the face and neck because of the appearance of wrinkles and fine lines, this problem also occurs in other parts of the body like the stomach, thighs, arms, and others.
If you're trying derma rollers for other parts of the body, make sure to purchase the right device with the appropriate needle length. The skin is thicker in other parts of the body – laser skin tightening treatments might reach them, but short needled derma rollers might have a hard time penetrating the deeper layers of skin.
Types of Laser Skin Tightening Treatments Compatible with Derma Rolling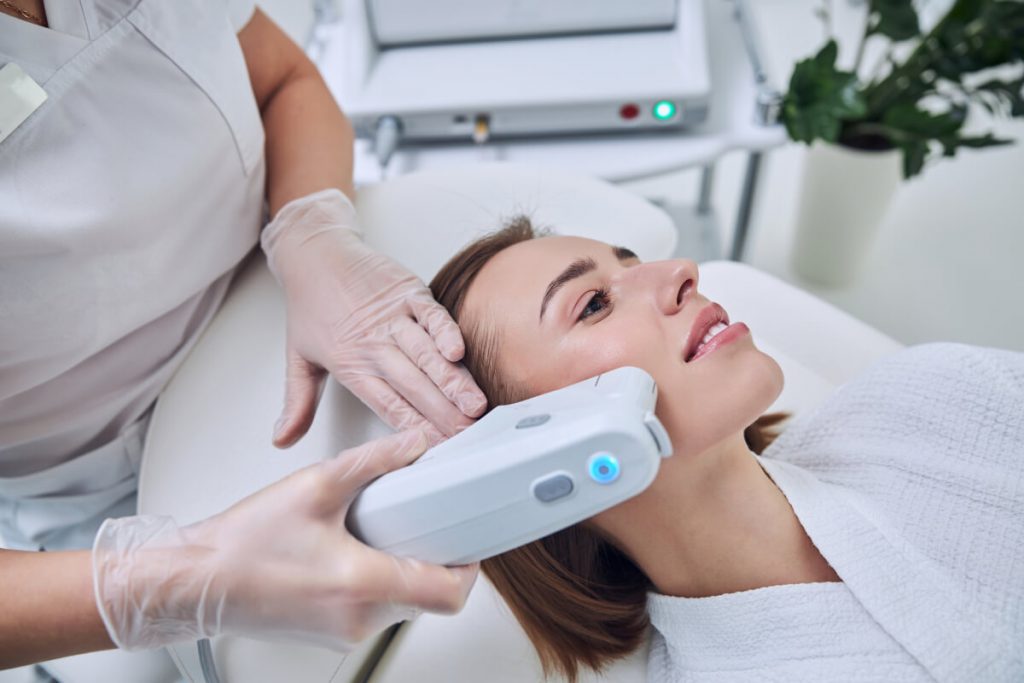 Out of the dozens of laser treatments introduced by different brands, there are 2 types of laser skin tightening that work great with derma rolling:
Ultrasound
Ultrasound laser treatment works great for patients who are looking for dramatic skin tightening results. It utilizes ultrasound energy to heat the deep layers of the skin. The energy from the device reaches much deeper than other laser skin tightening treatments.
The entire treatment only takes about 45 to 90 minutes, but patients are required to undergo multiple treatment sessions for the best results. Since this effective procedure doesn't damage the surface of the skin, patients may go ahead and combine it with derma rolling treatments.
Radiofrequency
Radiofrequency doesn't use true laser energy, but many experts still consider it under the laser skin tightening umbrella. Instead of the traditional laser energy, this safe procedure uses radiofrequency energy to heat the skin, constrict the existing collagen, and boost the production of new collagen.
This type of laser skin tightening is often combined with microneedling, the collagen induction therapy similar to derma rolling that's performed inside a doctor's office, through a minimally invasive procedure called RF Microneedling.
As the special microneedling device punctures the surface of the skin, it also allows the aesthetician to heat the deeper layers of the skin and produce better results than other solitary skin rejuvenation procedures.
What To Expect After Laser Skin Tightening and Derma Rolling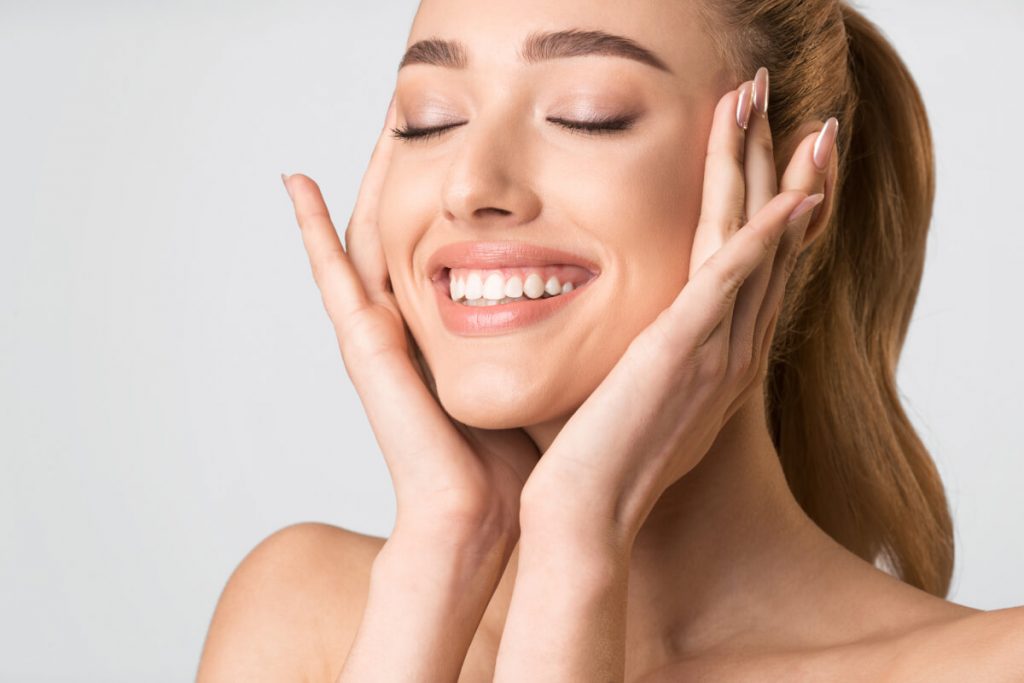 If you're trying combination treatments for the first time, it's normal to feel nervous even though both procedures are low-risk and effective. Patients are often advised to research and ask questions about the treatment because it helps them manage their expectations about the results and make informed decisions about their health and beauty.
How Long Before Results Show?
Although the combination is still a minimally invasive treatment, the results of combined laser skin tightening and derma rolling don't show immediately. It takes a few weeks and multiple treatment sessions for the body to produce more collagen and elastin, correct uneven skin tone, and improve the skin texture.
Some patients might notice tighter and blemish-free skin after a few weeks, while others might have to wait for several months to achieve their desired results. The good news is that the results usually last longer than other anti-aging products, so you get your money's worth with these combined treatments even if you have other skin issues.
Are There Any Possible Side Effects to Combined Treatments?
Since both derma rolling and laser skin tightening don't involve cosmetic surgery, patients can rest easy because there's no need to worry about severe complications or side effects – as long as the treatments are performed in a sanitized facility by an expert using medical-grade tools. Most patients only experience minimal swelling, tightness, or redness in the treatment areas, which eventually subside after a few hours.
If you perform the derma rolling session at home, make sure to use a high-quality derma roller to avoid accidentally injuring yourself. The derma roller should also be sanitized before and after every treatment to prevent the risk of infection. Avoid sharing the derma rollers with other people because it puts you at risk of contracting blood-borne diseases.
Get High-Quality Derma Rollers at FACE Med Store
Patients want only the best skin tightening and rejuvenating treatments from their go-to medical spas and dermatology clinics. At FACE Med Store, we help our partner clinics and med spas offer excellent skin procedures by offering them high-quality devices and products at the right prices.
Know more about our best-selling skin rejuvenation devices or find out about the best package deals for you or your clinic now by browsing through our website or giving us a call today.
Learn More: Can You Use a Crystal Roller After a Microneedling Derma Roller?