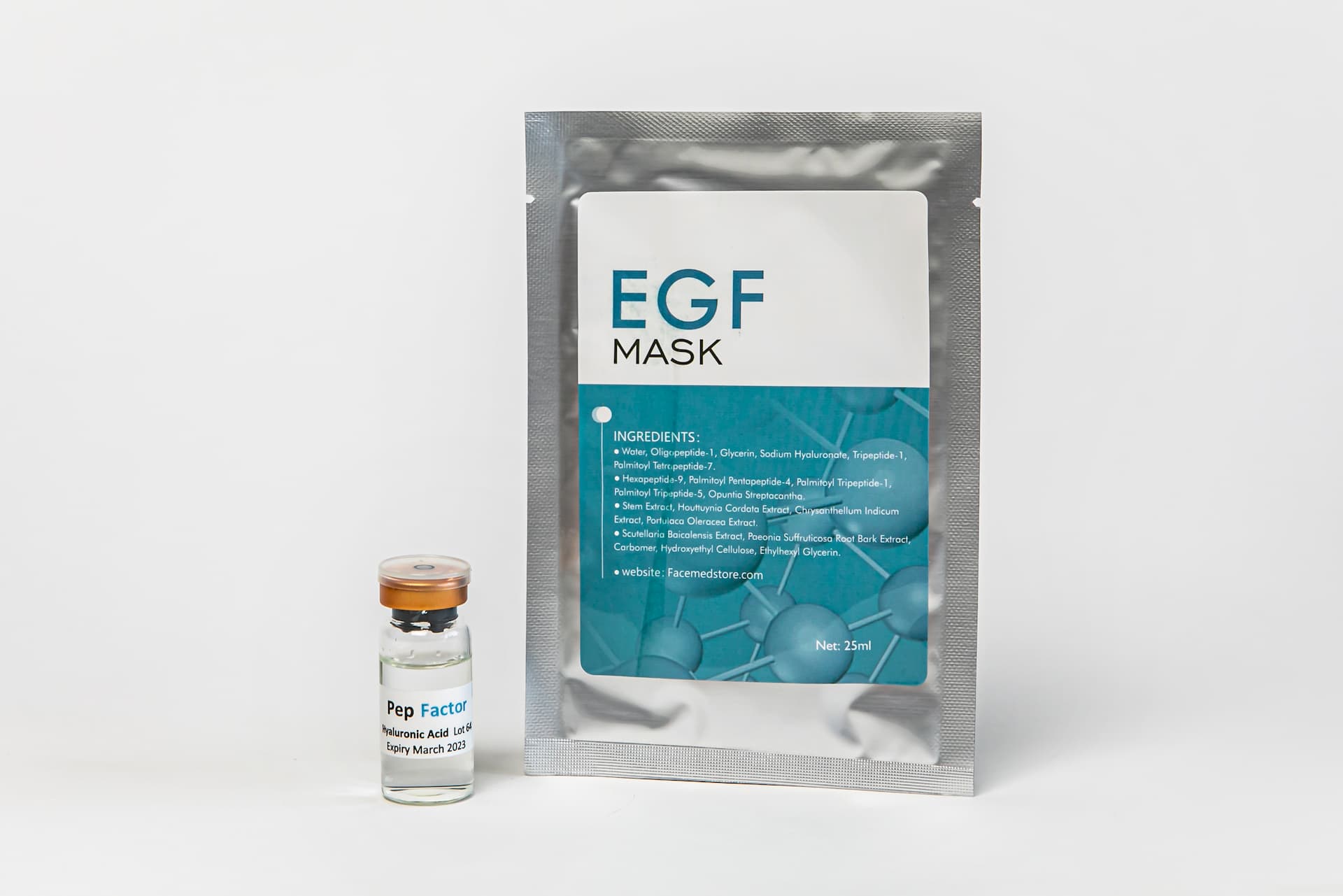 EGF Mask plus HA serum (10cc vial)
**NOT PEP FACTOR – ONLY HA SERUM**
1-pack: x1 EGF Mask + x1 HA Serum
10-pack: x10 EGF mask + x10 HA serum
Dry skin is an issue many people face and can lead to ashy, textured skin that can affect your overall appearance. If you're looking to enhance your skincare routine with intensive moisturizing products or want to offer your clients an incredible hydrating experience, you'll want to try FACE Med Store's exclusive bundle for our EGF sheet masks and hyaluronic acid serum.
Adding epidermal growth factor (EGF) and hyaluronic acid to your regular skincare routine can provide transformative benefits to your skin. EGF has been used for years in cell repair and regeneration, and dermatologists are starting to see its unique ability to saturate skin and restore it to its ideal moisture level. This can be combined with our HA serum, which can help your skin retain water and provide a supple and fresh appearance.
FACE Med Store's exclusive EGF mask and HA serum bundle is a must-try for those who want to address dry, sensitive, and aging skin. With the unique abilities of both our products, you can start to see your dull and aging skin revived when combined with your regular skincare routine. Get our EGF mask and HA serum bundle's 1-pack to try it out, or choose our 10-pack to get the best bundle deals!
EGF Mask plus HA serum (10cc vial) Videos
EGF Mask
Features of FACE Med Store's EGD Masks and HA Serum
Award-winning organic protein. In 1986, biochemist Stanley Cohen won the Nobel Prize for discovering how EGF can benefit cell growth and development. Researchers have since discovered its application in aesthetic treatments to improve the appearance of patients' skin. Recently, dermatologists have begun to see the benefits of using EGF for rejuvenating your skin.
Intense, immediate, and continuous moisturizing. EGF technology has the unique ability to leave you soft, smooth, and hydrated without the harsh effects that can irritate sensitive skin.
Natural water retainer. Hyaluronic acid can hold up to a thousand times its weight in water, making it easier to retain your skin's natural moisture and prevent it from drying out.
Benefits of Our EGF Masks and HA Serum
Best for different types of skin issues. EGF masks are best for:

Aging skin – older skin has less collagen and elastin, causing it to form wrinkles, fine lines, and sagging skin. EGF can promote collagen production and improve skin elasticity by providing hydrating and skin-rejuvenating growth factors. .
Dry skin – EGF can lock in your skin's natural hydration while promoting optimal levels of natural hydration. Think of it as an intense and immediate moisturizing step in your skincare routine.
Sun-damaged skin – UV rays can cause premature skin aging by drying out your skin's natural oils. If you're frequently exposing yourself to the sun's UV rays, EGF can promote natural skin cell restoration.
Acne-prone skin – EGF can improve your skin's texture and prevent hyperpigmentation. It can also prevent your skin from drying out, which can indirectly lead to acne formation.
Sensitive skin – some skincare products and aesthetic treatments can cause irritation by shedding away old skin cells through harsh methods. In comparison, EGF gently provides healthy cellular turnover that's less likely to trigger irritation.

Lock in your natural moisture. External factors like temperature, humidity, and UV exposure can cause your natural oils to dry up and cause dry skin. EGF and HA serum can enhance your skin's natural barrier to lock in natural moisture better.
Hypoallergenic. Hyaluronic acid can be found naturally in your skin, bones, lips, and internal tissue. This reduces the risk of adverse reactions like allergies when applying HA serum.
Using EGF Masks and Hyaluronic Acid Serum
Cleanse your face with a mild cleanser before applying the mask. Remove the protective film and then leave the mask on for 10 to 15 minutes before removing it. Massage the remaining solution on your face before gently rinsing. Then apply the hyaluronic acid serum and massage it on your face. For best results, follow with your regular moisturizer.
For home users, EGF masks should be used once or twice per week. These sheet masks are best used during your nightly skincare routine. Avoid exfoliating after treatment as these can irritate your skin after treatment.
The hyaluronic acid serum can be used during your day or night skincare routine. For daytime use, apply the serum after cleansing, and then finish your routine with a moisturizer and sunscreen. For topical use only.
Contact FACE Med Store for more questions about our products, bundle deals, and customer support.
Disclaimer of warranty
No warranties or representations. Sellers and purchaser specifically acknowledge that except as otherwise set forth in this purchase agreement, sellers are selling and purchaser is purchasing the purchased equipment / tools "as is, where is". Seller is not providing any warranty for the product and not making any warranty, express or implied. Purchaser has inspected the equipment/tool, and is not relying on any representations or warranties of any kind.
Purchaser agrees and understands that it is solely the responsibility of the purchaser to know and understand the training and regulatory requirements of the state in which she/he is operating in order to use the product. Purchaser agrees to defend and indemnify seller for any misuse of the product and seller shall in no way be responsible for any injury, accident, malfeasance or misfeasance related to purchasers use of the product.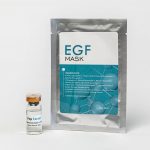 EGF Mask plus HA serum (10cc vial)