Anyone who's struggling with facial wrinkles, fine lines, and dull complexion can benefit from the skin repairing and collagen-stimulating effects of plasma-rich platelet therapy. PRP is an excellent anti-aging treatment that jumpstarts the body's own healing response to address a wide variety of cosmetic issues. As a cosmetic procedure, there are 2 common ways that PRP can be given to a patient: topical applications and injections.
So how do topical and injection treatments of PRP differ from each other? The topical use of PRP is done in conjunction with microneedling in a procedure that's known as a PRP facial. This treatment involves creating micro injuries on the skin before slathering the PRP solution to help the face better absorb the growth factors and proteins. Meanwhile, PRP injections can be administered on their own or combined with dermal fillers for a PRP injections treatment.
PRP: What It Is And How It Is Applied For Cosmetic Treatment
From laser therapy, chemical peels, Botox, and dermal fillers, patients today have different treatment options for non-invasive facial rejuvenation. But the innovations in cosmetic medicine never stop and one recent advancement is the use of platelet-rich plasma therapy.
Also known as PRP, this treatment has been widely used for pain relief and treatment of common sports injuries and musculoskeletal conditions. However, many dermatologists have also discovered its amazing benefits for fighting the signs of facial aging and sun damage on the skin.
Unlike other popular cosmetic treatments, PRP takes skin renewal a step further by utilizing the body's natural healing process for tissue regeneration and healthy cell growth. The PRP solution consists of two components: the plasma which is the liquid portion of the blood and the platelet blood cells which are essential in wound healing.
These blood platelets also contain a variety of special growth factors and proteins which are needed to stimulate the natural production of collagen. Collagen is the most important building block of the skin and it plays a role in improving its overall texture and tone. Increasing collagen growth can also solve a majority of the skin aging issues that patients experience.
In a cosmetic setting, providers can apply PRP either via intradermal administration (injection) or topical application. Both methods are effective but one treatment may be better depending on an individual's specific concerns and facial skin goals.
Differences Between Microneedling with PRP and PRP Injections
It's important to have a consultation with the patient to know which method of PRP treatment will be used. Here's an overview of the differences between the topical application and injection technique for PRP therapy:
| | | |
| --- | --- | --- |
| | PRP Topical | PRP Injections |
| How does it work? | It's usually applied after microneedling is performed on the face. During this procedure, the PRP solution is massaged directly onto the micro injuries created on the skin. | PRP injections are administered together with the facial fillers. Combining filler injectables with PRP enhances the skin structure and stimulates collagen creation for a more youthful appearance. |
| Does it hurt? | There's minimal pain and discomfort during the microneedling procedure and PRP application. However, this can be managed with the use of numbing cream before performing the treatment. | The treatment uses small needles so there's very little pain during the filler and PRP injections. A topical anesthetic may also be used to reduce discomfort. |
| What are the expected results? | Patients can see improvements in their skin quality within a few weeks after treatment. | Dermal fillers provide immediate changes but it may take weeks for the effects of PRP to show. |
What Does The Procedure During Microneedling with PRP Look Like?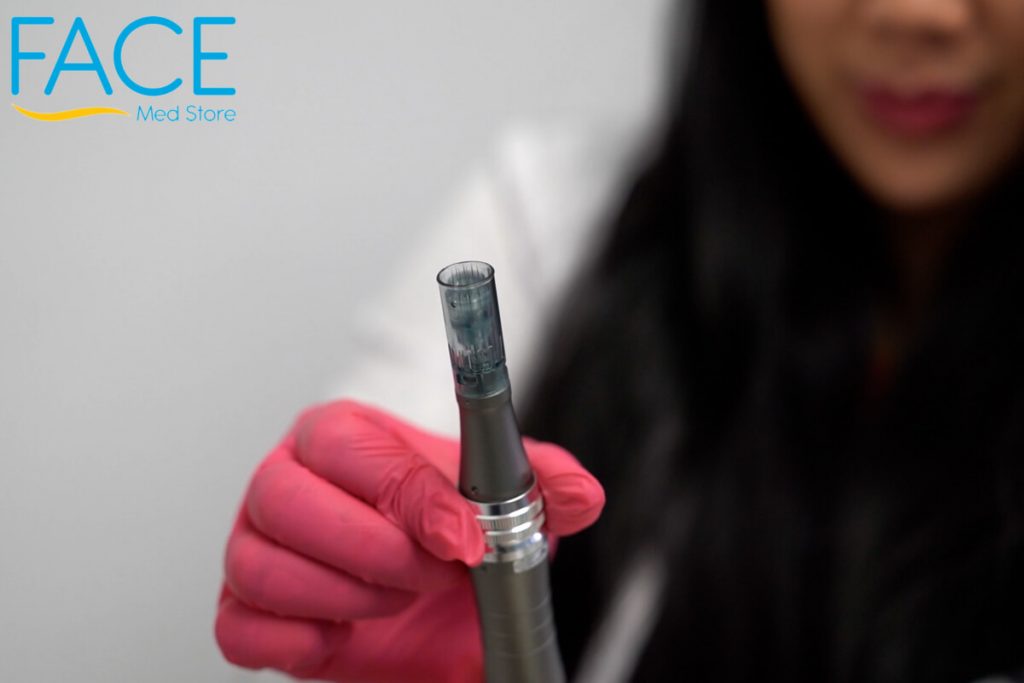 Microneedling is an effective cosmetic solution for a wide range of skin concerns. It's also popularly known as collagen induction therapy. Using PRP along with microneedling treatments speeds up the healing time of the skin tissues and boosts the collagen growth in the dermal layers for enhanced results.
Here's what you can expect during a PRP with microneedling session:
The procedure begins with a blood draw for the creation of the PRP serum.
The extracted blood is then placed in a centrifuge machine to separate the liquid and platelets with a high concentration of growth factors.
During the microneedling process, the provider uses a dermapen or roller device with needles to penetrate the top layer of the skin and create tiny injuries. The small wounds will trigger the body's healing mechanism and jumpstart the process of collagen formation.
After microneedling, PRP is then spread on the face and it is gently massaged onto the microchannels until they are fully absorbed by the skin.
From microneedling to PRP preparation and application, the entire procedure can take about 30 minutes to an hour.
What Happens During PRP Injections with Fillers?
Dermal fillers are soft-gel materials that are injected underneath the skin to correct age-related volume loss and smoothen wrinkles and fine lines. The most popular ingredient for filler injections today is hyaluronic acid.
While hyaluronic acid fillers are already an amazing treatment on their own, the injections of PRP improve the quality and longevity of its results. The additional growth factors in PRP increase collagen levels in the dermal layers to reverse the signs of aging and at the same time addresses deeper issues that the fillers cannot treat.
Here's an overview of the treatment session for dermal fillers with PRP:
The first step of the procedure is the preparation of the PRP solution. This involves a quick extraction of a blood sample and centrifugation to obtain the concentration of platelets with growth factors.
The dermal filler is then administered to the specific areas that have lost facial volume.
The provider will add the PRP serum by injecting them near the dermal fillers.
The whole procedure can take about 30 minutes to an hour depending on how many areas are treated.
Topical or Injections: Which Type of Treatment Is Better?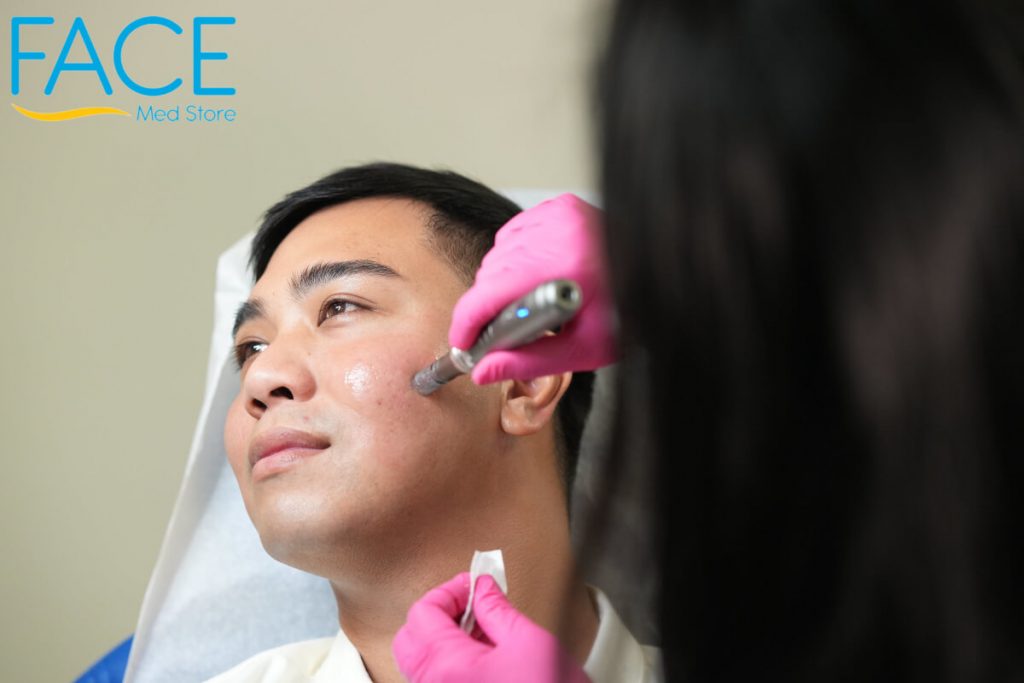 The combination of microneedling with topical application of PRP mostly addresses issues in the superficial layer of the skin. Those who have the following skin problems might benefit from this procedure:
Wrinkles and fine lines
Acne scars
Surgical scars
Dark spots
Stretch marks
Sun-damaged skin
Pigmentation issues
Enlarged pores
Uneven skin tone and texture
Loss of skin elasticity
Hair loss
On the other hand, PRP injections can deliver the platelet-derived growth factor to the deeper areas of the skin. When combined with dermal fillers, PRP therapy can enhance the overall volume, contour, and shape of the face as it boosts collagen production to support the skin structure. PRP injections are also an effective cure for hair loss and encourage hair growth by stimulating the follicles.
How Safe Is Platelet Rich Plasma for Cosmetic Uses?
There are very minimal risks for adverse effects with PRP therapy since it uses the body's own healing cells. But as with any type of cosmetic procedure, there are certain side effects that can occur after administering the PRP solution. Here are some of the common side effects that one can expect from PRP topical application and injection:
Localized pain at the injection site
Swelling
Bruising
Redness
Skin discoloration
Itching
Lumps from dermal fillers
Minor skin irritation and dryness
Most of these side effects are minor, typically resolving on their own within a few days. To minimize potential reactions, it's also important to examine the skin condition before the procedure. If the patient has a history of cold sores, active acne, existing skin infection, or blood clotting disorders, they are usually advised to reconsider getting microneedling with PRP or PRP injections treatments.
Buy Medical Tools and Supplies For Skin Rejuvenation From FACE Med Store
Whether it's a topical application or intradermal injection, using platelet-rich plasma is a highly effective approach for treating numerous skin problems. Consulting with the patient about their specific goals and skin concerns is an essential step in deciding which method of PRP application will be used.
Get affordable and high-quality tools for successful microneedling and injection treatments only at FACE Med Store. We have extensive experience in providing medical spa practices and clinics with the necessary equipment and supplies for their aesthetic procedures. We also offer PEP Factor products which can be an alternative to PRP treatments. To inquire about our stocks, or to learn more about PEP Factor, feel free to contact us today.
Learn More: Do Plastic Surgeons Do PRP For Hair Loss?