You may be aware that semaglutide was first approved in 2017 for treating type 2 diabetes, and then in 2021 it gained approval for helping people lose weight through injections under the brand name Wegovy.
But what exactly is semaglutide, and how does it work?
What is Semaglutide?
Semaglutide belongs to the GLP-1 RA class of medications. These mimic a hormone called GLP-1 that tells your body when you've had enough to eat. Semaglutide slows digestion and makes you feel fuller longer after meals.
The recommended dose is 2.4 milligrams once a week via a subcutaneous injection to curb appetite and promote weight loss.
While it can give some patients a helpful nudge toward a healthier weight, semaglutide is no magic potion. Many patients experience side effects like dizziness, fatigue, nausea, vomiting, diarrhea, stomach pain, and headaches in the first few weeks as their bodies adjust. Stomach issues are the most typical hiccups in the early going.
Semaglutide also isn't for everyone. Some patients with conditions like medullary thyroid cancer, gallbladder disease, pancreatitis, or MEN2 should avoid it. Before starting semaglutide, always have a frank discussion with your doctor to decide if it's a safe and worthwhile option for you based on your medical history and goals.
How Semaglutide Helps Trim Your Waistline
Semaglutide aids weight loss in three main ways: by boosting insulin secretion to lower blood sugar, by ramping up the uptake of glucose into muscles and fat tissue, and by signaling to the brain that the stomach is full. This curbs hunger and reduces calorie intake.
Originally designed as a diabetes medication, studies show semaglutide can help people lose a significant amount of weight – around 15% of their body weight on average over two years of weekly injections.
However, it's crucial to remember that while helpful, this treatment is not a permanent solution. Patients will likely regain the pounds once they stop using semaglutide.
For now, this cutting-edge treatment should only be prescribed under close supervision by doctors. There is potential for misuse if available over-the-counter. Patients will need lifelong monitoring and follow-up to maintain any weight loss achieved with semaglutide.
As nurses, it's our role to counsel patients on the medication's long-term effectiveness, proper usage, and potential side effects. We must work in partnership with doctors to empower patients to make lasting lifestyle changes – not just rely on drugs alone.
Using Semaglutide for Weight Loss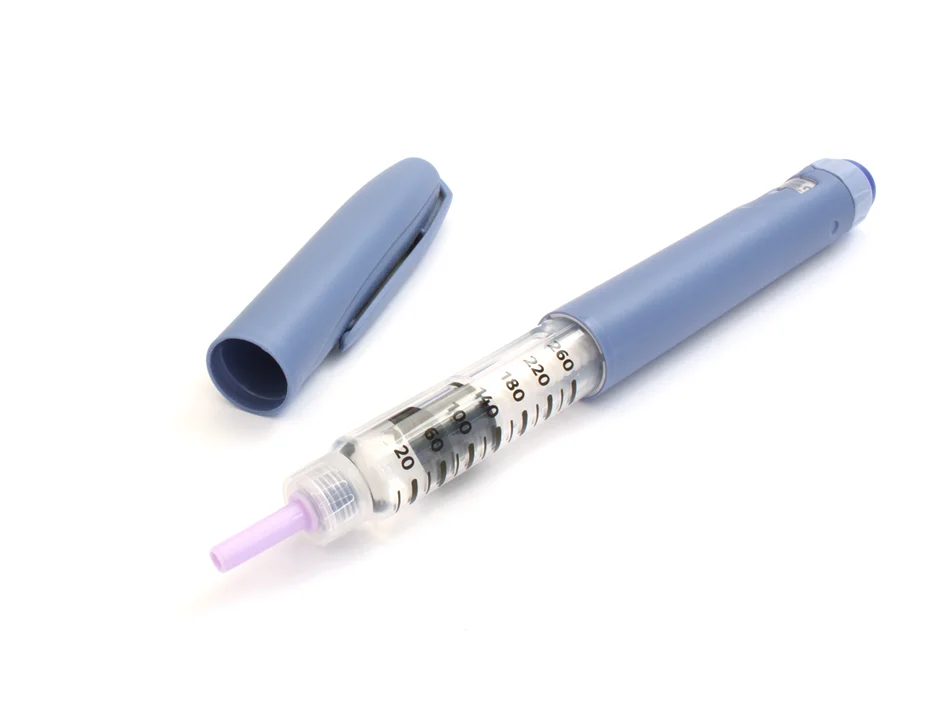 Semaglutide is typically prescribed for weight management as an injectable 2.4 milligram dose once a week. Patients use a self-injection pen to give this powerful GLP-1 receptor agonist themselves.
The brand name Wegovy is currently the only FDA-approved version of semaglutide specifically for weight loss. Off-label alternatives like Ozempic and Rybelsus do exist but should only be considered under the guidance of a doctor.
The FDA recommends Wegovy for patients with a body mass index (BMI) of 27 or higher who also have weight-related conditions like high blood pressure or high cholesterol. But this treatment is not for everyone. Patients with conditions like thyroid cancer, gallbladder disease, or inflammation of the pancreas are not good candidates.
While semaglutide has shown promise as a weight loss tool, it can cause side effects such as fatigue, nausea, stomach aches, headaches, and lightheadedness as patients' systems adjust to the hormone-like treatment. Monitor patients closely for these side trips in the first weeks and have a frank discussion of risks versus benefits before starting therapy.
| | |
| --- | --- |
| Point of Emphasis | Description |
| Long-term effectiveness | Semaglutide has been found to be effective for weight loss over a two-year period, but it is important to use it as a treatment for life and under the guidance of a healthcare professional. |
| Potential for misuse | While Semaglutide is a game-changer for obesity treatment, there is potential for misuse and it should only be available on prescription for now. It's important to use the drug responsibly and under the guidance of a healthcare professional. |

Potential Perks and Precautions
Semaglutide can help patients shed significant pounds—up to 15% of their body weight over two years based on clinical trials. This is likely due to how the drug signals fullness, ultimately cutting daily calorie intake.
But nausea, diarrhea and other side effects mean this treatment isn't for everyone. Make sure patients know what to expect before injections start. And monitor them closely, especially in early weeks when reactions are most common.
Remember too that efficacy beyond two years remains largely unknown. Patients will likely regain weight once off the medication. To manage expectations, stress semaglutide as an ongoing solution, not a quick fix.
Also, only prescribe this treatment for patients with a BMI of 30 or higher, or 27+ with obesity-related conditions like diabetes. Use clinical judgment when weighing potential benefits against possible issues.
While this cutting-edge drug shows promise, it isn't a miracle cure on its own. As nurses, we can help patients make and sustain healthy lifestyle shifts that truly combat obesity long-term. Even as we incorporate new pharmaceutical tools into care plans, education and behavioral adjustments remain at the core of progress.
Unlock the Secret to Skyrocketing Your Aesthetic Practice's Success with the Ultimate Weight Management Course!
Are you tired of feeling left behind in the booming weight management industry? Do your competitors seem to be miles ahead, offering cutting-edge services that you can't provide? It's time to shake things up and transform your aesthetic practice with our groundbreaking online course: "Implementing Semaglutide and Tirzepatide into Your Aesthetic Practice."
Imagine the excitement of effortlessly expanding your services, attracting hordes of satisfied clients, and watching your revenue soar to new heights. This isn't a pipe dream—it's a reality for countless practices that have embraced the power of Semaglutide and Tirzepatide. And now, you can join them!
Meet Your Expert Guide: Nikki Plourde, NP-C
Nikki is not just an ordinary instructor—she's a seasoned Family Medicine Nurse Practitioner with a decade of experience and a proven track record of success in prescribing Ozempic since 2017. She expanded her thriving aesthetics practice with the compounded form of Wegovy, achieving stellar results without paid marketing. Now, she's on a mission to share her secret sauce with you!
Since April 2022, Nikki has trained over 200 practices in weight management, helping them achieve unprecedented success. With her guidance, you'll get everything you need to excel, including personalized support to ensure your triumph.
Your Treasure Trove of Knowledge Awaits:
Wave goodbye to confusion and uncertainty, and embrace clarity with our comprehensive course content. Your enrollment grants you access to an abundance of resources, including:
A recorded PowerPoint presentation packed with vital information—refer to it whenever you need a refresher!
The history of weight management medications, safety profiles, contraindications, dosing, and monitoring
Easy-to-understand dosing conversions between Semaglutide and Tirzepatide
Step-by-step guides on ordering medications, complete with examples and exclusive group rate pricing
A detailed cost breakdown and ROI analysis
In-depth instructions for client visits, including questionnaires, initial consultations, and follow-ups
Sample protocols, consents, SOAP notes, patient handouts, and medication safety sheets
What's Included in the Course:
Online Lesson Plan
Obesity in the USA & Insurance Coverage
Business & Sales Ideas
History of Weight Loss Medications
Protocols & Pre-Apt Questionnaires
Initial History & Physical Exam
Safety Profile of Semaglutide
Contraindications, Mechanism of Action, Side Effects, Dosing & Monitoring
Goals for Your Patients & Patient Education
Paperwork, Consents & Supplies Needed
Ordering Medications, Cost to Clinic, & Examples
Group Rate Pricing & Follow-Up Plans with Patients
Addressing Dilemmas (Patents) & Tirzepatide Information
Dosing Conversion Between Semaglutide & Tirzepatide
Ozempic Pens & Optional Ongoing Support
Ready to Ignite Your Practice's Success?
There's no time to lose! Enroll in our "Implementing Semaglutide and Tirzepatide into Your Aesthetic Practice" course today, and take the first step toward revolutionizing your business. With Nikki's guidance and our comprehensive course content, you'll be well on your way to reaping the rewards of a thriving weight management practice.