Staring down at the esthetician exam paper, you take a deep breath and crack your knuckles. This is the moment you've been preparing for during the past months of esthetics school. The countless hours spent bent over thick textbooks, reviewing skin anatomy flashcards until your eyes glazed over, and practicing facial techniques until your hands cramped up. This 100-question multiple choice test stands between you and your esthetician license. No pressure, right?
While the esthetician written exam is certainly a high-stakes hurdle to clear, thousands of aspiring estheticians pass it every year on their first attempt. With the right preparation, study techniques, and exam day strategies, you too can join their ranks as a licensed skincare professional. This comprehensive guide will walk you through everything you need to know to pass the esthetician written exam.
First, Arm Yourself with the Right Study Materials
One key to exam success is gathering the best resources to study from. While your esthetics program and teachers likely provided guidance on core topics to review, supplementing with test prep books, online quizzes, and study groups can help cement your knowledge. Here are some of the top materials to utilize:
Sample Tests – The closer the sample test mimics the actual exam format, the better. Purchase full-length practice exams from the exam provider or trusted test prep companies. Time yourself for the most accurate results.
Textbooks and Class Notes – Don't abandon the tried and true resources from esthetics school! Review chapters on key topics and organize your notes into a study binder.
Online Quizzes and Tutorials – Websites like Quizlet provide esthetician exam flashcards on the go. YouTube videos can also recap important concepts.
Study Groups – Get together with classmates or other esthetics students to quiz each other and brainstorm how concepts connect.
Master the Core Skills and Knowledge
The esthetician exam thoroughly covers three vital skill sets – scientific knowledge, facial treatments, and safety/sanitation. Pour over these core topics:
| | |
| --- | --- |
| Topic | Details |
| Skin Anatomy and Physiology | The layers of skin, functions, anatomy of hair follicles and glands, growth/healing processes, disorders, skin types, conditions, and more. |
| Facial Treatments | Techniques for cleansing, masks, therapy machines, manual extractions, chemical peels, microdermabrasion, waxing, and makeup application. Know the tools, products, and methods. |
| Infection Control | Sanitation, disinfection, safety standards, protocols for blood spills, microorganisms, and cross-contamination prevention. |
| Client Services and Practices | Consultations, patch testing, contraindications, treatment protocols, client protection, and medical record keeping. |
| Laws and Regulations | Your state's rules for licenses, the scope of practice, salon operations, and OSHA standards. |
Drill these core domains until you can recall concepts easily. Repetition cements details like the Fitzpatrick scale, functions of the dermis layer, dangers of specific microorganisms, or proper waxing form.
Set Aside Time to Study
You'll retain more if you study consistently over time rather than cramming all the material right before the exam. Designate study sessions in your calendar several weeks to months before the test:
Schedule 2 hours each weekday night to review, do practice questions and create quizzes.
One longer 4-6 hour session each weekend to focus deeply on weaker areas.
Study sessions with classmates or groups to discuss concepts.
Consistent shorter sessions of 30 minutes per day in the final 2 weeks to drill key facts.
Stick to your routine and check off each study milestone. But also plan relaxation or fun activities so you don't burn out!
Invest in Killer Study Tools
Supplement textbooks with study tools that reinforce your learning style:
Flashcards to memorize key terms, skin layers, and facial muscles. Shuffle and quiz yourself frequently.
Record yourself explaining concepts out loud, then listen and correct where you stumble. Hearing the info helps solidify it.
Colorful diagrams depicting skin anatomy, facial nerves, and correct treatment motions. Visual associations boost retention.
Mnemonic devices like acronyms help link related concepts. For microbiology, remember viruses under the phrase "SAT VIR."
Mind maps connect ideas visually. Link skin diseases to causes, symptoms, and treatments.
Leverage these examples based on how you best process information. Tailor tools to overcome weak spots.
Practice Under Simulated Exam Conditions
Once you've built a solid knowledge foundation, it's time to replicate the exam day experience. The more you recreate the actual testing environment, the less anxious and unfamiliar it will feel.
Take numerous practice exams under timed conditions to build speed and endurance.
No open book – rely purely on your memory just as on the real test.
Strictly follow timed sections and breaks you will encounter during the actual exam.
Even sit at a desk, limit distractions, and use just a notebook and calculator.
Strive for practice test scores above 80% consistently to gauge your likelihood of passing the real thing. Review all missed questions to prevent repeats.
Enter Exam Day Cool, Calm, and Collected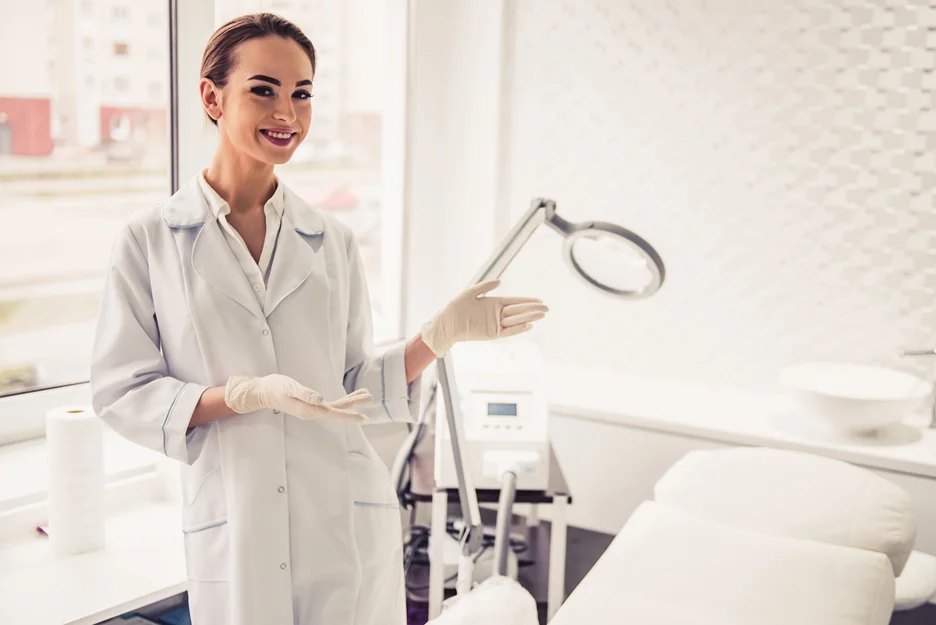 With thorough preparation completed, it's normal to feel some jitters leading up to the esthetician exam. Combat anxiety and build confidence with these tips:
Arrive early at the testing center with ID, registration confirmation, and permitted calculator. No surprises!
Do some deep breathing, stretch your neck and shoulders, and meditate to settle your mind before beginning.
Don't cram right beforehand – relax and visualize drawing on everything you've studied.
Keep stress levels low in the weeks before. Exercise, eat nutrient-rich foods, and get adequate sleep.
Exude positivity and tell yourself "I am prepared and going to pass this exam!"
Don't panic or change answers during the test. Trust your instincts and preparation.
Walk out of the exam room knowing all your diligent study hours have paid off. Have faith in your abilities and soon you'll add "Licensed Esthetician" to your resume!
Remember, FaceMed Store offers top esthetician exam prep books, practice tests, flashcards, and learning tools to support your success from school to passing the licensing exam. Time to nail this test and start your esthetics career!