Platelet-rich plasma therapy is one of the popular treatments for hair loss today, where patients will only receive injections of growth factors to speed up the healing process of their hair follicles, activating hair growth. Its discovery has sent many patients hopeful about finally restoring their hair and bringing back their confidence at the same time. Many become too excited about curling their hair, styling it with wax, or even coloring it.
So can you color your hair after PRP hair restoration treatment? Patients may dye their hair, but they have to wait at least 72 hours after receiving their injections. It's best to let the scalp rest first and allow the small wounds from the injections to heal. Harsh chemicals for hair treatments, like perming, relaxing, and others, may cause irritations at the injection site, which might develop into other negative side effects.
All the nutrients and vitamins your hair needs in a single bite. Get your hair supplement gummies today at 20% off with "20OFF"!
The healthier your scalp, the healthier your hair. Combat hair loss and thinning hair symptoms with this perfect chewable blend of vitamins and minerals, from FACE Med Store at 20% off your first order!
The coupon code is active for logged-in users only.
You can create an account here.
SHOP
Can You Dye Your Hair Post PRP for Hair Treatment?
Patients are discouraged from dyeing their hair soon after their PRP treatment for hair loss–they may have to wait at least 72 hours before they may color their hair or do other treatments involving chemicals. This is to allow the scalp to rest first after the procedure and wait for the small wounds at the injection site to close up.
Avoiding hair treatments or coming into contact with harsh chemicals is one of the protocols for PRP treatment aftercare. While your board-certified dermatologist uses tiny needles to inject PRP into your scalp skin, it will still create small open wounds where bacteria may cause infections.
It's important to wait for 3 days until these wounds have already closed up, so the chemicals from the dye wouldn't irritate the injection site. Following aftercare protocols such as this will reduce your risks of having adverse side effects.
What Happens If You Color Your Hair Too Soon After PRP Hair Treatment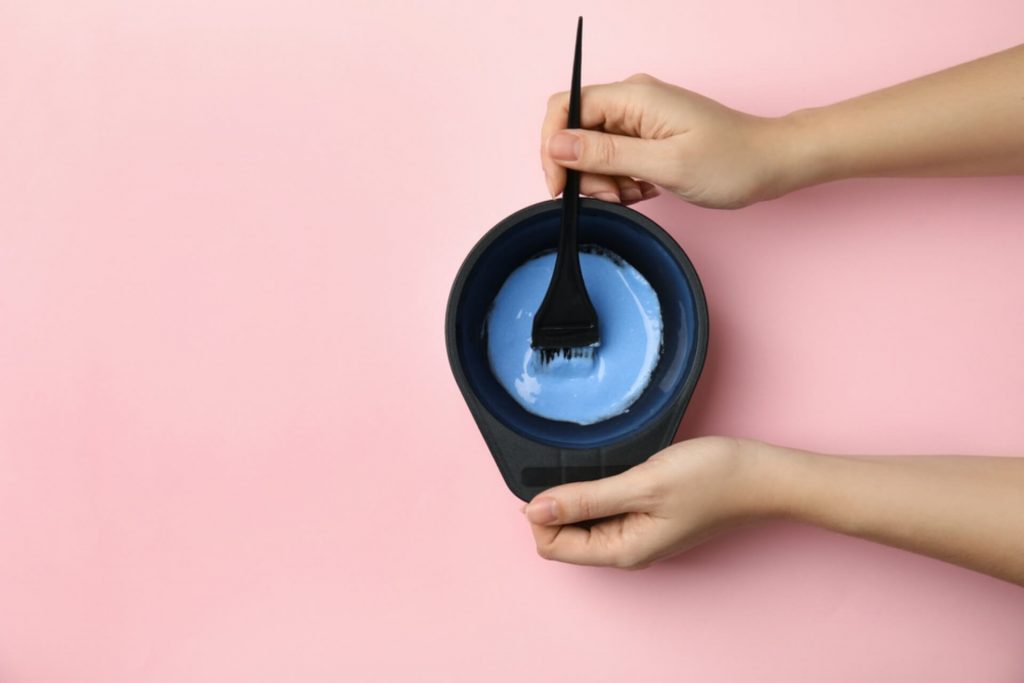 Dyeing the hair soon after receiving platelet-rich plasma injections may have risks of skin irritation and any other adverse reactions, like worsened scalp pain. This is because of the small open wounds the needles from the injections have made. It's also best to allow the platelet-derived growth factor to settle into your scalp and provide nutrients for hair regrowth.
How PRP Grows Your Hair
Platelet-rich plasma therapy isn't only an effective treatment for androgenic alopecia and any other types of hair loss, but also for other medical conditions. As a treatment for hair loss, the healing factors injected into the scalp stimulate natural hair growth by increasing stem cells and collagen production.
PRP injections can do this because it's made with plasma, the liquid portion of the blood made of proteins and platelets, and the blood cells responsible for tissue regeneration and wound healing with their blood clotting ability. These resolve hair thinning as it heals and reawakens dormant hair follicles, resetting the hair cycle and encouraging hair growth.
Platelet-rich plasma therapy is one of the hair loss treatments that offer long-lasting results because the healing factors widen the blood vessels surrounding the hair follicles. Because of this, the scalp will have an improved blood flow and receive better nutrients and oxygen from the body.
Downtime
PRP therapy is a minimally invasive procedure requiring little to no downtime. However, its recovery still comes with a few restrictions, like dyeing your hair. The recovery time for patients with PRP shots lasts for about 3 to 4 weeks.
How Many Treatment Sessions You Need
Patients will need 3 PRP injections administered around 3 to 4 weeks apart. Since the effects of the serum aren't permanent, they will need maintenance treatments every 4 to 6 months.
GET MEDICAL-GRADE BLOOD COLLECTION NEEDLES AT 20% OFF WITH CODE "20OFF" ON YOUR FIRST ORDER.
Stock up on blood collection needles and other medical and aesthetic supplies with FACE Med Store. Checkout today and get 20% off your order.
The coupon code is active for logged-in users only.
You can create an account here.
SHOP
Possible Side Effects From PRP for Hair Treatment
Since PRP treatment uses the patient's own blood sample, this procedure has little to no risks of any major side effects, like allergic reactions and more. However, it still comes with a few mild side effects due to the injections and how their bodies process PRP.
Here are some of the side effects patients may expect from platelet-rich plasma treatments:
Dizziness
nausea
scalp pain
skin irritation
scar tissues at the injection site
blood vessel injury
nerve injury
These side effects will be gone completely after 3 to 4 weeks. Consult your doctor for the right ways to ease discomfort and if symptoms persist.
What to Avoid After PRP for Hair Treatment
For the best hair loss treatment results, patients should follow proper aftercare instructions, like avoiding dyeing their hair at least 72 hours post-treatment. Here are other things patients must avoid:
Avoid warm temperatures, hot showers, sauna, and direct sunlight for 2 days post-treatment.
Avoid vigorous exercise for at least 2 days after treatment
Avoid hair products for at least 6 hours after the treatment
Avoid wetting the hair 3 hours after treatment
Avoid hair treatments, like perming, dyeing, or relaxing your hair for at least 3 days after the treatment
Avoid applying pressure on the scalp 8 hours post-treatment
Avoid NSAIDs and other blood-thinning medication
Avoid alcohol, caffeine, and smoking for at least 3 days post-treatment.
Consult your doctor about the proper things to do as you recover from your PRP treatment. They may also prescribe the right medications to take care of your PRP-treated scalp.
High-Quality Supplies for PRP Therapy Only at FACE Med Store
Patients shouldn't dye their hair for at least 72 hours after receiving their injections to avoid skin irritations and other adverse effects. While doctors use small needles during the procedure, those injections may still leave tiny open wounds. Getting these wounds into contact with those harsh chemicals might provide risks of infection.
The preparation and aftercare of PRP injections are just as necessary as the PRP procedure. For a more successful treatment, choose only quality medical supplies, such as the products we offer at FACE Med Store. We have been trusted for supplying high-quality materials for different practices at reasonable prices. Visit our website for the best medical supplies as well as our discounts and promotions for the month.