DermaPen Replacement Kit bundled with HA Serum
15 in stock
Microneedling technology such as a DermaPen is used by dermatologists around the world for performing cosmetic and aesthetic microneedling treatments to help the skin rejuvenate. This is achieved as a result of targeted action of specialized serums.
By purchasing a DermaPen replacement kit with Hyaluronic Acid Serum at the FACE Med Store, you can accelerate skin rejuvenation by stimulating the body's production of collagen and elastin.
The best aspect of the Dermapens we sell on the FACE Med Store is that they are versatile tools that have viability for being reused. This is due to the fact that they are sold as a comprehensive kit that includes replacement needles and HA serum which helps to treat a variety of skin issues.
The DermaPen Replacement Kit is primarily sold along with Hyaluronic Acid (HA) serums which are highly recommended by accomplished dermatologists.
Check out the following DermaPen Kits and similar products available on the FACE Med Store:
Features of Dermapen Replacement Kit With HA Serum
Oscillatory Needle motion. An automated microneedling device with a spring-powered needle tip that allows for vertical oscillatory pulses for focused serum action.
Designed for Comfort. A Dermapen that has a comfortable and ergonomic design that enhances maneuverability, handling, control, grip, and ease of use, as compared to other microneedling devices like a derma roller.
Customizable Needle length. A modifiable and customizable needle length that can be varied up to even a 3mm depth (maximum) to drastically reduce the risk of scarring.
Replacement needles. A uniform set of replacement needles that make the DermaPen reusable while maintaining consistency across procedures.
Safe disposal tubing. The Dermapen Replacement kit includes safe disposal tubing to ensure there is minimum contamination or risk for injury.
Hyaluronic Acid. A stock of 10cc vials filled with Hyaluronic Acid that is a recommended serum in collagen-inducing microneedling procedures.
Benefits of Dermapen Replacement Kit with HA Serum
Ensures reusability. A single purchase of the DermaPen Replacement Kit enables dermatologists to reuse the Microneedle device by simply replacing the needles and serum.
Hyaluronic Acid Serum has proven results. Hyaluronic Acid (HA) serum is a microneedling serum that contains pure hyaluronic acid which has the ability to nourish, moisturize, smoothen fine lines and wrinkle, improve the appearance of acne scars and dark spots, and rejuvenate the skin. HA serum mends the damaged skin cells while ensuring that they do not clog pores.
Effective, reliable, skin rejuvenation results that are effective for any skin type and for sensitive skin. The DermaPen microneedle infusion of the HA serum has proven to be an effective, reliable, skin rejuvenation treatment procedure with a wide array of applications in skin care, from fixing tone, texture, and serving as anti aging to treating pigmentation, acne, and stretch marks.
Using a Dermapen Replacement Kit With HA Serum
A Dermapen kit that comes with a supply of HA serum is a cutting-edge microneedling device that allows your skin to recover and regenerate in a fraction of the time. By infusing it with stimulating serums that encourage the activation of collagen in the skin, it can remove acne scars, improve skin tone and treat aging skin.
The FACE Med Store's Dermapen Replacement Kit with HA Serum ensures that you can continue to reuse your device and refill the serum after every use. The microneedles in the DermaPen puncture minuscule holes as it moves in a vertical oscillation. These holes serve as a conduit for the serum's contained nutrients to be absorbed by the skin.
Medical professionals and dermatologists will profit greatly from purchasing this Dermapen Replacement kit and patients are sure to benefit from the results of using Hyaluronic Acid Serum.
Disclaimer of warranty
No warranties or representations. Sellers and purchaser specifically acknowledge that except as otherwise set forth in this purchase agreement, sellers are selling and purchaser is purchasing the purchased equipment / tools "as is, where is". Seller is not providing any warranty for the product and not making any warranty, express or implied. Purchaser has inspected the equipment/tool, and is not relying on any representations or warranties of any kind.
Purchaser agrees and understands that it is solely the responsibility of the purchaser to know and understand the training and regulatory requirements of the state in which she/he is operating in order to use the product. Purchaser agrees to defend and indemnify seller for any misuse of the product and seller shall in no way be responsible for any injury, accident, malfeasance or misfeasance related to purchasers use of the product.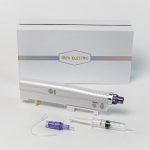 DermaPen Replacement Kit bundled with HA Serum
15 in stock