With the rising popularity of minimally-invasive cosmetic procedures like Botox, filler injections, and laser treatments, many people are wondering, "Can the estheticians at my favorite med spa perform these for me?" The answer is not that simple.
While some states allow properly trained estheticians to administer certain injections and laser therapies, a key requirement is that they must be supervised by a licensed medical professional like a doctor or nurse practitioner. These states are relatively few, though.
Regulations vary widely – some states prohibit estheticians from performing any procedure that punctures the skin. This state-by-state patchwork of rules has created confusion among estheticians looking to expand their services, as well as clients seeking these medical treatments.
Read on to clear all your doubts once and for all. In turn, you'll gain invaluable insights into the evolving landscape around medical esthetics regulations.
What Procedures Can Estheticians Legally Perform?
Estheticians are licensed skincare specialists who receive extensive training in providing professional facials, chemical peels, microdermabrasion, eyelash extensions, waxing services, and laser hair removal treatments. 
For example, estheticians cannot legally inject neuromodulators like Botox or Dysport, hyaluronic acid fillers like Juvederm or Restylane, platelet-rich plasma (PRP), or other injectable cosmetic treatments. These are considered part of the practice of medicine, making it illegal for uncertified estheticians to perform injections unless they hold an appropriate medical license.
The only exception is a handful of states that allow properly trained estheticians to offer a very limited scope of basic cosmetic injections under the direct supervision and delegation of a licensed physician. These exemptions are highly specialized and regulated.
Independent or unsupervised injecting remains outside the boundaries of what an esthetician can legally perform on their own based on training and licensure.
Which States Allow Limited Esthetician Injections Under Physician Supervision?
Here is an overview of which states currently have provisions in place permitting certified estheticians to offer certain cosmetic injections under the supervision of a medical director or delegating physician:
Nevada
Nevada has one of the most clearly defined sets of regulations allowing properly trained medical estheticians to administer neuromodulators like Botox and specific dermal fillers under doctor supervision.
The Nevada State Board of Cosmetology outlines required qualifications including:
Holding an active Nevada esthetician license
Completing a Cosmetic Medical Esthetician registration application with the Board
Completing advanced training in all procedures to be performed
Carrying liability insurance covering injectables
Only working under the delegation and supervision of a licensed medical doctor
Botox, Dysport, Restylane, Juvederm, and certain other injections are permitted within limitations and the physician's medical directive. Overall, Nevada's approach provides accessibility while enforcing rigors around training, certification, insurance, and physician oversight.
Illinois
Illinois allows licensed estheticians to become certified in providing cosmetic injections under a supervising physician but maintains strict limits on permissible procedures.
Estheticians here can only inject neuromodulators like Botox and Dysport to minimize wrinkles. Other injectables like dermal fillers remain prohibited. The Botox certification involves approved advanced training in facial anatomy, injection technique, complications management, and regulations.
As with Nevada, certified estheticians can only inject while operating under the delegation and real-time supervision of a licensed physician. Illinois maintains tighter restrictions than some states, but opens the door slightly to expanded services.
Ohio
Estheticians in Ohio can apply for a Categorized Special Permit through the Ohio State Medical Board after completing Board-approved advanced training. This allows them to offer cosmetic injections like Botox and collagen while under the direct on-site supervision of a licensed physician.
The permit has limitations including only allowing injections when delegated by the supervising doctor per a written treatment plan. Like other states, Ohio aims to balance access and oversight through stringent rules around training, certification, delegated authority, and physician direction.
Regarding Other States
The overwhelming majority of states still prohibit estheticians from performing any injectable procedures including Botox and dermal fillers.
However, the growing demand for accessible non-surgical treatments and advancements in specialized training are leading more states to explore expanding estheticians' services under controlled supervision. Still, independent practice without a supervising doctor remains off-limits for estheticians in nearly all jurisdictions for the foreseeable future.
What Training is Required for Supervised Injections by Estheticians?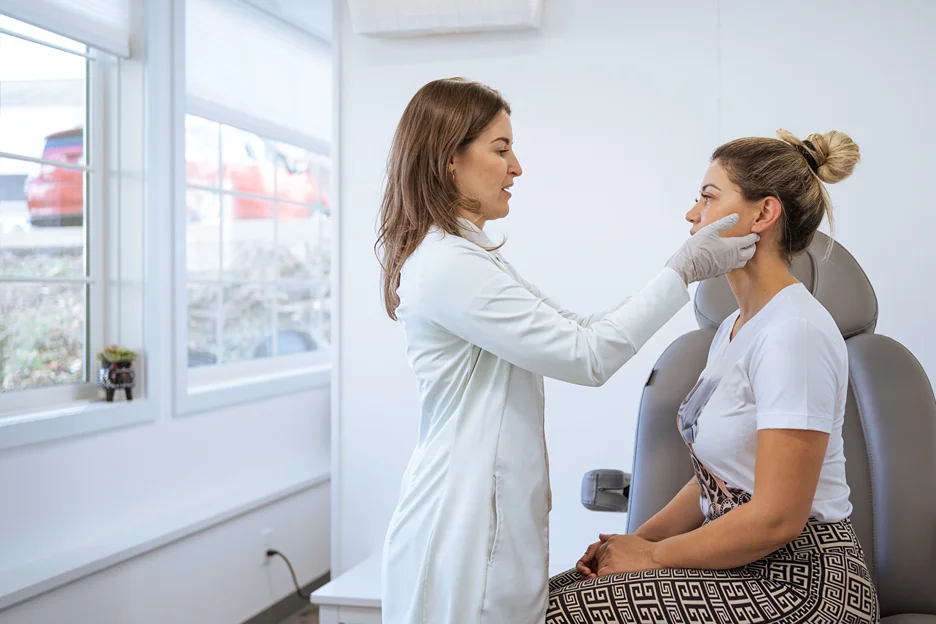 In the few states that do permit limited esthetician-administered injections under physician oversight, specialized training, certifications, and work restrictions are mandatory.
Typical requirements include:
Hands-on instruction and practice in the specific injection procedures the esthetician will be delegated to perform, like Botox or dermal filler injections. This involves needling techniques, dosage calculation, anatomical injection sites, use of injection pens, and more.
Comprehensive education in facial anatomy, physiology, neuroscience, and pharmacology related to how cosmetic injectables work, interact with the body, and any contraindications.
Certification in cardiopulmonary resuscitation (CPR), use of autoinjector pens, and emergency response preparedness in case of adverse events.
Review of relevant regulations, compliance standards, proper record-keeping, mandatory reporting, and the physician delegation process.
Training in patient privacy protections, ethical requirements, and minimizing liability exposure.
Ongoing oversight by the licensed supervising physician is critical as well. They assume ultimate responsibility for reviewing each treatment plan, providing medical directives, delegating the hands-on procedure to the esthetician, remaining on-site for supervision and consultation, and managing any complications or concerns that arise.
Proper training, certifications, and physician supervision ensure certified estheticians have the requisite skills, knowledge, and support to safely provide permitted injections that are low-risk yet beneficial when regulations are followed.
Esthetician Prohibited Procedures by State
As you can see in the table below, certain states are crystal-clear as to what procedures are off-limits to estheticians. Others are more nonspecific in their policies.

| | |
| --- | --- |
| State | Confirmed Prohibited Procedures |
| California | Invasive procedures that result in the removal, destruction, incision, or piercing of a client's skin beyond the epidermis or the application of electricity that visibly contracts the muscle |
| Illinois | Any technique, product, or practice intended to affect the living layers of the skin |
| Massachusetts | Medical and invasive procedures |
| Nevada | Ablative esthetic medical procedures |
| New York | Permanent dyeing of eyelash or eyebrow hair |
| Pennsylvania | Injections of any substance, such as Botox, Restylane, or other fillers, and providing laser services for purposes other than the removal of hair |
| Texas | Injectables, fillers, and other medical-type procedures that require the use of needles |
| Washington | Invasive procedures that result in the removal, destruction, incision, or piercing of a client's skin beyond the epidermis or the application of electricity that visibly contracts the muscle |
Clarifying Physician Liability When Delegating Esthetic Procedures
In the few states that allow properly trained estheticians to assist with administering injectable treatments like Botox under physician supervision, strict oversight protocols must be followed to minimize liability risks.
They must directly evaluate patients, establish medical necessity, obtain informed consent, calculate product dosage, and be immediately available to intervene if complications arise.
Clear policies should delineate the tasks estheticians can perform, like prepping injection sites and post-procedure care, versus the actual needle injection. After all, proper training and certification in the delegated duties are also required.
Doctors who improperly delegate medical procedures to underqualified personnel put their licenses and patients at risk. As such, smart physicians utilize estheticians only within their defined scope of practice to avoid negligence and disciplinary action.
Recent Scope of Practice Changes in Certain States
The latest legislative initiatives and proposed regulations in several states aim to expand or restrict permitted procedures for licensed estheticians, highlighting the evolving landscape around their scope of practice.
New York
A new bill introduced in January 2023 could establish state licensing and regulations for laser hair removal technicians in New York. This would expand the scope of practice for estheticians, as laser hair removal is currently prohibited for them in NY.
Michigan
Proposed rule changes from May 2022 by the MI Board of Cosmetology would restrict estheticians from performing several procedures including microneedling, microdermabrasion, dermaplaning, and certain chemical peels. This has faced opposition.
Nevada
A new Nevada bill from March 2023 aims to revise and clarify which advanced esthetic procedures can be done by "advanced estheticians" in the state. It would explicitly allow medium-depth chemical peels.
Oregon
2021 legislation in Oregon expanded the scope for estheticians, permitting previously prohibited devices like microdermabrasion. However, microneedling now requires additional certification for them.
FAQs
Q: Are There States That Allow Estheticians to Administer Botox?
A: No states currently allow estheticians to independently administer Botox injections. As a prescription medication, Botox requires proper storage, dosage calculations, and injection techniques to be administered safely and effectively.
The key in these states is that estheticians cannot legally inject Botox or similar products on their own – they may only assist under medical supervision. No state allows independent Botox administration by estheticians at this time.
Q: What States Can You Do Injectables with Just an Esthetician License?
A: To confirm, there's not a single state that allows estheticians to perform injectable procedures with only an esthetics license. Estheticians lack the required medical training, knowledge, and licensure to safely and properly administer injectable substances on their own.
Conclusion
The regulations around what medical aesthetic procedures estheticians can legally perform vary widely across the United States. While some states allow properly trained and certified estheticians to assist with treatments like laser therapy and injectables under physician supervision, most prohibit them from performing any procedures that penetrate the skin.
Doctors, nurse practitioners, and medical assistants have the broadest authority to both administer and delegate more advanced medical esthetic treatments within a medical spa setting. They bear ultimate responsibility for appropriate oversight and compliance with state-specific regulations.
Are you an esthetician who wants to expand your skills and services? FaceMed Store offers accredited online courses in chemical peels, laser therapy, cosmetic injections, and more. Our courses are designed specifically for esthetics professionals who want to advance their careers and provide a wider range of sought-after services.
Enroll in a FaceMed Store online course today and give your career a competitive edge!