PRP treatments can help improve the appearance of thinning hair. Through the natural healing process of your platelet-rich plasma, you can repair your dormant hair follicles and stimulate thicker hair growth. After your esthetic provider finds you a qualified candidate for PRP hair treatment, they should provide you with a number of things to do or avoid days or hours before your procedure.
So should you shampoo your hair before PRP treatment? It's recommended that you do, as your scalp will need to be clean during the procedure to prevent bacterial infection. Here's what you should know about hair care before and after your PRP treatment. 
Preparing Your Hair Before PRP Treatment
You'll want to come into your session with a clean head of hair and a scalp free of any products, excess sweat, and impurities. While your provider will still sterilize the treatment area prior to your treatment, keeping your hair clean minimizes the risk of infection. If you have an existing infection on your scalp, your provider may advise you to get it treated before continuing with PRP therapy.
1) Shampoo Your Hair
On the morning of your treatment, wash your hair thoroughly with your regular shampoo. Unless advised by your provider, using any other shampoo can result in an allergic reaction that can make your scalp sensitive or sting, which can make your treatment feel more painful than normal. Avoid conditioning or applying any other hair care product on your hair during your shower – you'll want clean, freshly-washed hair during your treatment.
2) Avoid Sprays, Gels, and Other Hair Styling Products
Following your shower, towel dry your hair or use a hair dryer. Avoid using any hair styling products on your hair or scalp, as these can get in the way of your treatment. These can either increase the risk of infection as the usual sterilization method won't be effective at removing heavy-duty styling products, or make it more difficult to administer the PRP as these products leave a protective layer over your scalp.
3) Don't Wear Your Hair System
If you wear a toupee or hair extensions, you should take them off at least one day before your treatment or before you wash your hair. Don't put on your hair system after your shower until your PRP treatment. These can cause stress on your scalp and can leave sweat and other debris on your scalp that can cause an infection.
After Your Treatment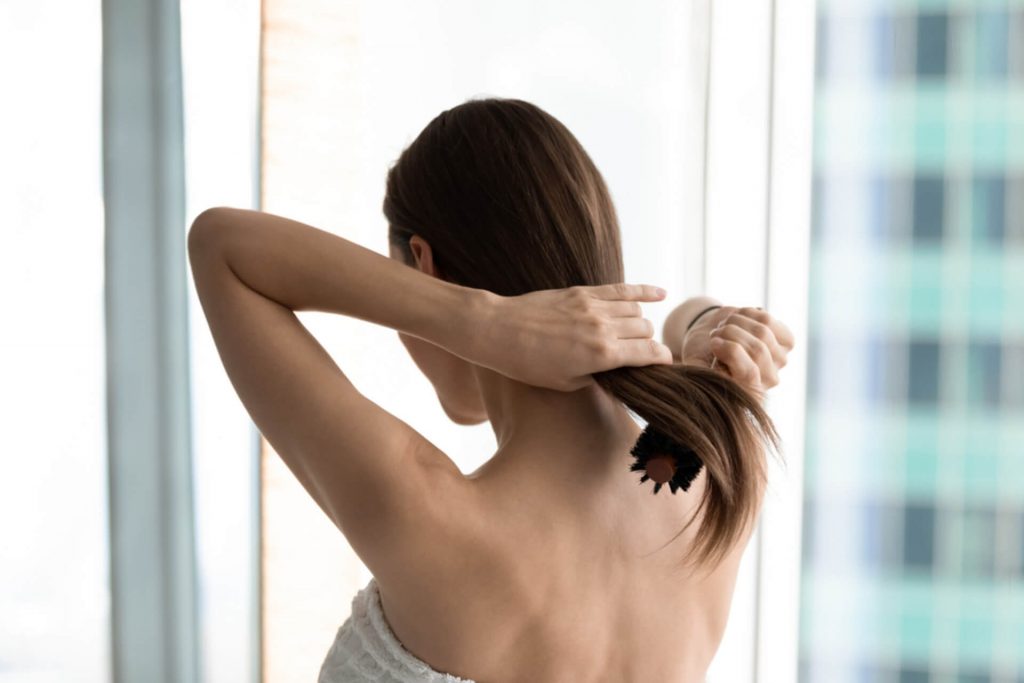 Following your PRP therapy, your provider should advise you on proper aftercare for your treated area. You may feel common minor side effects around your scalp such as:
Swelling and inflammation
Mild pain
Bruising and redness
These symptoms can subside within a number of days. You can use home remedies like ice packs and over-the-counter pain relievers to minimize the discomfort.
For hair care, you should practice the following:
Don't wet your hair for 3 hours after your treatment. This minimizes the discomfort and swelling after your PRP therapy.
Avoid using hair care products for 6 hours after your treatment. These can cause negative side effects around the injection site or the microchannels in your scalp.
Use a pH balanced shampoo. For the first 3 days after your treatment, you'll need to wash your hair at least once a day to keep your scalp area clean. pH balanced shampoos are neither acidic nor basic to your hair. Check with your provider if your shampoo is pH balanced or if you'll need to buy a special shampoo to wash your hair. Using other shampoo products can lead to adverse effects on your hair and scalp.
Avoid excessive heat exposure. This includes saunas, steam rooms, and prolonged sun exposure. Too much heat can affect your blood flow and cause bruising and discomfort on the treatment area.
Are PRP Treatments My Best Option for Hair Restoration?
PRP treatments work by applying platelet-rich plasma onto your scalp to stimulate your hair follicles. Your blood is extracted and then processed to separate your platelet-rich plasma from other components like red and white blood cells.
Through injections or microneedling treatment, PRP will enter your scalp and release proteins responsible for cell regeneration and tissue growth. This can stimulate dormant hair follicles to repeat the growth phase of your hair cycle and produce hair.
However, it's not the only solution to hair growth. The best treatment can depend on the type of hair loss you're experiencing, and each can have different levels of hair loss severity and the right way to treat them. Visit a dermatologist or an esthetic doctor to learn more about the best hair growth treatments for your condition. Some of the options available to you may include:
1) Hair Growth Medication
Some cases of hair loss can be caused by certain medications. Antibiotics, birth control pills, and other medicines meant for lowering cholesterol or managing your blood pressure may have unintended side effects like hair loss.
If you're noticing hair loss after taking prescription medication, see your prescribing doctor if you can reduce your dosage or switch to an alternative medication. Some medical conditions like autoimmune diseases and hormonal imbalances can also cause hair loss.
Another option is to take oral or topical medication that's designed to promote hair growth. Medicines like minoxidil and finasteride can be used to stimulate hair growth factors by reducing the hormones associated with hair loss. However, keep in mind that it can take months before you see a slight difference in your hair, especially if you have androgenetic alopecia (male or female pattern baldness).
2) Hair Transplants
Hair transplants are an invasive surgical option where a strip of donor hair follicles from the back of your scalp (where hair loss is less common) is removed and then surgically implanted to the balding areas. This is a potential hair loss treatment option for those who are experiencing severe hair loss and are close to balding. Though one of the most expensive options, a successful hair transplant can result in healthier hair growth that can last a lifetime.
3) Laser Therapy
A minimally invasive treatment that uses low-level lasers to stimulate your scalp's hair follicles by radiating photons that your weaker cells can absorb. This can result in healthier hair follicles and hair shafts that can produce thicker and stronger hair.
4) Hair Prosthetics
If you've reached the point of hair loss where it might be costly or impractical to explore treatments for natural hair growth, you may want to consider artificial hair prosthetics to improve your hair's thinning appearance. This can include hair systems, extensions, toupees, and wigs. The prices of these prosthetics can vary depending on the length and quality of the hair. This won't solve your hair loss or what's causing it, but it can help your appearance.
Visit FACE Med Store for Your Hair Products and More
PRP treatments can be effective if you follow all the pre-treatment and post-treatment tips your provider gives you. On the day of your PRP session, be sure to show up with clean, newly shampooed hair that's free of any styling products and debris. Talk to your provider to see if you're a good candidate for PRP treatments for hair loss.
For all your hair care needs, visit FACE Med Store. Our online store stocks quality hair styling and hair health products that can improve your hair's appearance and give you lush, healthy-looking hair that can enhance your overall look. Find top-quality items at competitive prices and browse our store today.
Learn More: Does PRP Hair Treatment Leave Any Scars?