0.3 cc Ultra Fine Syringe 31 gauge – Box of 100 (True Plus)
78 in stock
Insulin syringes are a must-have in medical centers and in the homes of those with diabetes. TRUEplus Single-Use Insulin Syringes are affordable and reliable syringes that provide a safe and efficient solution to administering insulin. This can safely be used by medical professionals administering insulin, as well as patients themselves or their caregivers who are properly trained to give insulin.
Each box of TRUEplus Insulin Syringes offers a safe and sterile way to give diabetes patients the insulin shots they need every day. With 100 syringes per box, you can get better savings stocking up the supplies you need when you purchase your syringes from FACE Med Store.
FACE Med Store also offers other insulin syringes with different brands and insulin capacities. Use the syringe with the correct insulin capacity needed per shot to maintain your blood sugar control. If you're a patient or a caregiver and aren't sure about which syringe and insulin capacity to choose, contact your medical provider or send us a message, and the FACE Med Store team can provide you with customer service.
Features of TRUEplus Single-Use Insulin Syringes
High-grade silicone-coated needles. TRUEplus uses high-quality needles with no burrs or surface imperfections. This, along with its silicone coating, ensures a smooth injection with minimal pain and a reduced risk of inflammation symptoms common during injections (such as bruising, bleeding, and minor pain on the injection site). The silicone coating is safe and has anti-allergic properties.
Sharp, stainless steel needles. Sharper needles can result in a quick and easy penetration that requires minimal pressure on the skin, compared to duller needles that require more force and damage the skin. Stainless steel is best for single-use injections as it is sterile and resistant to corrosion.
Additional safety measures. TRUEplus syringes are non-toxic, non-pyrogenic, and are individually sealed in sterile packaging. Both the plunger and needles are firmly capped, and the entire needle and syringe are joined into one disposable unibody.
Benefits of TRUEplus Single-Use Insulin Syringes
Easy to use. Can be used by medical professionals and at-home use by patients or their caregivers that have been trained to administer insulin properly. Features like the safety caps and the syringe's large and precise markings ensure patients are safely getting the right amount of insulin they need to manage their diabetic condition.
Improve the patient's experience and provide greater comfort. Each syringe needle is optimized for enhanced comfort. Each injection can result in little to no pain and minimize the side effects (like inflammation, bruising, bleeding, etc.) that are normal with most injection treatments. And the smaller gauge minimizes the puncture created on the skin, minimizing the micro-wounds and the inflammation caused by it.
Affordable and compliant solution. One box of TRUEplus Single-Use Insulin Syringes includes 100 syringes. FACE Med Store offers the highest level of quality in the products we offer at affordable, competitive prices. For medical practices, this means you can stock quality supplies while maintaining an affordable quality solution. Compared to other distributors that offer TRUEplus syringes with a 30-unit insulin capacity, our prices are much lower and offer you more savings.
Using Insulin Syringes
Ensure that you're using the right insulin syringe, the tools and diabetic supplies you need are nearby, and your hands and the injection site are sterile.
Remove the large orange cap of the plunger. To expose the needle, carefully pull the small orange cap in a straight motion to avoid bending the needle. Extract the appropriate amount of insulin from the insulin vial and then inject it into the sterilized injection site. Insulin injections are subcutaneous injections and should be administered at a 45-degree angle.
Once finished, re-cap the needle. Throw the syringe in a disposal container for used sharp items. Dispose of these according to your local guidelines.
Contact FACE Med Store for inquiries and customer care.
Disclaimer of warranty
No warranties or representations. Sellers and purchaser specifically acknowledge that except as otherwise set forth in this purchase agreement, sellers are selling and purchaser is purchasing the purchased equipment / tools "as is, where is". Seller is not providing any warranty for the product and not making any warranty, express or implied. Purchaser has inspected the equipment/tool, and is not relying on any representations or warranties of any kind.
Purchaser agrees and understands that it is solely the responsibility of the purchaser to know and understand the training and regulatory requirements of the state in which she/he is operating in order to use the product. Purchaser agrees to defend and indemnify seller for any misuse of the product and seller shall in no way be responsible for any injury, accident, malfeasance or misfeasance related to purchasers use of the product.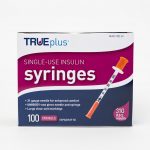 0.3 cc Ultra Fine Syringe 31 gauge – Box of 100 (True Plus)
78 in stock