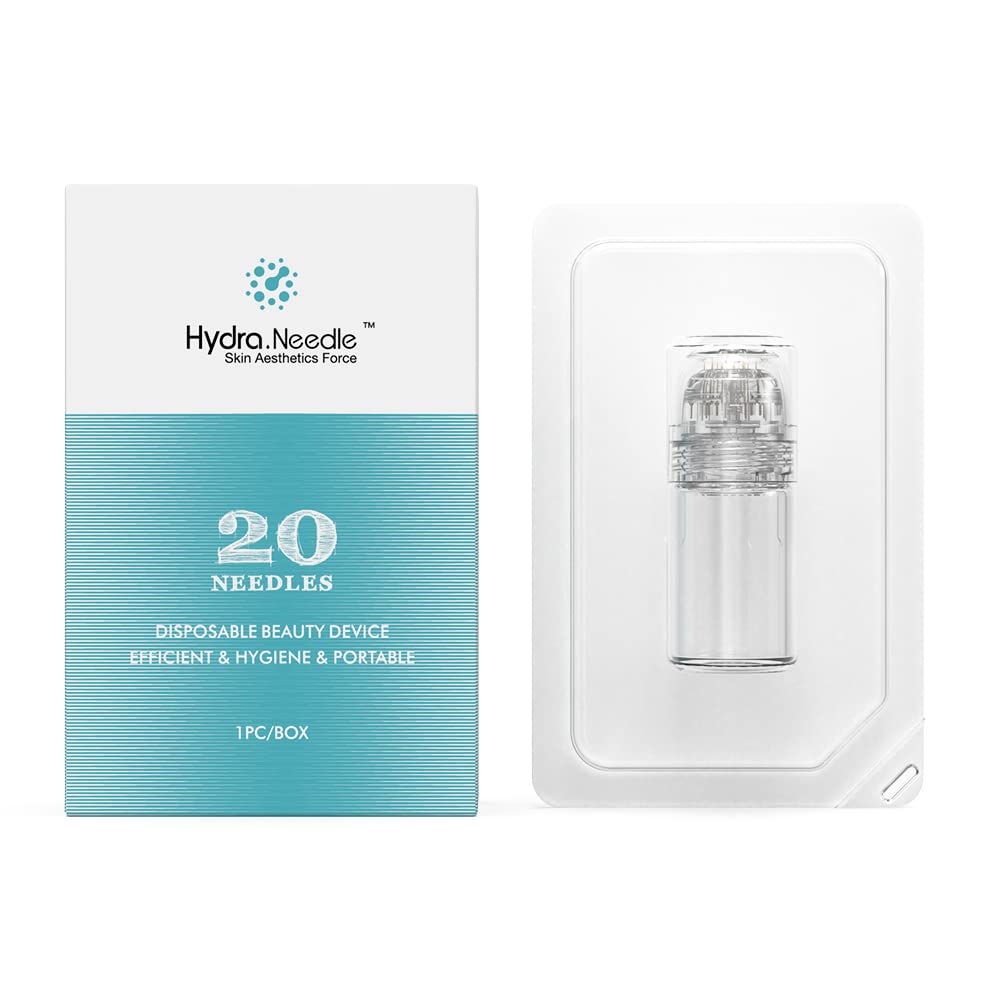 Hydra Needle 20 for Injection – 0.6mm
Available in packs of 2, 10, and 20 units.
There are various tools used by both cosmetic practices and DIY users to perform microneedling, but the Hydra Needle offers something more. Compared to other microneedling devices like the derma roller, derma pen, and other related products that puncture microchannels in the skin to trigger its natural healing response, Hydra Needle units are fitted with 20 microneedles and an applicator vial for up to 5 milliliters of fluid.
After adding a topical serum of your choice, the unit can dispense serums into the microchannels as soon as they're formed in the skin. This allows you to infuse the skin with beneficial serums that can penetrate more deeply, thus providing the patient with an extra dimension to their microneedling experience.
Our Hydra Needle products also come with different needle sizes, which can provide different results based on how deep the needles puncture the skin. These are available in packs of 2, 10, and 20 units:
Hydra Needle (20-pin, 0.5mm)
Hydra Needle 20 for Injection – 0.6mm Videos
Instructions on How to Operate the Hydra Needle
Features of FACE Med Store's Hydra Needles
Sharp titanium needles. These 20-pin individually titanium needles are sharp enough to puncture microchannels during treatment with minimal discomfort. Titanium needles take longer to go dull, which can help provide consistent microchannels throughout the treatment with minimal pain from puncturing.
Gold-plated needles. Hydra Needles are also gold-plated, which prevent corrosion from body oils and humidity. This prevents the needle from degrading during treatment when the needle head is repeatedly punctured into the skin.
Special spiral groove system. Delivers up to 5mL of serums and PRP from the applicator vial, to the needles, to the dermis. The Hydra Needle's length measures 0.6mm, which can reach the basement membrane connecting the epidermis to the dermis as well as the upper dermal layer.
Benefits of Hydra Needles
Deeper serum infusion. Each time you administer the Hydra Needle over the treatment area, you can infuse the serum into the skin while the microchannels are still fresh. This treatment helps to increase the skin's serum absorption rate and promote skin hydration, compared to applying serums after the treatment.
Suitable for deeper scars. The 0.6mm needles can reach the basement membrane between the dermis and epidermis, puncturing down to a superficial layer on the dermis. This length is ideal for treatments such as

Collagen induction (the short needle length is enough to trigger your body's collagen production)
Skin discoloration or hyperpigmentation (though treatment for this should start with the smallest length then go onto longer needle lengths)
Sun-damaged skin
Moderately sagging skin
Light wrinkles
Fine lines

Healthier skin. Hydra Needles combine the features of microneedling – which creates fine holes to trigger your body's natural healing process, boost your collagen production, and promote skin regeneration by bringing forward newer skin cells – and the skin-enhancing capabilities of your serum of choice.
Using Hydra Needles
Hydra Needles can be used by professionals and everyday users at home. However, DIY users shouldn't use any microneedling device with a needle length longer than 2 millimeters.
Before use, make sure that your face or your client's face is properly sterilized. Don't use Hydra Needles or any other microneedling devices on patients with active skin infections or open facial wounds.
Fill the Hydra Needle's applicator vial with your serum of choice. The vial can hold up to 5mL of liquid. We recommend serums with thinner consistencies, as very thick serums can't dispense properly during treatment. Not all serums are appropriate for microneedling treatment, so follow this guide on which serums can be safely used on microchannels:
Safe to Use for Hydra Needle
Don't Use for Hydra Needle

Platelet Rich Plasma (PRP)
Hyaluronic Acid
Vitamin B (Niacinamide)
Growth Factors
Peptides
Ceramides

Retinoids
Vitamin C
Any serum that contains acid, such as (but not limited to):

AHA
BHA
Lactic acid
Glycolic acid
Perform the microneedling treatment as you would with any microneedling pen. To ensure proper serum dispensation, keep the unit at a 90-degree angle from the face. After the treatment, cap the Hydra Needle and dispose of it in a specific disposal container for used sharp items such as medical needles and cannulas. Throw away all your used sharp medical supplies according to your local guidelines.
Contact FACE Med Store for inquiries and customer support.
Disclaimer of warranty
No warranties or representations. Sellers and purchaser specifically acknowledge that except as otherwise set forth in this purchase agreement, sellers are selling and purchaser is purchasing the purchased equipment / tools "as is, where is". Seller is not providing any warranty for the product and not making any warranty, express or implied. Purchaser has inspected the equipment/tool, and is not relying on any representations or warranties of any kind.
Purchaser agrees and understands that it is solely the responsibility of the purchaser to know and understand the training and regulatory requirements of the state in which she/he is operating in order to use the product. Purchaser agrees to defend and indemnify seller for any misuse of the product and seller shall in no way be responsible for any injury, accident, malfeasance or misfeasance related to purchasers use of the product.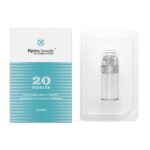 Hydra Needle 20 for Injection – 0.6mm