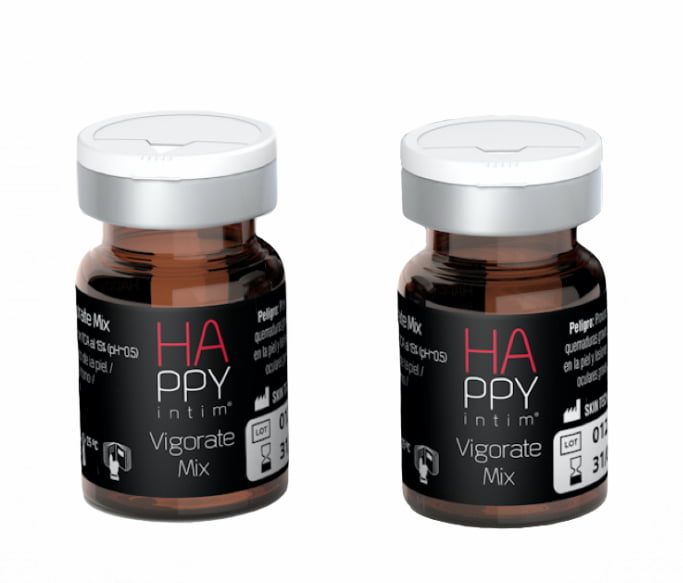 Happy Intim® Vigorate Mix
Price available to professional users only
Register
Skin rejuvenation around private, intimate areas has largely been the domain of surgical treatments for years. However, recent innovations in cosmetic products have made issues like skin nursing, genital bleaching, and vaginal rejuvenation more accessible for patients and easier to apply for providers.
FACE Med Store helps providers improve their patient's skin in their intimate areas with the help of innovative products like Happy intim® Vigorate Mix. No longer do you need long hours in the clinic – with consistent application and skilled treatment, your clients can enjoy softer, smoother, and better skin around their intimate areas.
Product includes: one set of Intim Mix (two vials), one brightening cream, and one moisturizing cream.
At FACE Med Store, we offer medical-grade products needed for everyday users and practices looking for quality supplies at competitive costs. For other skin care treatments and instruments, check out our other products:
LED Light Therapy System For Skin Rejuvenation + 20 Jelly Mask Bundle
Happy Intim® Vigorate Mix Videos
Intimate Bleaching Demo
Intimate Lightening Demo
Learn More About The Creators
Features of The Happy Intim Vigorate Mix: Safe And Effective Skin Color Correction For Intimate Areas
Provides skin color correction. Happy intim® Vigorate Mix can help equalize uneven skin tone and correct any skin imbalance in your intimate areas, especially with consistent application.
Promotes skin rejuvenation. Treatment areas will experience visible improvements in skin elasticity, skin tone, and overall skin health after repeat treatments of Happy intim® Vigorate Mix, especially when combined with other Happy intim® products.
Improves skin texture. Rough or dry skin will also benefit from Happy intim® Vigorate Mix as it has compounds like citric acid which exfoliates the upper layer of the skin without harming it.
Why Use The Happy Intim® Vigorate Mix
Ready-to-apply solution. The formula used in HI Vigorate Mix requires no mixing or dilution and can be used straight out of the container. All you need to remember is the right preparations needed before administering the product, and you're good to go.
No extra recovery time needed. Unlike other peeling products, HI Vigorate Mix doesn't require extensive downtime after treatment. Patients will still need to follow the usual aftercare procedures when their treatment is done, but they can resume their normal activities immediately after leaving the clinic.
Can be used in several intimate areas. HI Vigorate can be used on the areas around the vagina, but it can also be administered on the underside of the arms, around the breasts, and on the inside of the legs, as per the provider's examination.
Happy Intim® Vigorate Mix Active Ingredients
Happy intim® Vigorate Mix provides intimate skin rejuvenation with a unique and advanced formulation, made with the following active ingredients:
TCA 15%
Glycolic Acid
Citric Acid
How to Use The Happy intim® Vigorate Mix
This product is only meant for professional use by trained medical and cosmetic staff in an in-clinic setting. It should not be applied by untrained patients to themselves in any way.
Dip cotton swabs or cotton disks in the formula, making sure to wear protective gloves. Apply one layer of HI Vigorate Mix to the intimate areas with a diameter of 20 centimeters. Apply a second layer when the first layer is completely dry. If the patient has sensitive skin, apply only a single layer.
Once the product has dried, apply HAPPY intim® Lightening Cream or HAPPY intim® Rebirth Cream twice a day for the best results. Avoid contact with water for 3-4 hours. Store between +41F and +77F.
Contact FACE Med Store for more inquiries about our new products or to get in touch with customer support.
Disclaimer of warranty
No warranties or representations. Sellers and purchaser specifically acknowledge that except as otherwise set forth in this purchase agreement, sellers are selling and purchaser is purchasing the purchased equipment / tools "as is, where is". Seller is not providing any warranty for the product and not making any warranty, express or implied. Purchaser has inspected the equipment/tool, and is not relying on any representations or warranties of any kind.
Purchaser agrees and understands that it is solely the responsibility of the purchaser to know and understand the training and regulatory requirements of the state in which she/he is operating in order to use the product. Purchaser agrees to defend and indemnify seller for any misuse of the product and seller shall in no way be responsible for any injury, accident, malfeasance or misfeasance related to purchasers use of the product.