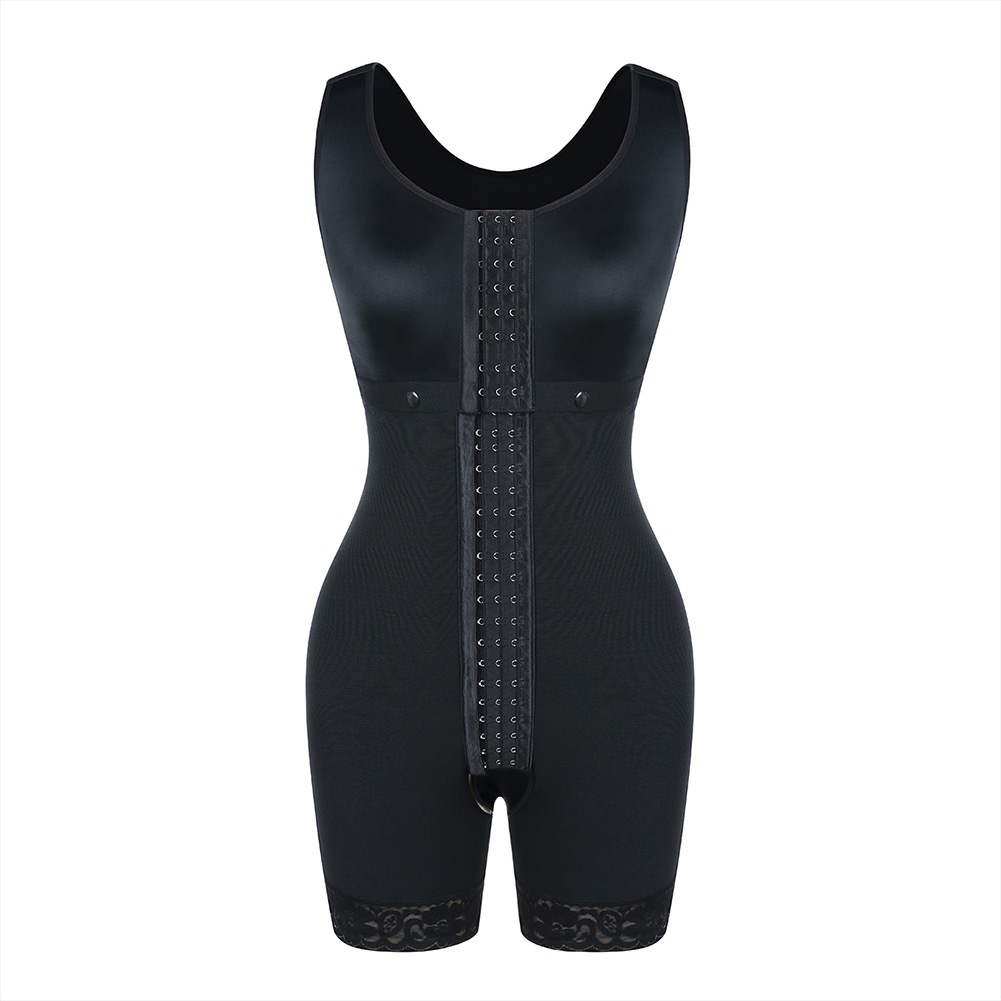 Fajas Bodysuit
Comes in two colors with varying sizes: Beige – XS, S, M and Black – M, L
No matter how hard you try, sometimes diet and exercise aren't enough to give you the slim waist and flat stomach you're looking for. At FACE Med Store, we offer high-quality Fajas bodysuits that fit snugly around your body, highlighting your body curves without making you feel suffocated.
Our shapewear supports your abdomen well while ensuring your comfort as you move around. Find the perfect fit of this body shaper for you today from our wide selection of waist trainer sizes on our website.
For additional information or questions about your order and available stock, don't hesitate to send us a message.
**Due to these being personal items, we are unable to refund these products**
Fajas Bodysuits: What They're For
Waist shaping is an old practice that started several centuries ago in France. Corsets made of metal or whalebone come with laces and ribbons that were cinched to achieve the hourglass shape and reduce the circumference of a woman's waist.
Using waist binders to slim down the waist is still a common practice among women until today. But instead of sacrificing comfort for fashion and beauty, there are plenty of girdle and bodysuit options that contour and provide support for the waist without making the user feel suffocated. The latest trend in bodysuits is that they come with straps that provide bust support.
At FACE Med Store, we sell fajas bodysuits that can be worn every day to instantly improve your figure. All of them are made with high-quality breathable fabric with good compression capabilities.
How to Use Fajas Bodysuit
Hold the waist binder with its opening in front. If you chose the kind with straps, just wear the sleeves on the shoulder while keeping the opening of the bodysuit in front of you.
Stretch the binder until you achieve the right compression and wrap it around the abdomen.
Pull the abdominal binder snugly and secure it. Different bodysuits can be closed in different ways: hooks, zippers, or Velcro.
Check if you can comfortably move around with a bodysuit before wearing your tops and other clothing as normal.
Adjust the bodysuit as needed.
Benefits of Fajas Bodysuits
Instantly accentuates your natural curves
Acts as a natural butt lifter
Designed for everyday use, making it easy to hide underneath normal clothing ike jeans, skirts, and leggings
Provides extra support to the back and abdomen
Helps correct the posture
Tightens abdominal muscles
Makes workouts more effective
FAQs About Fajas Bodysuits
Q: Are there risks or side effects to wearing bodysuits?
A: Wearing bodysuits or other related products frequently and for long periods can be harmful to you, especially if it's not the right size. There's a risk of difficulty breathing, digestive issues and conditions, or internal organ problems. The best way to avoid risks is to limit wearing them or choose the everyday use kinds that don't feel restricting.
Q: Does it matter how long you wear fajas bodysuits?
A: Bodysuits made for everyday wear can be used for up to 8 hours a day. It's important to limit wearing them and let the abdomen rest sometimes to minimize the risk of developing complications. Make sure to avoid sleeping while wearing the bodysuit or waist trainer.
Q: How can you measure the right bodysuit size for your body type?
A: Use a measuring tape when sizing your waist. Make sure that the tape is parallel to the ground when doing it. Use the "inch" side of the tape. Get your waist measurement and subtract about 3 inches from the original measurement to determine your recommended bodysuit size. For those in-between sizes, it's better to buy a bodysuit one size bigger.
Disclaimer of warranty
No warranties or representations. Sellers and purchaser specifically acknowledge that except as otherwise set forth in this purchase agreement, sellers are selling and purchaser is purchasing the purchased equipment / tools "as is, where is". Seller is not providing any warranty for the product and not making any warranty, express or implied. Purchaser has inspected the equipment/tool, and is not relying on any representations or warranties of any kind.
Purchaser agrees and understands that it is solely the responsibility of the purchaser to know and understand the training and regulatory requirements of the state in which she/he is operating in order to use the product. Purchaser agrees to defend and indemnify seller for any misuse of the product and seller shall in no way be responsible for any injury, accident, malfeasance or misfeasance related to purchasers use of the product.