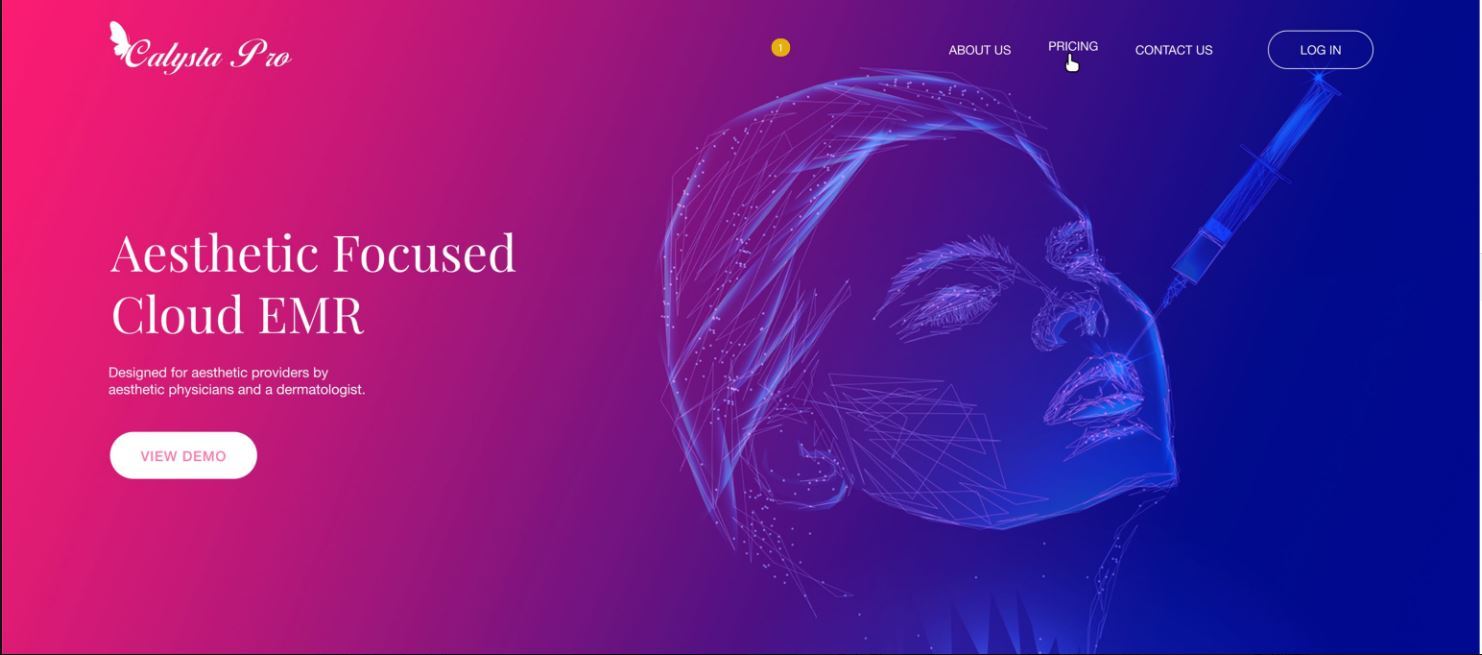 Calysta Pro EMR
*Before purchasing, please make sure you already have a trial account set up. If not you may sign up here: https://calystaemr.com/*
Step up your client management and improve your services when you adopt a dependable EMR system in your aesthetic practice. An electronic medical spa software helps ensure better productivity and increased efficiency to guarantee overall patient satisfaction and cosmetic experience.
FACE Med Store offers Calysta Pro, a digital EMR platform that can help solve your team's challenges with online booking, treatment coordination, inventory management, data backups and storage, and bills and payroll. When you equip your clinic with our EMR system, you can enjoy better workflow organization and practice management so your team can focus on giving clients the patient care and treatment that they deserve.
At FACE Med Store, we offer a wide range of high-quality medical tools and products needed by medical spas and healthcare providers for the treatment of various conditions. We also provide educational content and training courses to help improve your aesthetic procedures. Here are some of our other stocks and products:
Facial Neuromodulator Injections Online Training Course
IV Therapy Online Training Course
Features Of Our Med Spa EMR System
Made for Aesthetic Practices and Med Spas. Calysta Pro is an aesthetics-focused EMR that's made specifically by a group of aesthetic physicians for dermatologists and cosmetic providers. Its features are uniquely designed to accommodate the needs of your practice and will help streamline your documentation system.
Cloud-Based EMR Solution. With our EMR system, you can upload and store patient records, consent forms, and medical notes in a cloud-based network. This helps save physical storage space and eliminates the need for keeping paper files and charts. It also provides regular automatic backups to secure electronic medical records so you can still access them in the case of an emergency.
Secure HIPAA-Compliant Servers. Our developers made sure that our medical spa software is created with the best technology that complies with HIPAA standards and guidelines. This ensures patients that their information and data are stored and handled securely for aesthetic purposes.
Customizable Notes and Consent Forms. Our EMR system also allows you to save time filling out forms and notes with our pre-made, customizable templates. You can also send digital consent forms which can be immediately shared with the team after patients sign them with their e-signature.
What Med Spa EMRs Can Do For Your Aesthetic Team and Patients
Set Appointments and Coordinate Schedules In A Few Clicks. With an EMR system, it's now easier for your staff to handle and manage online booking with patients. Our EMR software features a calendar tool that updates real-time schedules which can help your team to better coordinate patient visits.
Virtually View and Manage Patient Photos and Information. Our medical spa software also allows your doctors to stay updated with the changes in a patient's records and monitor their treatment progress. Your team can upload before-and-after photos in the cloud to track a client's improvements and make sure that it's aligned with their goals.
Make Communication Easier with Teleconferencing and Automated Reminders. Your staff and doctors can also conduct online consultations and answer any immediate concerns via our EMR's Zoom teleconferencing feature. You can also send automated appointment reminders so your patients won't miss their treatment.
Choose Among Flexible Payment Options. With our EMR solution, your medical spa practice can provide more ways for customers to pay for their treatments via online channels. They can use their credit cards upon checkout on the patient portal. You can also create online invoices and record successful payments for accounting purposes.
Benefits of Using EMRs for Med Spa Owners
Easier Photo Documentation and Patient Data Management. Using a cloud-based EMR lets your team store patient photos, medical records, invoices, and billing history in one client database. This way, you won't have to worry about finding records among heaps of paperwork and charts.
Minimizes Errors and Reduces Patient Scheduling Conflicts. With medical spa software, all processes and communication can be done online. It's easier to sign and edit charts and forms with fewer mistakes and you can book appointments and coordinate schedules with different providers to avoid booking conflicts.
Improved Client Relationships and Staff Productivity. Our EMR system comes with a teleconferencing feature to increase your patient engagement and let your doctors regularly meet with their clients for virtual visits. It also provides support for day-to-day operations so your staff will increase their productivity and provide better patient care.
Types of EMR Subscriptions
Monthly subscriptions for Calysta Pro EMR start at single-user which is at $49/month, then unlimited users at $99/month, and 2 facilities at $149/month. When choosing which subscription to sign up for, you should consider your practice's current needs and patient demands.
After signing up for a subscription, our team can help set up the software in your clinic and provide training demos for your staff to have a better understanding of all the features of the EMR platform. Access and log-in details can be given to one person (for a single user) or to the whole team (for unlimited users). The 2 Facilities option is a bundle subscription that provides access to multiple users in two locations.
Contact FACE Med Store to learn more about Calysta Pro EMR or get in touch with our customer support for any inquiries about the system.
Disclaimer of warranty
No warranties or representations. Sellers and purchaser specifically acknowledge that except as otherwise set forth in this purchase agreement, sellers are selling and purchaser is purchasing the purchased equipment / tools "as is, where is". Seller is not providing any warranty for the product and not making any warranty, express or implied. Purchaser has inspected the equipment/tool, and is not relying on any representations or warranties of any kind.
Purchaser agrees and understands that it is solely the responsibility of the purchaser to know and understand the training and regulatory requirements of the state in which she/he is operating in order to use the product. Purchaser agrees to defend and indemnify seller for any misuse of the product and seller shall in no way be responsible for any injury, accident, malfeasance or misfeasance related to purchasers use of the product.