Nothing is more frustrating than paying a large sum of money but getting no benefit as a result. Since platelet-rich plasma therapy is still under investigation, it's not immune to leading to no results. But before you decide that PRP isn't for you because you didn't see any results, you should consider taking a step back and assessing if you're expecting results too soon.
So how long do you have to wait until you see hair growth effects from PRP? How long the results may be seen depends on the severity of your condition, although noticeable results are typically expected to be seen within 3 to 6 months after the initial treatment. Biannual maintenance treatments must also be done to make the results longer lasting.
Results Timeline for PRP
While some patients report seeing results as early as after a single treatment of their platelet-rich plasma treatment, it takes patience for most before they see the full benefits. It takes a while before the healing process mediated by the growth factor takes place, although there's no downtime associated with this procedure. Maintenance treatments are also necessary for longer-lasting effects.
1) How Long Before Noticeable Results Can Be Seen
Improvements in the hair texture and hair thickness may be seen as early as 2 weeks after the treatment. However, for most patients with different types of hair loss like androgenetic alopecia, full effects are noticeable 3 to 6 months after the initial treatment.
In fact, this study suggests that 3 to 5 sessions are needed for optimum results of PRP therapy for hair loss can be seen, with a month of spacing between 2 sessions.
2) The Need for Maintenance Treatments
Platelet-rich plasma injections for hair loss work only using growth factors and other mediators for wound healing to encourage the growth of hair follicles. They don't address the genetic aspect of types of hair loss like androgenetic alopecia, much like how topical minoxidil, oral finasteride, and other hair restoration medications do.
With that, it's to be expected that platelet-rich plasma isn't permanent and would need maintenance sessions for people who underwent this hair loss therapy to achieve lasting results. A booster session is done typically every 6 months to 1 year.
3) How Long is the Downtime?
Undergoing the 10 to 15-minute PRP procedure requires no downtime, and patients can immediately return to their normal activities as soon as they're done with the procedure. Side effects of the procedure are mild and last just for a few days. They may be managed with home remedies like ice packs and over-the-counter drugs or may go away on their own.
How PRP Works
The autologous platelet-rich plasma injections for pattern hair loss rely on the concentration of platelets for it to work, as they're the ones that release the growth factors necessary for the beneficial effect of this cosmetic procedure to be seen.
PRP can encourage the growth of hair follicles by:
increasing the concentration of growth factors normally released by dermal papilla cells of the scalp that can help promote angiogenesis or the production of new blood vessels for better blood flow that nourishes the scalp with nutrients and oxygen necessary for hair growth;
prolongation of the anagen phase (growth phase) of the hair growth cycle by stimulating the Wnt/β-catenin/T-cell factor lymphoid enhancer of the dermal papilla cells;
enhancing the production of anti-apoptosis (anti-programmed cell death) regulators like ERK and Akt signaling.
How PRP is Obtained and Administered
Platelet-rich plasma is an autologous formulation, meaning it's taken from the own blood components of the patient undergoing the procedure.
It's obtained via a blood draw in the peripheral vein of the patient through a medical device like a syringe with anticoagulants. This is followed by centrifugation of the collected blood to separate other unwanted blood components like white blood cells from the platelets. The procedure ends with the injection of PRP to the scalp in even spaces.
Clinical studies are still being done to ascertain the optimum dosage to which maximum hair growth may be seen when PRP injections are administered, although a study recommends that the optimum dose is 5 to 7 mL of PRP and 0.05 to 0.1 mL/cm2.
Platelet-rich plasma is also made as comfortable as possible for the patient during the procedure. Typical techniques to make the procedure pain-free include the following:
Using topical or injected anesthesia – Clinics may give numbing creams or inject anesthesia before the PRP is injected into the scalp to numb the pain during the whole procedure.
Using vibrational devices – Vibrational devices work like anesthetic agents in that they can also numb the pain during the procedure. They work by massaging the area and helping dissolve the fluid in the area being administered with PRP.
Using very fine needles – Platelet-rich plasma uses very fine needles, typically of gauge 25, 27, 30, or 31, with the higher numerical value for gauges meaning that the needle is smaller.
Giving ice packs after the procedure – Ice packs help reduce inflammation and bleeding in the area administered with PRP when given after the procedure.
Safety of PRP for Hair Growth
Since the platelet-rich plasma is taken from the patient's own blood, the risk of allergic reactions and communicable diseases for the patient is reduced.
Only mild side effects are to be expected with this procedure, which includes mild redness, bruises, and pain, which are all associated with the method of administration and not with the formulation itself. Other rare side effects may also be associated with the manner in which PRP is administered, such as infection of the injection site and nerve and tissue injury.
However, although it's a generally safe procedure, PRP injections shouldn't be done on just anyone. A medical history of autoimmune diseases like systemic lupus erythematosus and other conditions like low platelets and active infection warrant avoidance of this procedure.
PEP Factor: An Excellent Formulation for Hair Care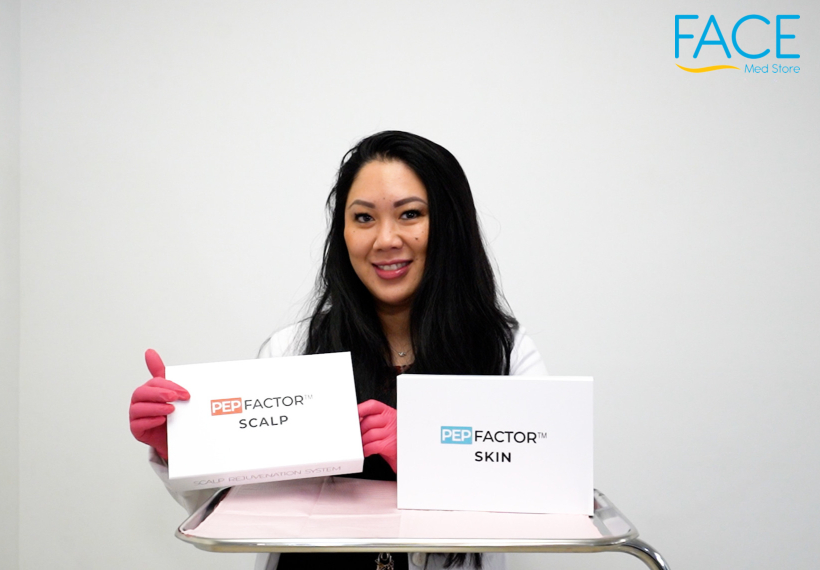 Aside from autologous platelet-rich plasma injections, another innovative treatment that can play a good role in hair regrowth is the PEP Factor, an excellent and ready-made formulation distributed by FACE Med Store.
PEP Factor is a formulation topically applied to the scalp skin. It contains no harsh chemicals and is composed of natural and nourishing ingredients. Its active ingredients include basic fibroblast growth factor (bFGF) which has cell growth properties and copper peptide which has antioxidant properties.
Because of its topical application and natural ingredients, it can safely be added as a complement to other effective treatments that can help the slowing of hair loss like platelet-rich plasma injections and microneedling. It also has no major side effects associated with it.
PEP Factor may also be applied to the skin, resulting in skin rejuvenation and brightening the skin.
Get the Best Medical Supplies and Formulations at FACE Med Store
Patients with hair loss may see results of platelet-rich plasma after 3 to 6 months, equivalent to a couple of treatment sessions before results may be noticeable. It's a safe treatment for hair growth, with little to no downtime and mild side effects.
At FACE Med Store, we're committed to helping our clients achieve their hair goals by providing them with high-quality medical supplies and formulations that are proven effective for hair care. With our friendly staff, we can also guide our clients in choosing which products to choose to address their needs. Start your journey now towards a better hair appearance and contact us today at info@facemedstore.com.